Chloe And Halle Bailey's Up-And-Down Relationship With Their Parents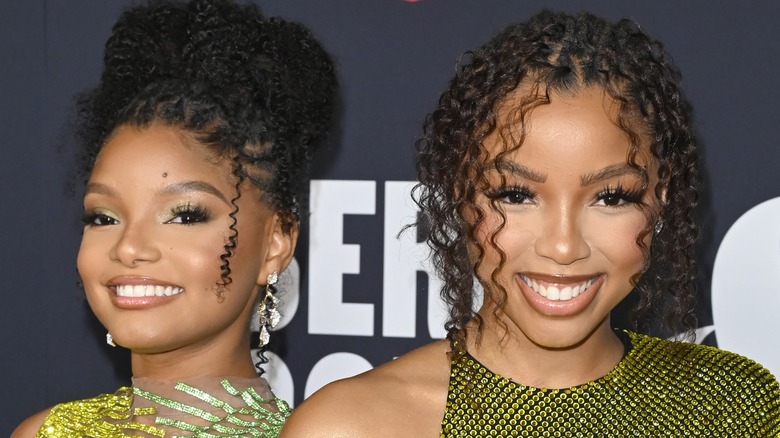 Featureflash Photo Agency/Shutterstock
Chloe Bailey and Halle Bailey — who rose to fame as the R&B duo Chole x Halle — have completely taken off since their 2017 debut. Not only have they released two albums to commercial and critical success, but they've also lent their talents to the theme song for "Grown-ish," in which they also have supporting roles. Then there are their solo endeavors, which for Chloe has involved releasing a slew of catchy singles and making an iconic 2021 VMA performance debut. Meanwhile, Halle has landed the role of Ariel in the forthcoming live-action revival of  "The Little Mermaid."
Much of their success has hinged on natural talent and inspiring work ethic, which led to their popular YouTube channel. After several years of posting covers of popular R&B and pop songs, Beyoncé signed Chloe and Halle to her management company, Parkwood Entertainment. However, Chloe and Halle also have their parents to thank for their success. 
Chloe and Halle's parents not only supported their desire to pursue acting roles in films such as "Last Holiday" and "The Fight Temptations," but they also helped cultivate their creativity. Speaking with The Guardian, the sisters revealed that their father helped teach them how to write songs, even though they endearingly described him as "tone deaf." While the sisters have always thanked their parents for their support, their relationship appears to have had some ups and downs as of late.
Chloe and Halle Bailey started off close with their parents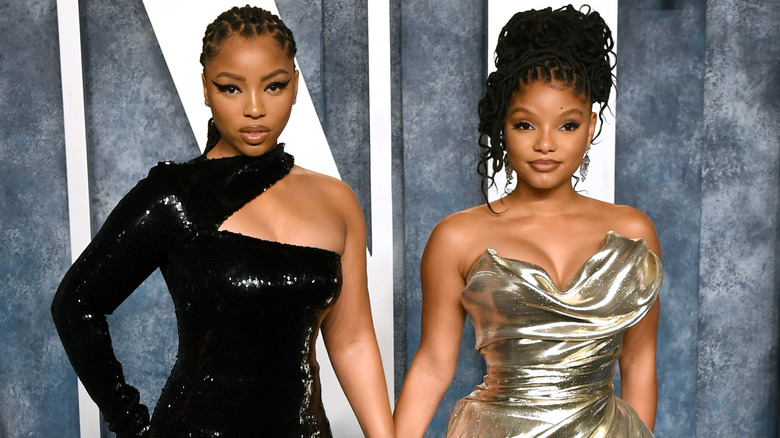 Jon Kopaloff/Getty Images
Given the success that Chole and Halle Bailey have seen, it'd be easy for them to let it go to their head. However, the two have remained gracious, frequently paying respects to their parents. Over the years, the Bailey sisters have made several public declarations honoring their parents. In 2018, Chloe and Halle spoke highly of their mother, Courtney Bailey, in a sweet Facebook post. "This is our beautiful mama Courtney," wrote the sisters on Mother's Day. "She inspires us every single day to be strong, kind, driven, and independent. it's because of you mom, that our dreams are made possible. it's because of you, that we are the young women we are today." 
Chloe and Halle have been equally complimentary of their father, Doug Bailey, who they publicly honored on Father's Day in 2020. "Coolest dad there is!!!" wrote the singers via Instagram. "Thank you for always being our ride or die. Thank you for teaching us how to truly love ourselves. thank you for being our personal protector, bodyguard, manager, A&R, lawyer, comedian, x the list goes on x on. Any baby that meets you falls in love so that's even more confirmation of your pure soul. We love you dad. Don't know what we'd do without you. Happy father's day!!" Unfortunately, the sisters' bond with their parents has become more complicated in recent years.
Chloe Bailey's sultry image may have caused issues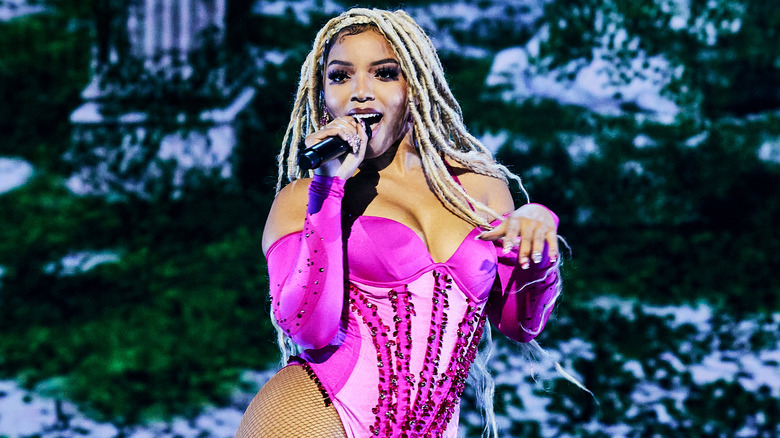 John Shearer/mtv Vmas 2021/Getty Images
In late 2022, Chloe Bailey's comments sparked suspicion that she and her parents had hit a rough patch. While the "Treat Me" singer originally posted in a Twitter Space about her godmother, Shermay, fans took it as a slight to her parents. "I could not do this thing called life without you," Chloe said, according to Hot 97. "You believe in me when I don't believe in myself. You life me up no matter how strong or weak I may feel. Thank you for being the light in my life, and I am so grateful and honored to know you and love you." 
Chloe went on to defend herself against critics who questioned why the 24-year-old was photographed holding her godmother's hands, citing anxiety. Interestingly, Chloe also made a surprising revelation about her parents. "I don't have the closest relationship with my parents," she revealed. "Maybe, one day, down the line, I'll share why. But... it's nice that I have a solid support system." At this time, Halle Bailey has not publicly shared similar sentiments. With that said, Hot New Hip Hop has speculated that Chloe's solo image, which is a far cry from her former image in Chloe x Halle, has caused division between herself and her parents. Ultimately, only their family knows the source of their conflict, but hopefully, they can work through their issues.