Colin Farrell's Relationship Status Is Totally Under Wraps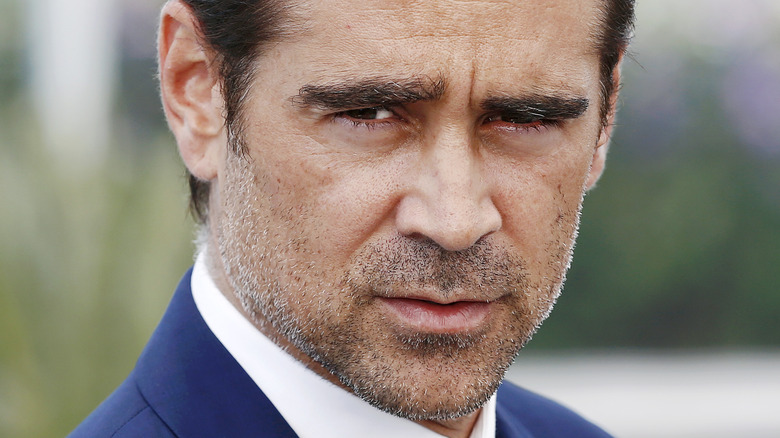 Andrea Raffin/Shutterstock
Colin Farrell used to have a reputation as a lusty Lothario and hard-partying heartbreaker. However, his Hollywood hell-raising days are firmly behind him. Now Farrell's more about yoga and spinning than drugs and drinking. In 2012, while celebrating seven years sober, Farrell confessed on "The Ellen DeGeneres Show" that he'd been "pretty cooked" during his first interview with her. "I was always getting drunk or getting over it," he shared, admitting it'd been "pretty tiring." Farrell said it was "really lovely to be present [in his] life" and that he was enjoying everything so much more now he's sober.
In 2018, Farrell reportedly re-entered rehab to prevent himself from falling off the wagon. The Daily Mail claimed he checked into The Meadows in Wickenburg, Arizona, after feeling "overwhelmed" by his crazy work schedule. Farrell had shot three movies back to back and allegedly started craving drugs again. But, for somebody who's so open about their addiction issues, he's very closed about his love life.
Farrell told DeGeneres that he was single. He said he'd love to have a girlfriend but didn't know how to get one — sure, that's totally believable, Colin. Farrell said he didn't have "a type," just "somebody that's a human being," and confessed to finding "kindness sexy." DeGeneres vowed to find him a girlfriend, which must have been a massive relief because let's face it, he really needs some help in that department. Well, fast forward more than a decade, and Colin Farrell's relationship status is still totally under wraps.
If you or anyone you know needs help with addiction issues, help is available. Visit the Substance Abuse and Mental Health Services Administration website or contact SAMHSA's National Helpline at 1-800-662-HELP (4357).
Colin Farrell likes to keep schtum about affairs of the heart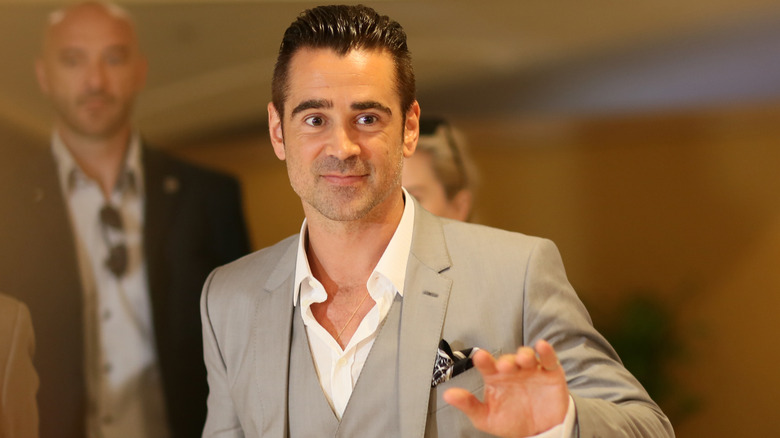 Denis Makarenko/Shutterstock
Colin Farrell doesn't like to kiss and tell. In fact, he prefers not to tell at all. Farrell has allegedly hooked up with half of Hollywood but rarely confirms any romances. In 2003, Britney Spears' relationship with Farrell hit the headlines after they were spotted looking cozy on the red carpet. Spears confessed to W magazine (via Paper) that they'd locked lips. "Yes, I kissed him ... He's the cutest, hottest thing in the world — wooh!" She said.
The dating gossip mill went into total overdrive in 2005 when Farrell and Angelina Jolie sparked romance rumors while filming "Alexander." The couple was snapped hanging out with Jolie's son Maddox and making the rounds at London hotspots. Farrell did little to stem the speculation despite insisting (again) that he was still hunting for another half. "Angie's pretty close to my perfect woman," he said at the red carpet premiere of "Alexander" (via Cinema). "At the moment, I am single, but Angelina could well and truly be the right woman. She certainly comes close."
Not close enough, it would seem — for Jolie, at least. Per Glamour, she was already hooking up with Brad Pitt at the time. The two married in 2014, then started a bitter divorce and custody battle two years later. Meanwhile, Farrell publicly confirmed he was dating actor Alicja Bachleda in 2009. People reports that they split a year later and Farrell was back to looking for love again.
Colin Farrell has two major loves in his life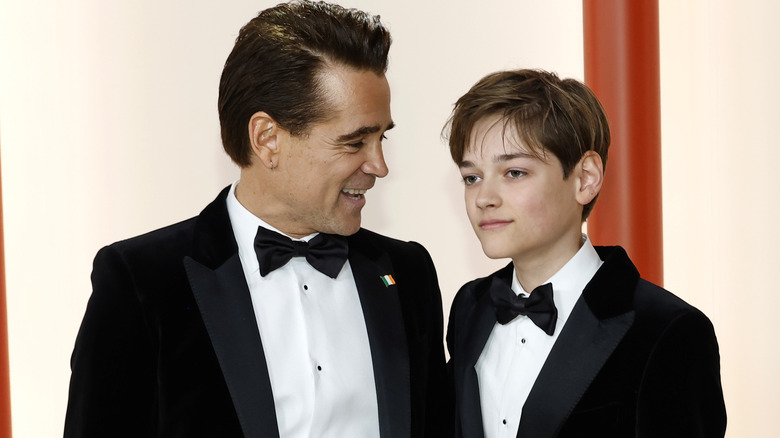 Mike Coppola/Getty Images
Despite it seeming like Colin Farrell is perpetually single, he's had his share of relationships. In 2001, the actor married Amelia Warner. He was 25, she was 19, and they split after four months. "Too fast, too young," he said about their brief marriage, according to People. In 2003, Colin welcomed his first son, James Padraig Farrell, with then-girlfriend Kim Bordenave. His second, Henry Tadeusz Farrell, was born in 2009. Colin split with the baby's mother, Alicja Bachleda, a year later.
"James and Henry, the loves of my life," Colin said in his 2023 Golden Globes acceptance speech (via Today). "I love you so much." Sadly, James suffers from Angelman Syndrome, a rare and incurable genetic disorder that causes developmental delays, speech and balance difficulties, and disruptions to the nervous system, per Mayo Clinic.
"The struggles of a child with special needs can be so brutal that they can tear at the very fabric of your heart, but the love shared and the pure strength and heroism observed is the needle and thread that mends all tears," Colin wrote for Today. He said despite losing the dream of a healthy child, "there are a thousand dreams and milestones that are yet to reveal themselves." Meanwhile, Colin admitted to Irish Mirror that he's single and lonely, rattling around his LA mansion — but you can skip the pity party — Kerry Condon told The Guardian that they got hot and heavy while filming "The Banshees of Inisherin."