Todd Chrisley's Son Kyle Has Been In Trouble With The Law More Than Once
The Chrisley family knows best indeed — especially when it comes to legal troubles.
Over the years, the reality show stars have found themselves in the middle of multiple controversies due to a string of run-ins with the law, chief of which is Todd and Julie Chrisley's incarceration. In November 2022, the two were sentenced to federal prison after being convicted of bank fraud and tax evasion. Chrisley patriarch Todd got slapped with a 12-year sentence and 16 months of probation, while his wife Julie is expected to serve seven years and an additional 16 months of probation. On January 17, 2023, the couple started their tenure behind bars.
And it looks like the apple doesn't fall too far from the tree, as Todd's son, Kyle Chrisley, who he shares with his ex-wife, Teresa, also has a long list of legal woes. From getting jailed for drug possession to being accused of aggravated assault, Todd's eldest son has incurred quite a legal record through the years.
Kyle Chrisley was first arrested in 2013
One of the first times Kyle Chrisley found himself in trouble with law enforcement was in 2013, when he was arrested for battery after reportedly getting into a physical altercation with his sister, Lindsie Chrisley Campbell. Per police documents unearthed by Radar, the siblings got into a row over how Kyle behaved in their grandmother's residence, leading to him hurting his sister. "Campbell said he balled up his right fist and struck her on the left side of the face just above the eye with the back of his hand," the report read.
What's more, he also reportedly got physical with the mother of his child, Angela Johnson, while she was pregnant with their daughter, Chloe. "He grabbed me and choked me when I was pregnant," she revealed to Life & Style. "There was a time when he got mad at me and came at me with a knife while I was holding Chloe."
Aside from allegations of violence, Kyle also has a long history of drug abuse, which resulted in him losing custody of Chloe. But his dad Todd Chrisley once came to his defense, blaming it all on his bipolar disorder diagnosis. "Kyle is bipolar and normally, people that are bipolar, they seek out a way to self-medicate, which is what Kyle has done since he's been young," Todd told E! News in 2014.
Kyle Chrisley was also jailed for drug possession and assault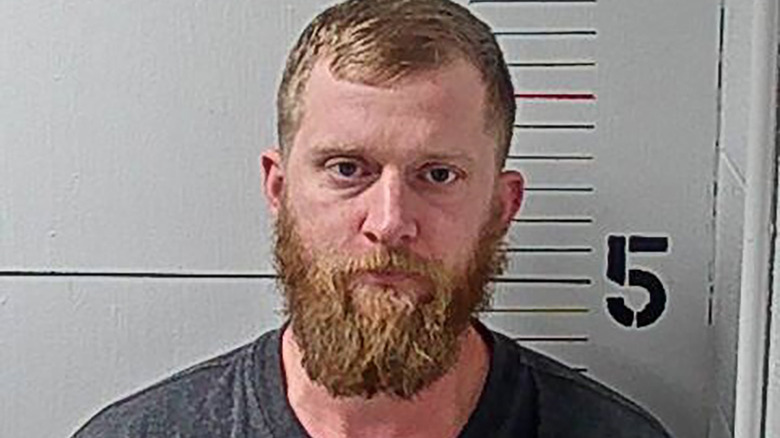 Handout/Getty Images
For the most part, Kyle Chrisley laid low in the years after his first arrests. However, come 2019, he was sent behind bars yet again. At the time, TMZ reported that Kyle was jailed in Oklahoma after authorities discovered that he was in possession of methamphetamine. And upon his arrest, law enforcement also learned that he was wanted in Georgia due to his estranged wife, Alexus Chrisley, claiming he sent her text messages that were a "threat to [her] life." The texts allegedly read: "[N]ot before I end you. Im going to the streets I will get my s**t and take care of this problem with you because if I'm not with you nobody will be. Bye Alexus."
Kyle's drug charges were later dropped, with the outlet reporting that authorities found difficulty in proving that the drugs in his car were his. But Kyle's legal troubles did not end there. Apart from his ongoing case in Georgia, he was arrested in March 2023, just two months after his parents reported to prison. ABC News reported that the "Chrisley Knows Best" alum turned himself in for booking after an arrest warrant detailed his involvement in yet another physical altercation. Kyle allegedly assaulted one of his superiors at work by "striking him multiple times in the face and upper body" and "displayed a fixed blade knife and threatened to kill/stab him."