Teresa Giudice And Jacqueline Laurita's RHONJ Feud Explained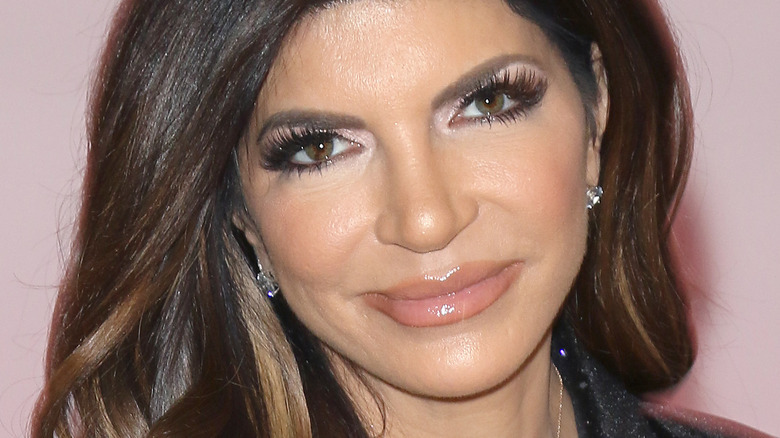 Jim Spellman/Getty Images
Past "Real Housewives of New Jersey" cast mates Teresa Giudice and Jacqueline Laurita have a complicated friendship history. When the reality stars began appearing on "RHONJ" back in 2009, the two were close companions. They shared special memories as the series gained popularity, including going on a vacation to Italy together with friends and family, as well as appearing at events and talk shows like "Live with Regis and Kelly" to promote "RHONJ," per Page Six. 
In a November 2022 chat with Scheana Shay of "Vanderpump Rules," Giudice recalled how she signed her "RHONJ" contract with Laurita by her side. "I signed the contract without showing a lawyer," Giudice said. She added, "I was with Jacqueline ... She called and said, 'Come on, Teresa, sign the contract already. Let's do this.'" Giudice noted that "[she] and Jacqueline were best friends" at the time, and the pair then dropped off the contract at a FedEx, sealing the deal on their TV show venture. However, tension began to grow between Giudice and Laurita as they continued as co-stars on the hit Bravo series. 
Teresa Giudice and Jacqueline Laurita's feud unfolded on-screen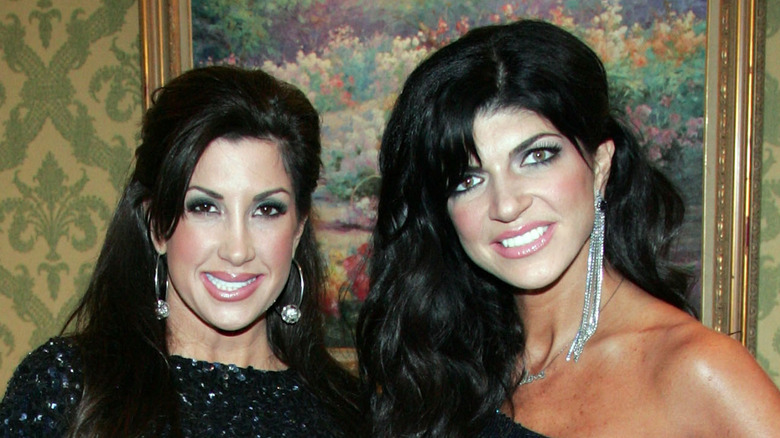 John W. Ferguson/Getty Images
Teresa Giudice and Jacqueline Laurita have gone through ups and downs as friends. Though they were in a good place when "The Real Housewives of New Jersey" started, in time, this dynamic took a turn. As Bravo reported in 2016, Giudice and Laurita were at odds on various occasions, including when Laurita heard Giudice was partly to blame for her sister-in-law, Dina Manzo, not speaking with her. Though they attempted to reunite as companions, Giudice would later express her belief that Laurita played a role in Giudice's strained relationship with her brother, Joe Gorga.
In the Season 7 "RHONJ" finale, per People, Giudice declared she was finished with the friendship. "She's done — she's dead to me," Giudice said of Laurita. "She's toxic, evil, miserable — she's psycho. She goes around hurting other people. It's really sad. ... She's got issues." Amid the drama, Giudice and husband Joe served prison time related to fraud charges, People reported. As Joe subsequently faced possible deportation to Italy in early 2019, Giudice announced they would separate if Joe got deported. In response, Laurita told Us Weekly that she deemed this choice to be "a little selfish." Laurita said, "If Joe is truly the love of her life and the father of her kids, you'd think [Giudice] would go wherever he goes to keep the family together as a unit!" But, surprisingly, this disagreement didn't permanently end their relationship.
Jacqueline Laurita and Teresa Giudice have reunited
Teresa Giudice and Jacqueline Laurita have moved past their conflict. In February 2023, Giudice posted a photo on Instagram of herself and Laurita smiling while posing side by side. The two dined at Cipriani Las Vegas, and Giudice revealed that she and Laurita carried out a lengthy and pleasant conversation. "5 hour lunch! Lots to talk about," Giudice wrote. "Lots of laughs too! Reunited and it feels so good!" Fans flocked to the comments section, with many happy to see the duo together again. One user commented, Lucy and Ethel...real friendship never dies." Another stated, "Ya'll just broke the internet." Laurita posted the same photo of herself and Giudice, saying "life is good for both of [them]," and "it is easier to forgive and maintain a friendship" now.
During a "Watch What Happens Live" chat soon after this meeting, Giudice detailed that she'd been in Vegas to see a concert, during which time she was thinking of Laurita and Laurita's son Nicholas. This led to Giudice organizing a friend reunion with Laurita. "I've been thinking about [Laurita] a lot because we both have Nicholases — my stepson is Nicholas — and they both have autism," Giudice said. "So she's been on my mind a lot,  and I was going to Vegas to see Bruno Mars. So... 'Let me reach out to her.'" Giudice then added, "Time heals all wounds. It really does."