Why Shakira And Pique Were Doomed From The Start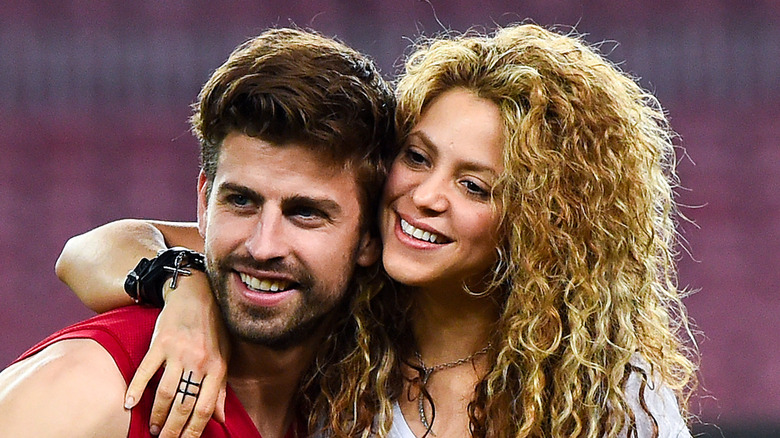 David Ramos/Getty Images
This feature references mental health issues. 
Shakira is undoubtedly a musical legend who has broken through barriers her entire career to get where she is today. The Grammy award-winning artist's chart-topping anthems like "She Wolf," "Hips Don't Lie," "Chantaje," and several others have proven her worth as a successful performer. She's rocked the world with her talented vocals, hypnotizing dance moves, and a variety of beloved Spanish and English hits.
Her career may continue to take her to new heights, but her personal life has been the subject of tabloid speculation over the years. While her hips don't lie — her ex-partner Gerard Piqué might. The pair met while Shakira was shooting the music video for "Waka Waka," in which the former professional soccer player made a guest appearance. The two went on to have an 11-year year relationship and welcomed two sons together. 
However, their love story ended in June 2022, over what's widely believed to be the former Barcelona defender's infidelity. In 2023, Shakira's record-breaking track, "Shakira: Bzrp Music Sessions, Vol. 53" appeared to drop some major allegations against her former man who publicly moved on with his 23-year-old girlfriend, Clara Chia Marti shortly after the split. Some of the song's Spanish lyrics even translate to, "No hard feelings, baby, I wish you the best with my supposed replacement. I'm worth two 22-year-olds — you traded a Ferrari for a Twingo." Now that the She-Wolf is out of her closet once again, we're taking a look at why Shakira and Pique were doomed from the start.
Did Shakira suggest that Piqué was territorial?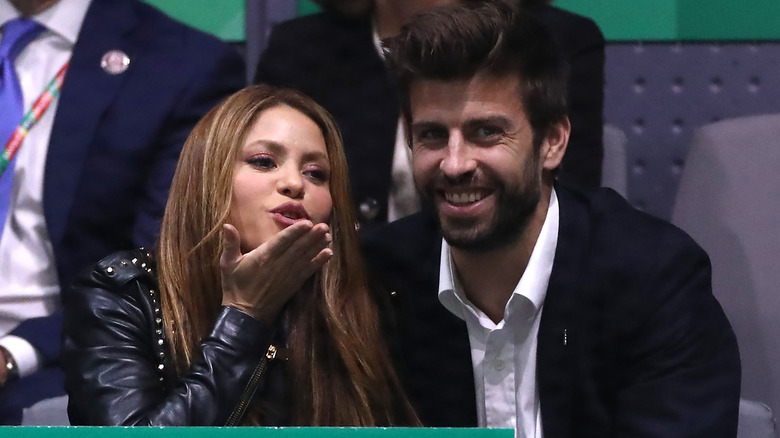 Alex Pantling/Getty Images
Shakira is a household name — and with her jaw-dropping looks and talents to kill, she's bound to draw attention anywhere she goes. However, that power may have its drawbacks, as the "She-Wolf" artist appeared to discuss her then-partner Gerard Piqué's jealousy in an interview with Billboard in 2014. 
Though the world sees her as a confident, independent, powerful symbol of female empowerment through her music, the artist revealed that she'd asked Piqué for permission before shooting the sensual music video for "Can't Remember to Forget You," alongside Rihanna. "He's very territorial, and since he no longer lets me do videos with men, well, I have to do them with women," the singer joked. "It's more than implied in our relationship that I can't do videos like I used to. It's out of the question — which I like, by the way," she said. "I like that he protects his turf and he values me, in a way that the only person that he would ever let graze my thigh would be Rihanna."
Shortly after the interview came out, fans were less than pleased by the suggested power dynamics in the "Whenever, Wherever" star's relationship. So much so, that Shakira took to Facebook to dismiss the speculation, adding that her humor was taken out of context. "The reality is that we have a beautiful relationship of mutual trust, and jealousy has never been an issue on either side." 
Shakira's fear of tying the knot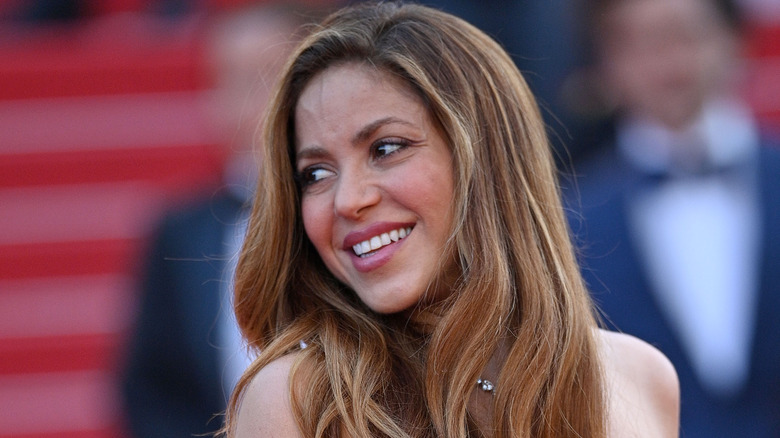 Lionel Hahn/Getty Images
It might be a while before the world sees Shakira walk down the aisle in a white dress. The "Hips Don't Lie" singer got candid about her thoughts on marriage during a 2020 interview with "60 Minutes," where she fessed up to feeling daunted by the idea of marriage. "I don't want [Gerard Piqué] to see me as the wife. I'd rather him see me as his girlfriend ... his lover" the singer revealed about her then relationship. "... It's like a little forbidden fruit, you know? I wanna keep him on his toes. I want him to think that anything's possible depending on [his] behavior," she added.
Despite not being officially married, Shakira and Piqué certainly seemed to be deeply committed to one another. The "Can't Remember to Forget You" artist even called him her "husband-slash-boyfriend-slash-baby-daddy" during an appearance on the "Planet Weirdo with Holly H" podcast. Despite her jokes, the Grammy winner and her former partner were about as married as two unmarried people can be — living in their Barcelona home together and welcoming two kids together in 2013 and 2015. "We already have what's essential, you know? We have a union, a love for each other, and a baby," Shakira told Glamour magazine in 2014. "I think that those aspects of our relationship are already established, and marriage is not going to change them," 
Gerard Piqué wasn't a fan of Shakira's busy schedule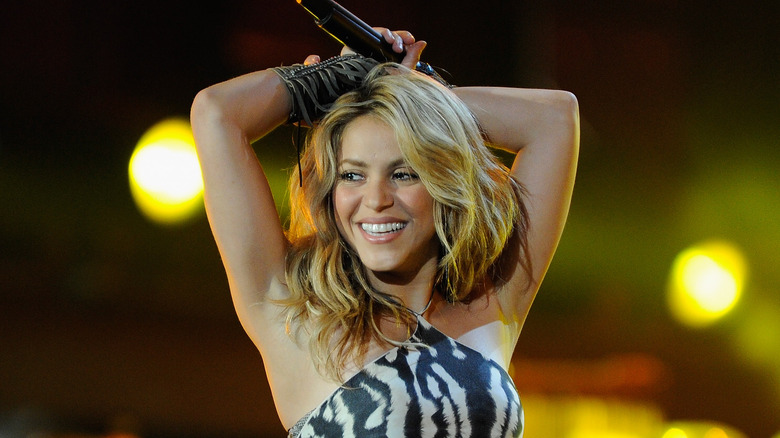 Stuart Franklin/Getty Images
No one knows a jam-packed schedule and overflowing career commitments better than international superstar Shakira. On the "Planet Weirdo with Holly H" podcast, she suggested that her time management issues may have conflicted with Gerard Piqué's diligent daily regime. Highlighting the time difference between Columbia and Catalonia, she shared, "He has to wait up for me so long. He's tired of waiting up ... He's very strict, very punctual. He's been brought up in a football team where he's a team player and he has to be [punctual]. It's like the army there ... like a combination of like an army-slash-kindergarten." The artist went on to reveal that her fights with Piqué usually involved her being late.
Where Piqué's former soccer career had him on a regimented schedule, Shakira's music career had her working non-stop, and often through weekends, to achieve the level of success she continues to strive for. "I have no notion of time. And also, like my career has been so consuming my entire life so that a Sunday was the same as a Monday for me," Shakira admitted on the podcast. "... If I need to work on a Saturday or Sunday or Monday, it's the same." 
In 2022, their career paths were at a crossroads — Piqué announced his retirement from professional soccer while Shakira continued to release singles like "Monotonía" and "Te Felecito," with no plans of stopping anytime soon.  
Money may have played a role in their problems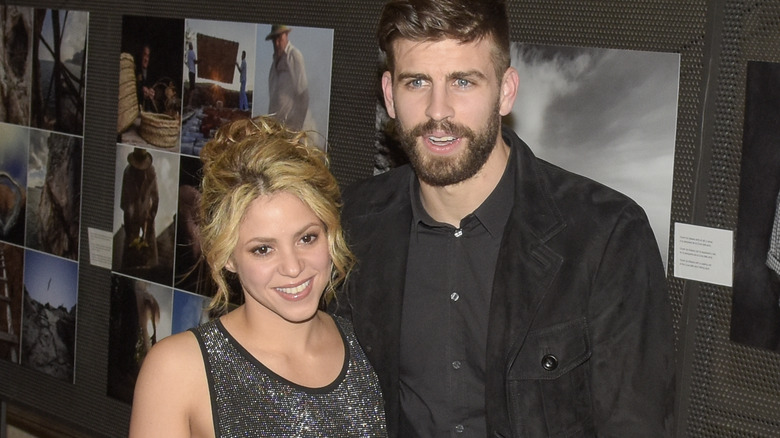 Robert Marquardt/Getty Images
While neither Shakira nor Gerard Piqué confirmed the rumors, fans speculated that money may have caused significant tension in their relationship. In an interview with the Spanish news outlet EsDiaro, Roberto Garcia, who previously dated one of Shakira's sisters, revealed that the pair had been fighting for months before the split. Translated from Spanish by Google, Garcia admitted, "A very close person told me there has been an economic problem between them. Supposedly, Piqué would have asked Shakira for money for an investment issue and the singer's family has refused to give it to them." He went on to add that the pair didn't mix their money, and alleged, "She is also investing in other construction businesses ... That's where the problems started."
The purported problem Garcia was referring to could be the ongoing tax-evasion lawsuit against Shakira. In 2022, the artist was ordered to go to trial after being charged over $14.5 million in alleged tax fraud between 2012 and 2014. However, the performer defended denied the allegations. Per Time, she claimed that she couldn't be considered a Spanish resident during those years because she was traveling and likely didn't spend more than the necessary 183 days in the country to make her liable for Spanish taxes. "These are false accusations," she told Elle magazine. "I was busy fulfilling my professional commitments around the world. Second, I've paid everything they claimed I owed, even before they filed a lawsuit."
Shakira sacrificed a lot for Piqué's soccer career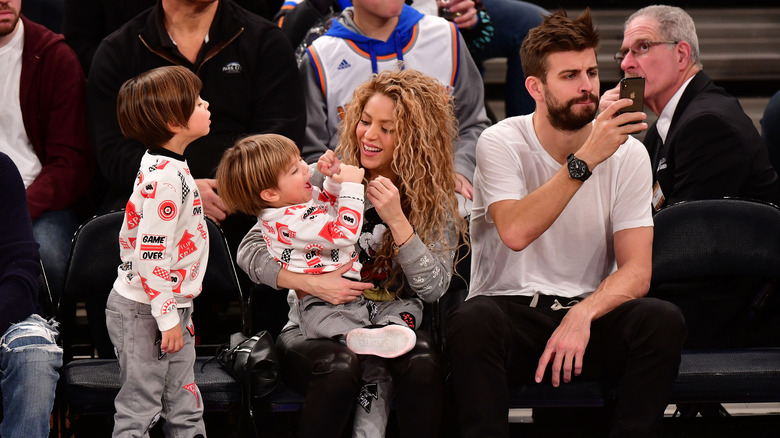 James Devaney/Getty Images
In the midst of Gerard Pique's professional soccer career, he and Shakira welcomed their son Milan together in 2013, and their second son Sasha in 2015. The pair were forced to manage parenthood, as well as both of their demanding careers at the same time. The "Chantaje" singer told Elle that her music was forced to take a backseat so she could manage her duties as a mother while Piqué continued his soccer contract in Barcelona. The singer admitted, "As a soccer player, he wanted to play football and to win titles and I had to support him. I mean, one of the two of us had to make a sacrifice, right?" 
In 2014, Shakira ultimately made the decision to move to Barcelona full-time and become a stay-at-home mother to her children. "I put my career in second gear and I came to Spain, to support him so he could play football and win titles. And it was a sacrifice of love," she told the magazine. "Thanks to that, my kids were able to have a present mom, and I have this amazing bond with them that is unbreakable and that sustains us." 
Ultimately, the sacrifice paid off in Piqué's favor, as well. In addition to his 2010 World Cup win for Spain, the player went on to compete in the 2014 and 2018 World Cup, as well as winning the FIFA Club World Cup for Barcelona in 2016.
Shakira's depression after vocal cord surgery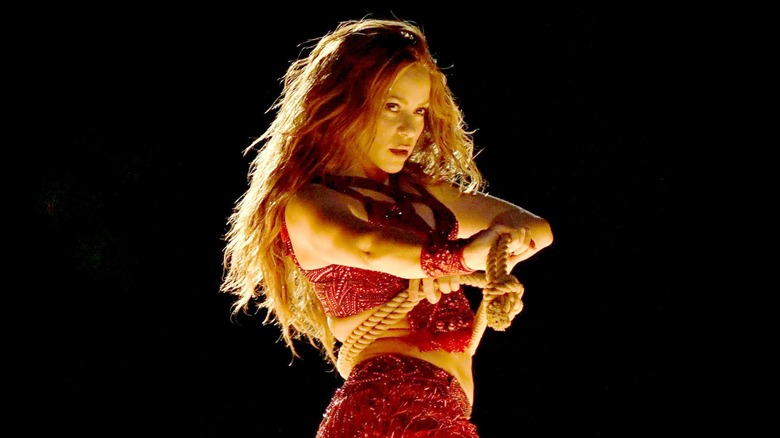 Kevin Winter/Getty Images
With pipes like Shakira, it's hard to imagine anything standing in the way of the singer using her voice. But in 2017, the "Te Felicito" singer suffered depression after her vocal cords hemorrhaged. "I never thought that my voice would leave me because it's so inherent to my nature," she told The Guardian. "It was my identity. So when I couldn't sing, that was unbearable. There were times I couldn't even get out of bed — I was so depressed." 
While doctors insisted Shakira undergo surgery, the artist had other ideas. She traveled all the way to Lourdes, a town in France famous for its spring water that comes from the Grotto of Massabielle. The historical site is where it's believed that the Virgin Mary sought out the water for healing purposes. Thankfully, Shakira's voice did eventually find its way back to her without surgical intervention, but it took its toll on her relationship with Gerard Piqué. "I was not positive. I was so pessimistic. I was a bitter person to be around," she admitted. "Gerard saw the worst of me." 
Not being able to even speak, the "Waka Waka" artist used hand signals to communicate with her children — who were aged just 2 and 4 at the time. The Grammy-winning artist was forced to push back her "El Dorado" tour, which began later in 2018.
If you or someone you know needs help with mental health, please contact the Crisis Text Line by texting HOME to 741741, call the National Alliance on Mental Illness helpline at 1-800-950-NAMI (6264), or visit the National Institute of Mental Health website.
Shakira hinted at a split through her music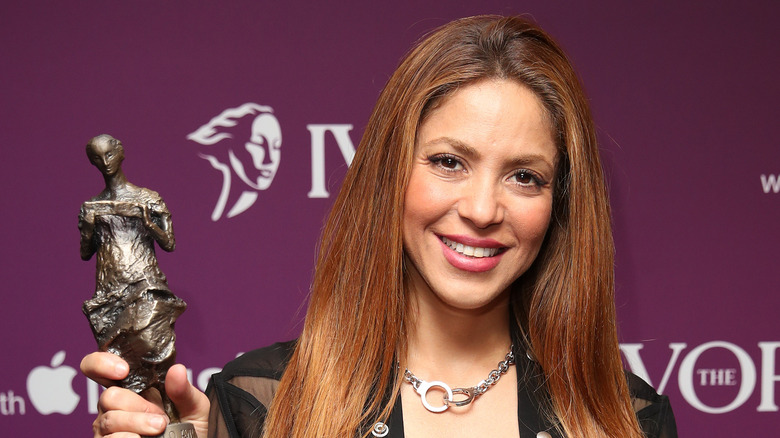 Luke Walker/Getty Images
With creative expression being at the forefront of what Shakira does as an artist, there's no doubt she channels her personal experiences through her music. However, the question of how much of her lyrics fans should take literally is up for debate. It certainly doesn't stop her fans from speculating on the topic online, especially when the artist released the track "Te Felicito" with Rauw Alejandro in 2022. In the song, she sings in Spanish, with lyrics that translate into English, "For pleasing you, I broke into pieces. They warned me but I didn't pay attention. I realized you were fake, it was the drop that spilled the glass." 
The song was released in April 2022, just two months before Shakira and Gerard Piqué announced their split. Following the breakup, the singer was asked about the track in an interview with Elle, but she neither confirmed nor denied the relevance the song had to her own relationship woes. "I can only say that either consciously or subconsciously, everything I feel, everything I go through is reflected in the lyrics I write, in the videos I make. When the glove fits, it fits," she admitted. "... My music is that channel."
Piqué claimed fan whistles are better than sex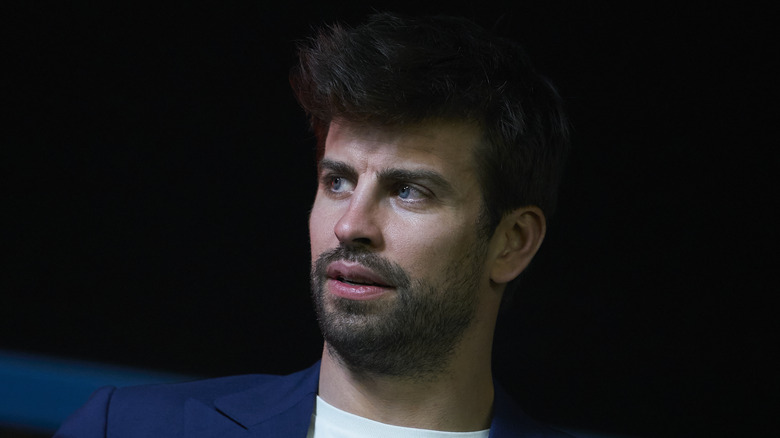 Quality Sport Images/Getty Images
Gerard Piqué may have landed himself in the doghouse with Shakira when he got candid during a 2022 interview with "The Wild Project." When the former professional soccer player was asked about what it was like to play against his former team's local rival team Espanyol, he didn't hold back with his comments. "I like going [to Espanyol's stadium], entering the pitch, that they whistle you," he said in translated Spanish. "That you laugh and they get even more pissed off. There is nothing like that in the world. I would say that it is better than sex."
There's no telling what his former partner Shakira thought about the conversation. Her song "Me Gusta," which she performed on alongside Anuel AA, seemingly alluded to lingering problems in a relationship. Whether or not these lyrics were fictional or expressive of real-life issues will likely remain a mystery. Regardless, the 2020 track includes lyrics translated from Spanish that state, "I try to start a conversation, but you don't give me a little of your attention. You always want to do what you want, and you want to fix everything in the bed." Whether or not intimacy was an issue between the pair is obviously up for debate — and frankly, none of our business. But if Shakira's lyrics are any indication, we certainly can't help but wonder.
Did Gerard Piqué cheat on Shakira?
Keep an eye on your jars of jam — because that's exactly how Shakira found out about Gerard Piqué's alleged infidelity. The cheating rumors began after Shakira released her "Te Felicito" track with Rauw Alejandro in 2022 and the music video for the song showed her opening the fridge to find the Puerto Rican singer's head inside. During a segment of the Spanish television program "Socialite" (via People) the "Hips Don't Lie" singer was said to have dished that her ex-boyfriend never ate a specific jam she loved. Detective Shakira apparently began to suspect something was amiss when she discovered it had been eaten upon returning home from traveling.
Piqué has since moved on to Clara Chia Marti — the apparent jam lover, if rumors are to believed — and he took to Instagram to share the news in January 2023. The couple was first seen together at a music festival in August 2022, just months after the former professional soccer player and Shakira split. Admittedly, fans had plenty to chew on for their theories regarding the messy split. The singer even appeared to call out Marti in her diss track "Shakira: Bzrp Music Sessions, Vol. 53" with Spanish lyrics that say, "She has the name of a good person — it's clearly not what it sounds like." In Spanish, the last lyric reads, "Claramente no es como suena," in an apparent reference to Marti's first name. 
Shakira's diss track broke records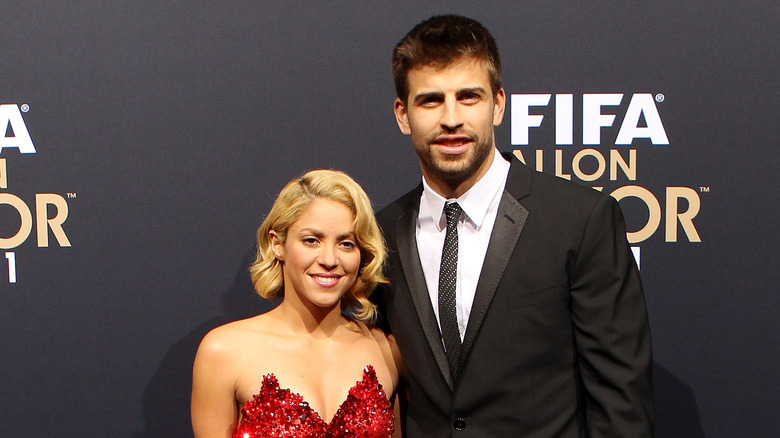 Scott Heavey/Getty Images
With their messy split dominating tabloids, and Shakira's hit track soaring on the Billboard Hot 100 charts, where exactly do the pair go from here? Gerard Piqué was forced to grudgingly confront Shakira's song "Shakira: Bzrp Music Sessions, Vol. 53," when he did an interview with RAC1 (via Football Espana) following the buzz about the song. "I do not want to talk. We have a responsibility, those of us who are parents must protect our children," he said when asked about the track. "Everyone makes their decisions. I don't feel like talking anymore. I just want my children to be okay."
As for Shakira, she's making millions. The singer reportedly made around $15 million for the track "Shakira: Bzrp Music Sessions, Vol. 53," and it broke the record  for the most-watched Latin song in a day with 63,000,000 views. She went on to perform the song on "The Tonight Show Starring Jimmy Fallon," where her passionate performance — flanked by an audience full of fans who sang along with every word — went viral. On Twitter, one user wrote, "This is the most lit talk show performance ever!" Another tweeted, "Only [Shakira] could create a hymn from pain."
While her hit track continues to be successful, Shakira is still processing the trauma of her split. "I feel like in this moment of my life, which is probably one of the most difficult, darkest hours of my life, music has brought light," she told Elle.