The Rumored Short-Lived Fling Between Drake And Hailey Bieber
Daniele Venturelli/Getty Images
The Internet remains divided over whether Justin Bieber should have ended up with his current wife, Hailey Bieber, or his longtime on-off ex-girlfriend, Selena Gomez. However, both Justin and Gomez have alluded to past toxicity in their relationship. Plus, the "Peaches" singer seems happier than ever with Hailey! "Now i am navigating the best season of my life "MARRIAGE !!" Justin wrote in an emotional 2019 Instagram post, adding that the experience of being married to Hailey taught him "patience, trust, commitment, kindness, humility, and all of the things it looks like to be a good man."
Drama resurfaced in early 2023 when Selenators speculated that Justin's 29th birthday party favors were a dig at his ex. But on the brighter side of things, it could have just been a nod to Justin's love for his wife. And, to be fair to Justin, he's not the only one with a list of famous exes! Before tying the knot with the Grammy winner, Hailey dated another singer: Shawn Mendes. Though their time together was short-lived, the pair was spotted holding hands out and about on the Hollywood circuit — and Mendes was Hailey's date to the 2018 Met Gala. Mendes also documented his time with Hailey on social media, so they were at least serious enough to go Insta-official.
What's less talked about is the fact that Hailey appears to have a thing for singers. Before Mendes, Hailey cozied up to Drake, though they never confirmed a relationship.
Drake and Hailey Bieber went on a few dates in 2016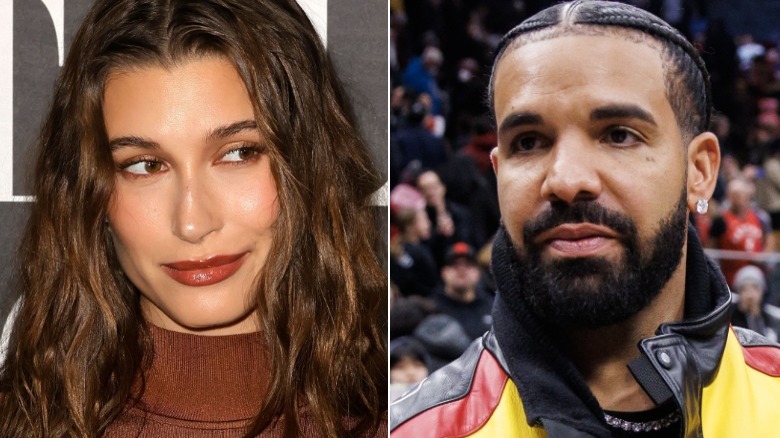 Kevin Winter/Getty & Cole Burston/Getty Images
It's not clear whether Drake and Hailey Bieber officially dated before Hailey was a married woman. People reported that they looked couple-y at his 2016 Memorial Day party, where they got "very affectionate" with each other. A few weeks later, a source told the outlet that Drake and Hailey were "dating super casually, but he is really into her. They met through mutual friends and are taking things slow." If by slow, the insider meant Drake was wearing jewelry with Hailey's initials while on a date with her, then sure. According to ET, an eyewitness noted that the model and the rapper appeared "enamored" with each other while wining and dining. "They were totally engrossed in conversation" and "very smiley [with each other]," the insider added.
Barely a month later, however, it seemed that any sparks had since fizzled out. "I've known [Drake] for a long time, I don't know if people really know that," Hailey told reporters at the 2016 iHeart Radio Much Music Video Awards, implying that she and the "God's Plan" singer were just friends. An insider confirmed as much, explaining, "[Drake and Hailey] have always had a close friendship and similar group of friends. They are very playful with each other, but nothing romantic is going on at this moment." The abrupt split could have been due to the A-listers still getting over their exes, Rihanna and Justin Bieber.
Did Drake and Hailey Bieber have their respective exes on the mind?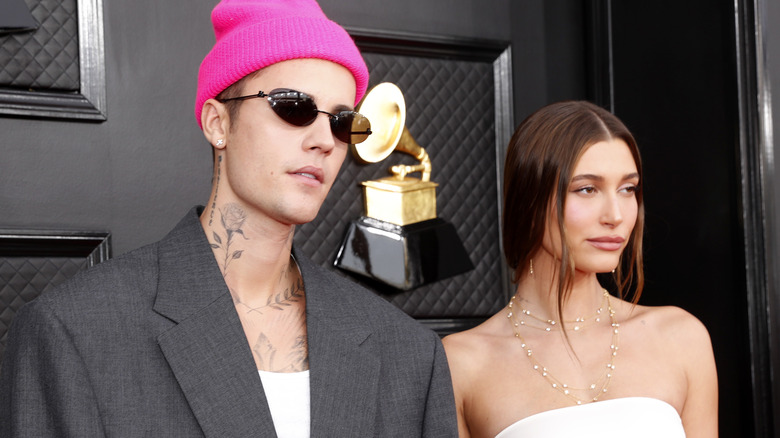 Johnny Nunez/Getty Images
When Drake and Hailey Bieber got together in 2016, they were both fresh off of breakups. For Hailey, it was important that she take some time to remain single after Justin Bieber had ended things with her. "I didn't just throw myself into a relationship, throw myself into something else ... I did other things to try to distract myself ... but I didn't search for someone to ... come take [Justin's] place," she reflected on "The Biebers on Watch" — seemingly implying that she was never in a relationship with Drake. Whether it was a mutual decision to end things, or Hailey's call to pull the plug, remains unclear.
But for Drake, there were added complications in the form of Rihanna. By his own admission, Drake had crushed on the "Umbrella" singer for a long time, so perhaps he couldn't fully commit to Hailey? And perhaps most tellingly, Hailey and Drake fizzled out right around the same time Drake and Rihanna started heating up. Coincidence? Maybe not. "Drake has always wanted to make things work with Rihanna. They are still dating. Things get more serious when they're in the same place," a source told People in July 2016. Unfortunately for Drake, that ship crashed and burned. By 2018, the pair were no longer on speaking terms. Meanwhile, Hailey got her happily-ever-after and is still married to Justin, as of this writing.