Justin Bieber's Party Favors Seemingly Hint At Wife Hailey's Feud (& He's Not On Team Selena)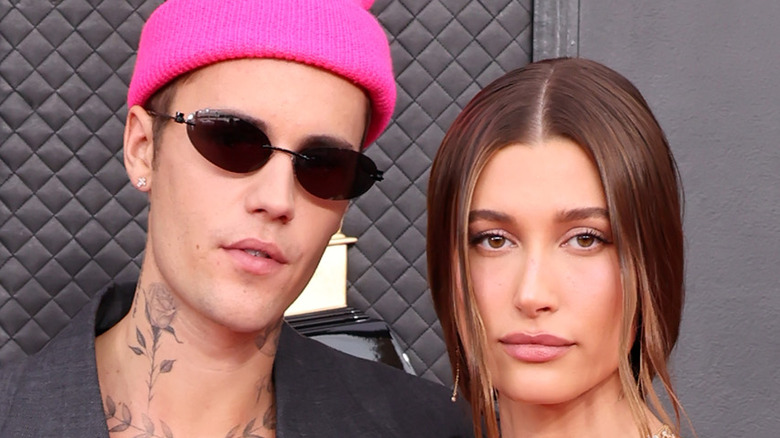 Amy Sussman/Getty Images
It's 2023, but celebrity feuds are still alive and well. The latest is the ongoing Selena Gomez-Hailey Bieber drama, which didn't come out of the blue. Gomez's prior up-and-down relationship with Hailey's husband Justin is basically pop culture lore, and when Justin wed Hailey, she received lots of online hate from Selenators. You might think things would have quieted down since the Biebers' 2018 wedding, but social media videos from Kendall Jenner, Kylie Jenner, and Hailey have hinted otherwise.
In January, a TikTok video from Kendall, Hailey, and their friend Justine Skye appeared to be body-shaming Gomez, though the trio denied it. Then, when Gomez dethroned Kylie as the most-followed woman on Instagram, Kylie and Hailey posted Instagram Stories poking fun at Gomez's eyebrows, per Yahoo. Gomez made waves of her own by unearthing an old video of Hailey pretending to gag at the mention of Gomez's bestie, Taylor Swift. "So sorry, my best friend is and continues to be one of the best in the game," the "Wolves" singer wrote in response (via Teen Vogue).
It's all very Mean Girls-esque, and flies in the face of the solidarity that Gomez and Hailey presented when they posed for pics at the Academy Museum Gala in October. In fact, things have gotten so out of hand that Gomez announced a short hiatus from social media, writing, "I'm too old for this." Now, Justin has gotten involved with some very telling party favors.
Does Justin Bieber have a message for his ex?
When Justin Bieber celebrated his 29th birthday on March 1, he did so with engraved lighters that read, "I'm so thankful that I didn't end up with what I thought I wanted." Naturally, it took social media all of one hot second to assume that the inscription was a dig at Justin's ex, Selena Gomez. "Their whole world revolves around selena gomez. You are 5 years into marriage and still your ex is the main topic on your birthday? ... imagine if it was selena doing this, they would call her obsessed," one person tweeted. "That's such an oddly specific message to have engraved on something for a party favor at a birthday party," another commented on Facebook, adding it was "giving off '[Hailey] ordered these.'" However, there were those who defended the "Peaches" singer, noting that the cryptic quote could be referring to any number of things. A separate source debunked any claims of bad blood, telling Page Six that the inscription was not about the Gomez-Hailey Bieber rivalry. "It's not what people want it to be [about]," they said.
What is clear is that Gomez has some of the most devoted fans out there. In response to the sus lighters, she hopped back on social media to encourage those same fans to give the Biebers a break. "Please please be kinder and consider others mental health. My heart has been heavy and I only want good for everyone. All my love," she wrote.