Where Is Lindsay Lohan's Controversial Father Michael Today?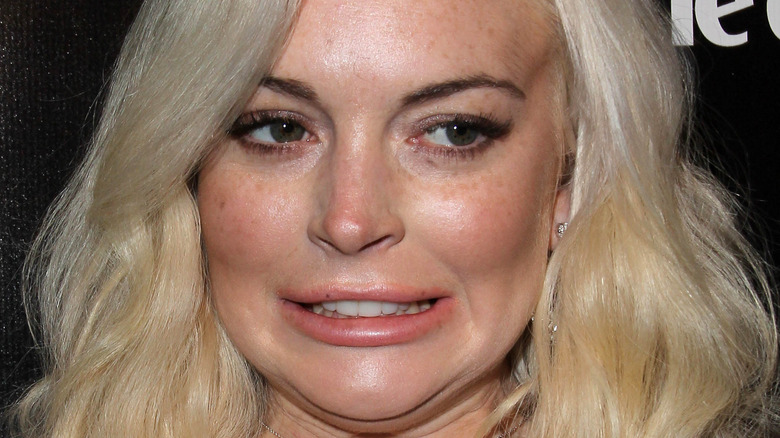 s_bukley/Shutterstock
Given her genetics, poor Lindsay Lohan never stood a chance. In 2003, Lindsay's mom, Dina Lohan, copped her first DWI. She was fined $3,000, sentenced to 100 hours of community service, and her license was suspended for a year. "I'll never be back here again," she vowed as she left court following the sentencing. "You can quote me on that one."
In 2021, Dina was handed a jail sentence for felony DWI. She rear-ended a car while drinking and driving on a suspended license. Per NBC News, Dina sped away without reporting the accident. She was sentenced to 18 days and five years probation. In addition, Dina's license was revoked for another 18 months. She was also ordered to undergo a Stop DWI program and install an ignition interlock device on her car.
As for Lindsay's dad, Michael Lohan? Let's put it this way, he won't be winning any father of the year awards anytime soon. Michael and Lindsay have a tumultuous relationship, to say the least. Over the years, he has consistently cashed in by flogging stories about his daughter to the tabloids, even selling Radar a voicemail message from a clearly distraught Lindsay begging for her dad's help. And Michael's been arrested so many times it's difficult to keep track — he was once arrested twice in 12 hours after being released on bond following domestic violence charges and violating a domestic injunction. So, where is Lindsay Lohan's controversial father Michael today?
Michael Lohan's soul saving mission was a short one
With parents like Dina and Michael Lohan, it's little wonder that Lindsay Lohan is one of the Hollywood celebrities who've been arrested more than once. However, now that Lindsay is expecting her first child with her husband, Bader Shammas, she's leaving all the drama behind her. Luckily, Michael is waiting in the wings to take sole custody of the law-breaking reins. And he's already off and running.
During his third stint in prison, Michael claims he was told he'd been called by god to help save the needy and the suffering. "Pastor Jack told Michael he wanted him to give up what he was doing and dedicate himself to helping others suffering from substance use," Vertava Heath reports.
So, Michael went to bible school, became a minister, and ventured into the world of treatment and recovery. Fast forward to 2023, and Michael has been sentenced to four years probation, fined $52,500, and banned from being "affiliated with any substance-abuse treatment center, clinical testing lab or facility that provides either recovery housing or aftercare." The Palm Beach Post reports that on March 15, Lohan pled guilty to five charges of "patient brokering" after pocketing some serious kickback cash in return for referring struggling addicts to Delray Beach treatment center. As for Michael's own pastor-inspired sufferer recovery and healing mission? According to the outlet, he launched Lola Recovery Ventures LLC in 2017. Then he closed it in 2019.
Michael Lohan's relationships are still tumultuous
Michael Lohan is eagerly awaiting the next chapter as the seven-time father is to about to become a first-time grandfather. Michael spoke to TMZ about Lindsay Lohan's baby news, insisting he and Dina Lohan will play a significant part in their grandchild's life. Michael claimed he and Lindsay are on "good terms and have been for years now" and vowed it was the same for him and Dina.
Sadly, there's no playing happy families for Michael's estranged second wife, Kate Major. The couple has an unbelievably toxic relationship filled with drama, arrests, assaults, DWIs, and restraining orders. Per the Daily Mail, Michael was arrested twice before they even married. In 2009 he was accused of shoving Major, and then in 2012, he allegedly threatened to throw her off a balcony. One year after their 2014 wedding, the couple lost custody of their two sons because of their violent fighting, and Major filed for divorce. Still, the two just don't know how to quit. In 2020, Michael was arrested for allegedly choking and threatening to stab Major after she confronted him about searching for escorts online.
Meanwhile, adding further to Michael Lohan's controversial life, Major is reportedly living with his ex-wife at her house in Long Island. Dina told Page Six she feels maternal towards Major as she's suffered similar treatment at the hands of Michael in the past. So much for Michael's claim of being on "good terms."