Amanda Bynes Placed On Psychiatric Hold After Last-Minute 90s Con Absence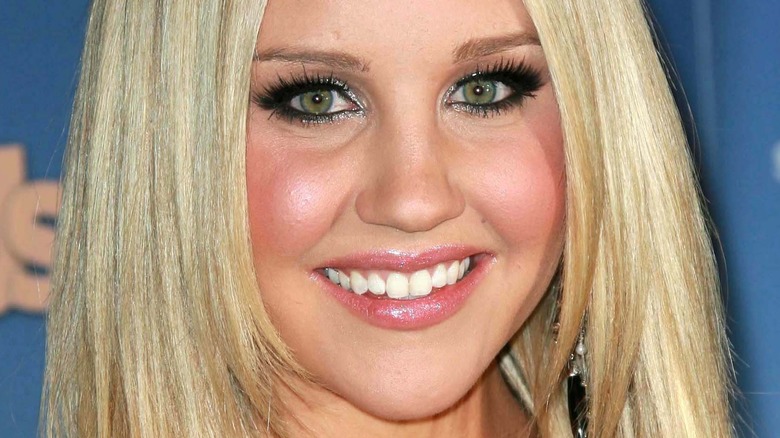 s_bukley/Shutterstock
Red flags were raised after Amanda Bynes pulled out of 90s Con at the last minute, citing illness. Friends' worst fears were confirmed Monday following news of her third psych-related hospitalization. The former child star's mental illness struggle has often played out publicly. In 2012, fans began wondering, "what happened to Amanda Bynes?" after a series of concerning events. This question was answered when she was forcibly placed on a psychiatric hold in 2013.
After Amanda's second 5150 (involuntary psychiatric hold) in 2014, she tweeted (via E!) that she'd been diagnosed with bipolar and was taking medication. Per People, Amanda's mother, Lynn Bynes, was granted a conservatorship, awarding her complete control of her daughter's "personal, medical, and financial affairs."
Concern for the actor's well-being surfaced again in September 2020 after she posted a selfie, looking tearful and down, showing a lopsided heart tattoo on her left cheek. Thankfully, Amanda made a major change to her face-ink appearance a year later by revealing (via The Sun) that she was having the tattoo laser-removed. Then, in March 2022, Bynes' conservatorship finally ended. "In the last several years, I have been working hard to improve my health so that I can live and work independently," she told ET. However, sadly, Amanda Bynes has been placed on psychiatric hold once again following her last-minute 90s Con absence.
Amanda Bynes suffers another mental health relapse
Amanda Bynes' psychiatric hospitalizations have been peppered with trips to rehab. In 2018 she announced (via Page Six) that she was celebrating her fourth sobriety anniversary. Unfortunately, she relapsed two months later. According to TMZ, Bynes was placed on a 5150 for the third time on March 19, 2023, after she was discovered in a distressed state wandering around the downtown Los Angeles area in the early hours of Sunday morning.
A source told TMZ, "Bynes waved a car down, telling the driver she was coming down from a psychotic episode." She called 911 and was subsequently placed on a 72-hour 5150 involuntary hold. The enforced hospital stay can be extended past 72 hours if it's deemed that Bynes is a danger to herself or others.
For the past few years, Bynes has seemed fairly healthy and happy. She was studying for a Bachelor's degree at the Fashion Institute of Design and Merchandising and looking forward to the future. However, she's also denied suffering from mental health issues. "Truly, for me, [my behavior] was drug-induced, and whenever I got off of [drugs], I was always back to normal," she told Paper magazine. "I know that my behavior was so strange that people were just trying to grasp at straws for what was wrong."
If you or someone you know needs help with mental health, please contact the Crisis Text Line by texting HOME to 741741, call the National Alliance on Mental Illness helpline at 1-800-950-NAMI (6264), or visit the National Institute of Mental Health website.