Jada Pinkett Smith's Name Was In Chris Rock's Mouth Way Before The 2022 Oscars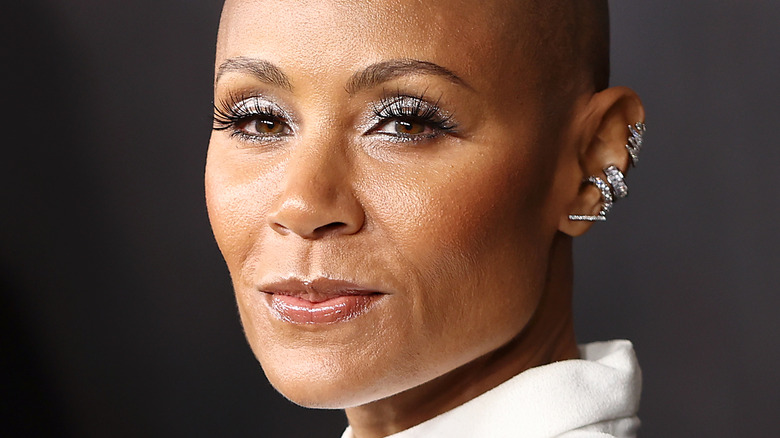 Matt Winkelmeyer/Getty Images
Leading up to the 2023 Oscars, it was kind of understood that, no matter the history-making wins or big personalities that were to come out of the show, it would not top the massive slap heard around the world from the year before. As the Daily Beast reported, when Will Smith yelled, "Keep my wife's name out of your f***ing mouth" at the 2022 Academy Awards, it became obvious that it wasn't really a bit between presenter Chris Rock and the "King Richard" star. But Smith coming up and slapping the comedian in the face definitely sealed the deal on the realness of the moment.
However, even though the recent Academy Awards didn't feature Smith — who's banned from attending the award show for a decade, per BBC, and was therefore unable to present the award for Best Actress, a tradition for the Best Actor winner from the previous year — Rock's recent Netflix special didn't seem to let the moment go. And with his vitriol seemingly still aimed at Jada Pinkett Smith and not Smith, per se, it's interesting to see that Rock has always gone after his "Madagascar" co-star.
Chris Rock made fun of Jada Pinkett Smith at multiple Oscars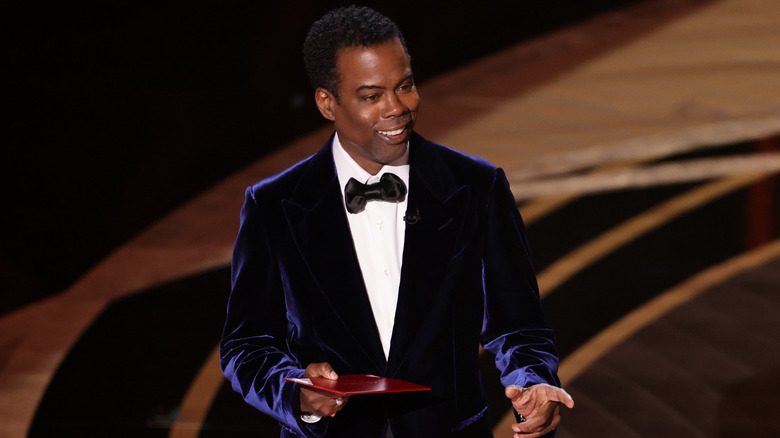 Neilson Barnard/Getty Images
In March 2022, Chris Rock presented at the Academy Awards and, in regular Rock fashion, he picked on some of the Hollywood elites in the audience. However, when he picked on Jada Pinkett Smith, her husband, Will Smith, was not amused. The comedian specifically made fun of Pinkett Smith's shaved head, calling her "G.I. Jane," which was a seemingly innocuous joke. But it hits differently once you recall that the "A Different World" star's head is shaved not by choice, but because she suffers from alopecia, a common hair-loss condition for Black women. And because hair can be such an important part of a Black woman's life and identity, it struck a chord when Pinkett Smith spoke out about it first in 2021 via her Instagram, according to Allure.
But, again, this isn't the first time, or even the first Oscars, that Rock has targeted Pinkett Smith. In 2016, when he hosted the Oscars, Rock poked fun at her boycotting the award show due to the exclusion of many viable Black nominees, including Will Smith. But it wasn't just Smith's lack of nomination that the public took issue with, as #OscarsSoWhite became a viral trending topic on Twitter, according to the Daily Beast. Of course, Rock took it as an opportunity for some snark. "Jada boycotting the Oscars is like me boycotting Rihanna's panties," he said. "I wasn't invited."
Chris Rock has used Jada Pinkett Smith as comic fuel since the 1990s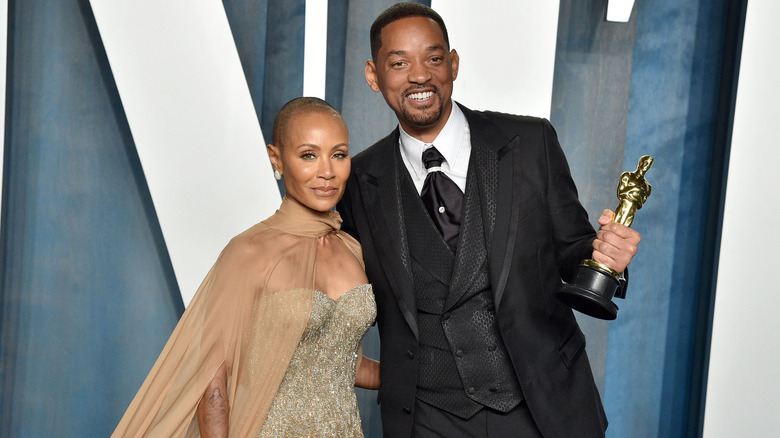 Lionel Hahn/Getty Images
Chris Rock obviously gets a kick out of heckling Jada Pinkett Smith. In fact, a source told People the comedian "is obsessed with her" — something that's been going on for more than three decades. They even pointed to the fact that Rock filmed his Netflix special, "Selective Outrage," in Pinkett Smith's hometown of Baltimore. "The Root" writer Candace McDuffie told CNN's Don Lemon that Rock has "made Black women specifically the butt of his joes for years." For McDuffie, Rock is "finally being held accountable" with Smith's slap for his brand of comedy.
This was proven by a clip from a 1997 episode of "The Chris Rock Show." In it, Rock targeted — you guessed it — Pinkett Smith by ridiculing the Million Women March. He said that Ice Cube called the march "B****es by the Bell" and minimized the speech Pinkett Smith gave during the event. Again, as the Daily Beast noted, in "Selective Outrage" Rock goes after Pinkett Smith, not Smith, who actually hit him. Rock defends his ire, saying "Nobody's picking on this b***h... She started this s**t," referring to the 2016 Oscars boycott. "Will Smith practices selective outrage," Rock said, "... because everybody knows what the f**k happened." Rock insinuated Smith is actually just embarrassed by the "Red Table Talk" episode where Pinkett Smith talked about her "entanglements" with August Alsina. Rock's target completely forgoes the fact that the Smiths are publicly and consensually non-monogamous.