How Is Pete Wentz And Ashlee Simpson's Co-Parenting Relationship Today?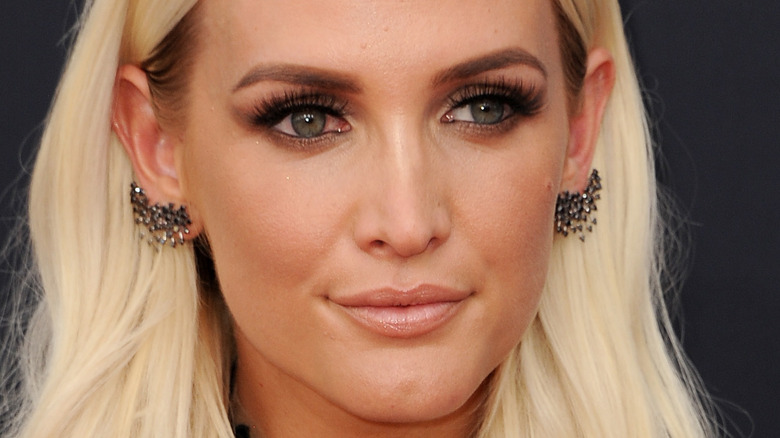 Tinseltown/Shutterstock
Ashlee Simpson and Pete Wentz's relationship were what teenage dreams were made of. The pair first met back in 2006 when they both attended one of the biggest events of the year — "The MTV VMAs." The couple got engaged in 2008, and People shared that Simpson announced the happy news on her website. "We are thrilled to share that we are happily engaged. Thank you for all of your support and well wishes – it means the world to us," Simpson wrote. "We consider this to be a very private matter, and we wanted to be the first to tell you and to hear it straight from us." 
Things progressed pretty quickly, and People reports that the happy couple wed the same year that they got engaged. The ceremony was held at Simpson's parent's home in California, and there's no denying that it was an occasion to remember. with famous names like Tony Romo in attendance. "We're delighted to confirm that Pete Wentz and Ashlee Simpson were married this evening in front of family and close friends," a source said of the 150-person wedding. 
During their time together, the couple welcomed one son, Bronx. Simpson and Wentz remained married up until 2011 when they called it quits. According to CBS, Simpson filed the papers, citing "irreconcilable differences" as the catalyst for the divorce. Wentz later spoke about the split on "The Howard Stern Show," saying that he thought he and Simpson would be together "forever," but sadly that was not the case. Here's what we know about their co-parenting relationship today.
Ashlee Simpson and Pete Wentz are co-parenting pros
Everett Collection/Shutterstock
It's not always easy to navigate co-parenting, but Pete Wentz and Ashlee Simpson are doing their best. In 2018, the Fall Out Boy rocker spoke about how he and his ex-wife, Ashlee Simpson, have fared, and the news is surprising. "We co-parent really well," he told People of their dynamic. "I have to say, I have really good co-parents to deal with. [Ashlee and Evan] are both communicative and easy-going," the bassist added. He also touched on how everything has been easy for their son. "For Bronx, it's basically the only life he's really known," he added. "So it's normal to him, and he's really good at it. Our schedules can be crazy, so we've been good about making sure Bronx has balance." In another People interview conducted in 2020, Wentz also opened up about his co-parenting relationship with the "Pieces of Me" singer, stating that they can raise their son together in a "really good, healthy way." 
It sounds like the pair are nailing this co-parenting thing, and Simpson has echoed her ex's sentiments. In a 2018 interview with Us Weekly, the singer told the outlet that she "lucked out" in the co-parenting dynamic with Wentz and his girlfriend, Meagan Camper, calling them "wonderful." And Simpson's husband, Evan Ross, agreed. "It could go all different ways. I think the fact that there is a lot of respect amongst all of us. That makes it easier," he shared. Awe, group hug!
Ashlee Simpson and Pete Wentz are still doting parent
At the end of the day, it's easy to see that Bronx is still the apple of his parent's eyes — even though things didn't work out between them. When Bronx was just 18 months old, Wentz gushed over his "big, smart, and nice" son while walking the red carpet at the Digital Content Newfront Conference. "I've now seen his empathy. If another kid falls down or if you burned yourself, he just hugs you or nods into you. Seeing empathy grow in him is awesome," he told People at the time. What a sweet dad. 
Years later, in 2023, Simpson spoke about Bronx during an appearance on Jennifer Hudson's talk show. Simpson was not short on words, and she gushed over how Bronx has grown into a great young man. "He's really chill, though, so I'm lucky for that," she told Hudson, per People. "He's a good kid so far." In November, Simpson shared a sweet photo of herself and her son on social media with an equally cute caption. "BRONX happy birthday my grown boy. Can't believe you are 14. You are the kindest, and coolest. I am so lucky to be your mom," she wrote in the heartfelt post.
Since they parted ways, Wentz and Simpson both moved on in their love lives. Simpson married Evan Ross, and they share two kids — Ziggy and Jagger. In turn, Wentz and his longtime girlfriend, Meagan Camper, share Saint and Marvel.