Hoda Kotb Steps Away From Today Show Again Following Daughter Hope's Hospitalization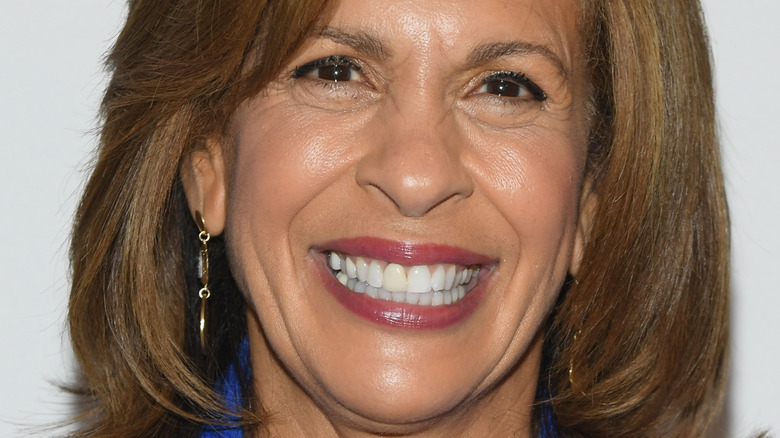 Gary Gershoff/Getty Images
Near the end of 2022, Al Roker dealt with unexpected health issues, which caused him to miss several episodes of "Today." Recently, Hoda Kotb also recently missed several tapings of the beloved morning show. And while Roker's unscheduled absence was caused by dangerous blood clots, which required surgical intervention and left him hospitalized for several days, Kotb's absence was also health-related. "My youngest, Hope, was in the ICU for a few days and in the hospital for a little more than a week," Kotb shared upon her return on March 6 (via Today). "I'm so grateful she's home. She is back home. I was waiting for that day to come. And we are watching her closely."
During her self-hosted hour of "Today," along with Jenna Bush Hager, Kotb also shared that the situation made her remember how amazing people are." Kotb continued, "That's the thing I learned through all this. The nurses who stood by her all the way, the nurses who checked on her constantly, the doctors who came in, the people who took care of all of us." Kotb also shared that her fear temporarily kept her from feeling gratitude, but eventually found her way. She also left viewers with a heartfelt message: "Anyone who's ever gone through an illness with a child, I thought I understood you, but I didn't." Now, Kotb has taken more time away from "Today" ... but this time it's for a much happier reason.
Hoda Kotb wants quality time with her children
If you're wondering why there aren't any new, live clips of Hoda Kotb floating around this week, don't worry. The news anchor and mother is relieving her built-up stress by taking a vacation. Specifically, according to Page Six, Kotb has taken her daughters on spring break, though the publication didn't specify their destination (if any). Hopefully, it's somewhere warm! In the meantime, NBC will air pre-recorded episodes of Kotb and Jenna Bush Hager's hour of "Today" until March 26. 
Fans of Kotb know all too well that she's a dedicated mother to both daughters, whom she adopted. "Sometimes I wonder like, 'How did this happen? How did I get this?'" Kotb recently shared of her journey to E! News. "I used to feel almost undeserving of it. But I don't anymore. Something happened within me where I was like, 'You know what, I'm worthy of these children, I'm worthy of myself. I'm enough just as I am. I will nurture and love these little girls, as long as God lets me have them for as long as I'll be here.'"