Below Deck: Are Fraser Olender And Jake Foulger Still Friends After Their Kiss?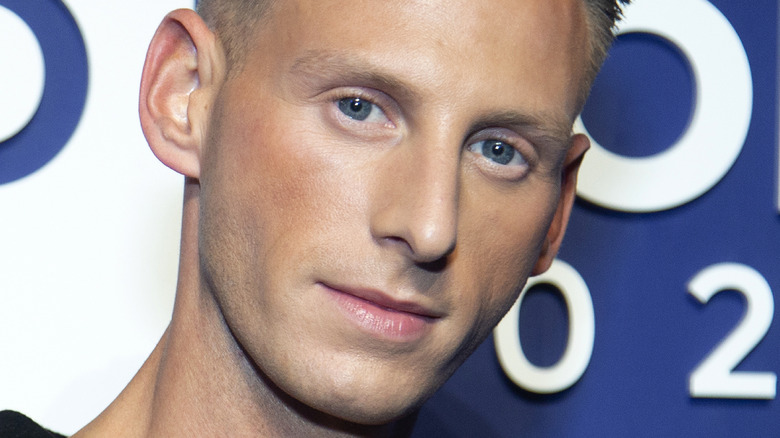 Santiago Felipe/Getty Images
Fraser Olender was mortified in Season 9 of "Below Deck" when he learned that as part of a drunken dare, he'd kissed deckhand Jake Foulger. But where do they stand today?
In the Season 9 episode — named "He kissed a boy and he liked it," for obvious reasons — Olender and Foulger were en route home from a particularly raucous night out. After being dared to kiss by fellow Deckhand Rayna Lindsey, Foulger didn't think twice — and chief stew Heather Chase caught it all on camera. In the immediate aftermath of the kiss, Foulger made a point of noting that he wasn't bisexual but that he had no issue kissing a man. "I can kiss a gay guy and be comfortably sexual," he declared – before pulling in for another peck. 
Olender, on the other hand, wasn't quite as thrilled to learn of the kiss the next morning. After Chase showed him the video, he complained, worrying that he may have jeopardized their friendship. "I am mortified. I put my best friend relationship on the boat at risk," he shared via confessional. Speaking to David Yontef on the "Behind the Velvet Rope" podcast after the episode aired, he expanded on that. "I just worried that putting him in this position and this scenario — he might — you know, get on the defense, be like ... 'I'm not gay,'" he explained. Well, luckily for the now-chief stew, that wasn't something he needed to worry about ... 
It ended up being less awkward than expected
Despite Fraser Olender's concerns over Jake Foulger's reaction to their drunken kiss, it turned out to be a non-issue for the deckhand — and that's putting it mildly.
For starters, Foulger was entirely unbothered about the entire situation. In fact, before Olender even had a chance to address the previous night's events, Foulger greeted him with a cheeky, "I love you, babe!" Olender was determined to apologize. Nevertheless, Foulger wouldn't hear of it. "No, it's cool! I'm very proud of myself that I'm so free, sexually," he said. He doubled down on that in his confessional. "I am straight, but I've kissed many guys. As long as you're having fun ... that's what life's about, isn't it?" he beamed. 
As for Olender, in addition to being able to breathe easy after speaking with Foulger, he told David Yontef that watching it back hadn't been nearly as uncomfortable as he'd anticipated. "He's a good-looking guy. He's a lovely guy. We had a steamy kiss — it was great. It was great to look back on, you know? I wasn't actually as embarrassed as I thought I'd be," he mused. We love to see it! 
... and they're still close
Despite being a fan favorite on "Below Deck," Jake Foulger famously didn't show face for the Season 9 reunion. That said, fear not: his absence wasn't related to bad vibes with his cast mates and certainly didn't indicate any tensions with Fraser Olender, post-kiss episode airing. Addressing it in his Instagram stories, Foulger explained, "My mental health has been really bad this year. Nothing has to do with the show though. My own personal stuff. Production are doing everything they can to help me. I love them so much." 
So, where do Foulger and Olender stand, then? Well, Olender has told Showbiz CheatSheet that, though he was close with everyone from Season 9, he and Foulger had an especially tight bond. "[He] is going to be in my heart for as long as I can see down the line," he gushed to the outlet. As for Foulger himself, he seems pretty similarly enamored. Responding to a fan in an Instagram story, he didn't need to think twice regarding who, between Olender and his other boatmance, Rayna Lindsey, he'd marry IRL. "Fraser obviously," he wrote. Hey — they do say friendship is the key to a happy marriage!
With Foulger still taking a beat for his mental health and Olender now a Season 10 fixture, it's been a minute since we've seen them together on-screen. But, even outside of the "Below Deck" franchise, these two have remained tight. Talk about an iconic duo.