Aaron Hernandez's Fiancee Is Pregnant
Aaron Hernandez's fianceé Shayanna Jenkins is expecting.
On Tuesday, May 22, 2018, Jenkins took to Instagram to announce that she is pregnant with her second child, and it's a girl. Posting a photo of herself in a white lace dress, cradling a baby bump, she wrote in the caption, "Many of you have had speculated that I may be expecting another miracle which is very accurate, I wanted to take time and process and post when I was ready to."
"I wanted to have a moment for myself alone with my daughter," she said, referencing her 5-year-old, Avielle Janelle, whom she shared with Hernandez. "We are beyond excited about the new addition and chapter we will soon begin. I couldn't be a luckier woman to have such a perfect little girl that's prepared to become the best big sister, and even more blessed to welcome another baby girl to our home."
Jenkins added, "BabyG we are very excited to meet you!!! Mommy and sissy will continue to wait patiently for your arrival. I thank everyone for the continued support and appreciate the respect for our privacy that has been shown."
Just over a year earlier, Hernandez was found dead in his prison cell just days after being acquitted of the murders of Daniel Jorge Correia de Abreu and Safiro Teixeira Furtado. At the time, the NFL star had been serving a life sentence for the murder of the boyfriend of Jenkins' sister, though he was in the process of appealing the charge. His death was ruled a suicide, as he'd apparently hanged himself using a bedsheet. He was 27 years old.
Hernandez's murder charge was later thrown out, as he passed away before his appeal could be heard in court.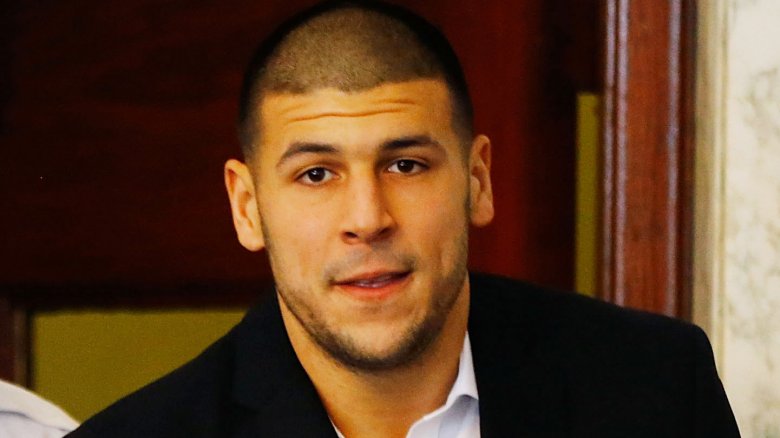 According to a TMZ report published in May 2017, Hernandez left a suicide note to Jenkins before taking his own life. In the message, he called her his "soul-mate" and "an angel." He also told her that she'd be "rich," which led the gossip rag to speculate that Hernandez's death was planned so that Jenkins would be set financially. TMZ noted that, since Hernandez technically died an innocent man, his former NFL team, the New England Patriots, may not be able to justify firing him and would be forced to pay the rest of his salary, a whopping $6 million, to his estate.
In an interview on Dr. Phil in May 2017, Jenkins revealed that she didn't believe Hernandez had killed himself. "He was very positive, so excited to come home," she said, later adding, "I felt like we were looking so bright. We were going up a ladder to a positive direction."
As noted by TMZ, Jenkins has not shared any new relationship with the public, so it's unclear who the father of her unborn child is. Did she impregnate herself with frozen sperm belonging to her late love? Or has she found someone new in her life? We'll just have to wait to find out until Jenkins opens up about the situation.