The Biggest Tea Paris Hilton Spilled In Her New Memoir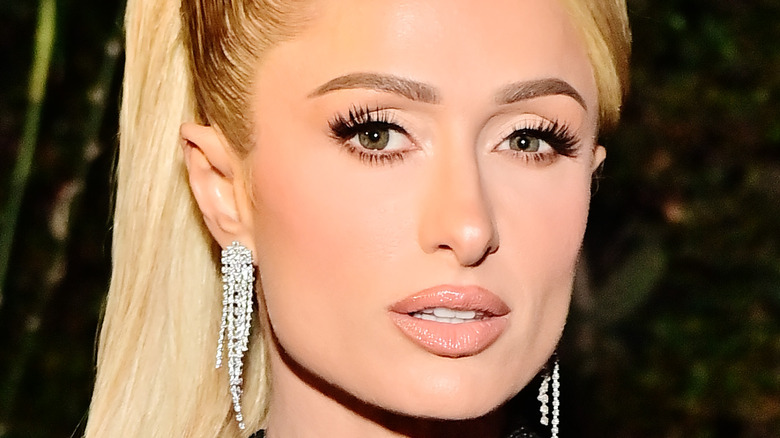 Stefanie Keenan/Getty Images
The following article includes allegations of sexual assault, rape, childhood trauma, and abuse.
From her early days as a breakout reality TV star on "The Simple Life" to her successful music career that includes both DJ-ing and singing hits like "Stars Are Blind," Paris Hilton is a household name for a plethora of reasons. Now, the famous heiress is back with "Paris: The Memoir," a candid autobiography in which she discusses everything from that infamous sex tape to her horrifying experiences at boarding school to her fellow famous family members.
It goes without saying that "Paris: The Memoir" is not easy reading. Far from a fluffy celebrity book release, Hilton's book explores some of the most devastating and scary moments of her life. While Hilton discusses her relationship with her incredibly famous family, she also talks about her ascent to stardom, which most definitely wasn't as easy as it may have appeared to outsiders. Hilton is now happily married, and she recently welcomed her first child, showing that she's truly entered a new chapter of her life. While it must have been harrowing to revisit the darkest days of her life, Hilton's honesty is admirable, and aims to debunk any incorrect assumptions the general public may have made about her. Here, we round up the biggest tea Paris Hilton spilled in her new book.
Demi Lovato inspired Paris Hilton to write her memoir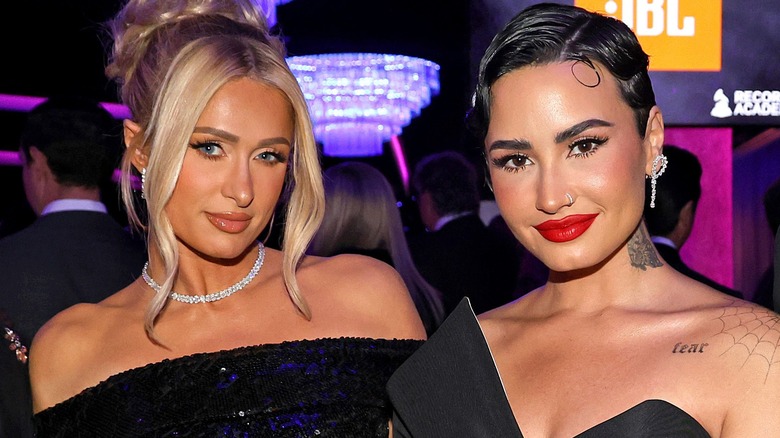 Johnny Nunez/Getty Images
One of the most challenging aspects of Paris Hilton's new memoir involves her attendance at Provo Canyon School in Springville, Utah. While Hilton has previously made some seriously disturbing allegations about her former boarding school, "Paris: The Memoir" explores her experiences in depth, revealing a whole new level of terrifying detail. Perhaps surprisingly, Hilton wasn't sure she would get into the time she spent in a number of so-called psychiatric youth residential treatment centers. However, after she watched Demi Lovato's 2017 documentary, "Simply Complicated," the heiress decided that she should speak out about her experiences.
Writing in her memoir, Hilton says of Lovato, "I was as stunned as the rest of the world by how real, vulnerable, and courageous she was. ... In the doc, Demi shared a painful reckoning with a difficult past; in person, I saw her in the midst of an intense journey of self-acceptance and discovery." She continues, "I envied that acceptance. I wanted that discovery for myself." In her book, the star of "The Simple Life" recounts instances of rape, physical and verbal harassment, and dangerous living conditions, amongst other allegations of abuse, which took place during her time at boarding school. "This was something that I had blocked out from my memory, but after hearing the story from other survivors, I started having flashbacks," she told Glamour UK. And if it hadn't been for Lovato, Hilton may not have found the bravery to tell her story.
If you or someone you know may be the victim of child abuse, please contact the Childhelp National Child Abuse Hotline at 1-800-4-A-Child (1-800-422-4453) or contact their live chat services.
If you or anyone you know has been a victim of sexual assault, help is available. Visit the Rape, Abuse & Incest National Network website or contact RAINN's National Helpline at 1-800-656-HOPE (4673).
Paris Hilton was sexually assaulted as a teenager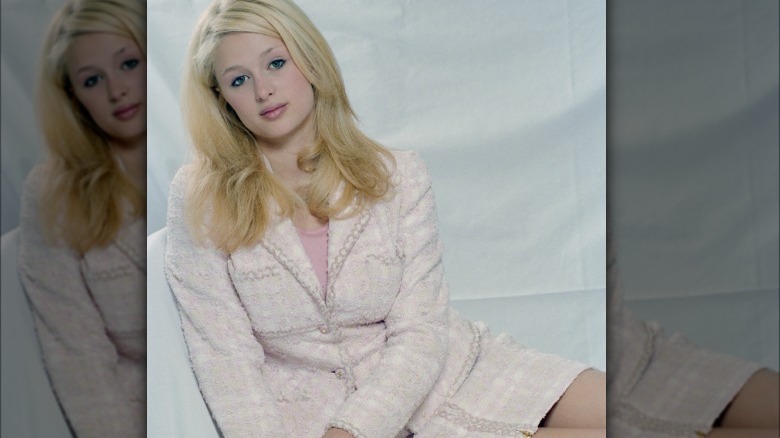 Colin Davey/Getty Images
In "Paris: The Memoir," Paris Hilton opens up about being sexually assaulted when she was a kid. One weekend, while hanging out at a mall in Los Angeles, Hilton and a friend accepted an invitation to go back to the apartment of two men who were in their twenties. Once there, one of the men convinced Hilton, who was just 15 at the time, to drink a wine cooler, telling her, "Don't be a baby. It doesn't even taste like alcohol." Hilton finally agreed and took a sip. "After that, I don't remember much," she writes.
Piecing together the details of the disturbing assault, Hilton recalls, "When I tried to scream, there was no air in my lungs. All that came out was a small, raspy 'stop.'" According to Hilton, the man "clamped down on [her] face and whispered: 'It's a dream.'" When she woke up, she felt sick to her stomach and couldn't find her friend. The "Stars Are Blind" singer eventually managed to get herself home.
This was one of the many horrifying experiences Hilton kept locked away for years. "A lot of the things that I put in the book were very hard to write about, a lot of memories that I tried to not think about for so many years," she told the AP. "But I think it was important to include them because it's part of my story."
If you or anyone you know has been a victim of sexual assault, help is available. Visit the Rape, Abuse & Incest National Network website or contact RAINN's National Helpline at 1-800-656-HOPE (4673).
Paris Hilton turned down a huge money offer from Playboy
Paris Hilton is known for many things, but one opportunity she turned down was a seven-figure sum from "Playboy." Writing in her memoir, the entrepreneur says, "[Hugh Hefner] kept wanting me to be a Playmate, and I thought that would be awesome, but when I told Mom about it, she said, 'Are you insane? No!'" Hefner's offers didn't stop there, as Hilton explains, "Years later, as I got more famous, Hef really wanted me to do a 'Playboy' cover. He kept offering me more and more money, saying I wouldn't have to be totally naked, just topless." After telling Hilton she could wear whatever she wanted for the shoot, Hefner apparently offered the reality star "seven figures" to appear on the cover of his magazine.
Ultimately, Hilton turned down Hefner's offer... but ended up on the cover of 'Playboy' anyway. Hefner decided to "honor" her with the "Sex Star of the Year Award," and the magazine acquired photos from an old photoshoot. She reveals in her book that her parents were upset, but apparently, no one felt like they could take it up with Hefner. Shockingly, Hilton received no money for the "Playboy" cover, and never agreed to it.
After Hilton shared this account, Playboy said in a statement to People: "While the current management does not know what occurred surrounding that cover, the claim does not reflect our values nor how the company operates today."
Paris Hilton was groomed by her eighth grade teacher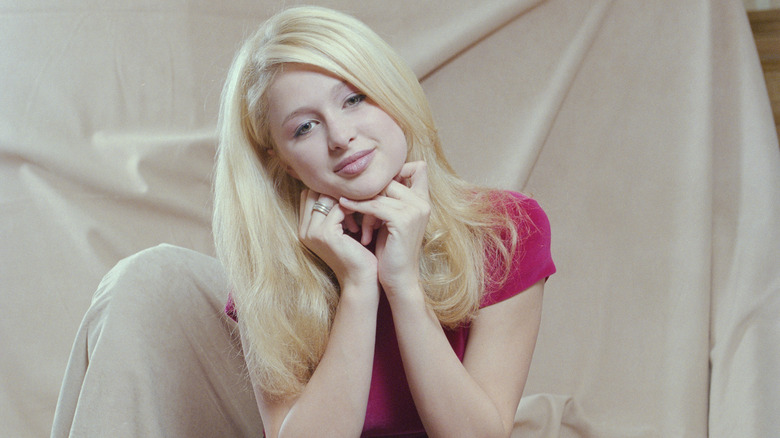 Colin Davey/Getty Images
"Paris: The Memoir" reveals so many alarming incidents that have taken place in Paris Hilton's life, and one of the most disgusting involves her eighth grade teacher. She reveals, "all the girls in my class were crushing on this handsome young teacher ... But he chose me." Disturbingly, the teacher allegedly told Hilton, "I've got a crush on you." And that's not all. The "Bottoms Up" star writes, "He flattered and teased me ... He asked for my private phone number and cautioned me not to tell anyone." What initially started as nightly phone calls turned into something more when Hilton's parents weren't home one night.
During one phone call, the teacher told Hilton that he was parked outside of her house, and that she should join him. "I climbed into the passenger seat," she writes. "Teacher pulled me into his arms and kissed me." However, it was interrupted, as Hilton's parents happened to arrive at that very moment. According to Hilton, the teacher stayed away from her for the rest of the school year, thankfully. 
Hilton kept this a secret for years, but decades later, she felt ready to open up about it in her memoir. As she said in Glamour UK, "I just felt so ashamed by the whole situation – just from the beginning at such a young age and it really stuck with me in a weird way."
If you or anyone you know has been a victim of sexual assault, help is available. Visit the Rape, Abuse & Incest National Network website or contact RAINN's National Helpline at 1-800-656-HOPE (4673).
Paris Hilton details her Harvey Weinstein allegation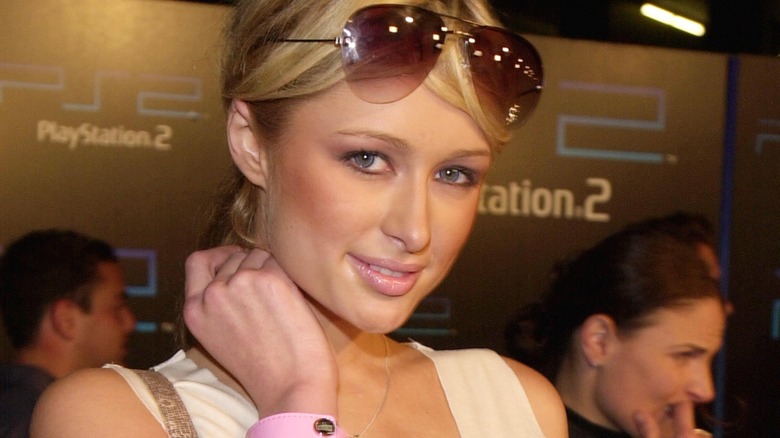 Chris Weeks/Getty Images
In 2020, disgraced producer Harvey Weinstein was sentenced to 23 years on rape and sexual assault charges. In 2022, he got 16 more years. His conviction arrived after dozens of women came forward with allegations. Paris Hilton is grateful to all of the women who spoke out about the movie executive. "I admire the courageous women who stepped up and called him out," she writes in "Paris: The Memoir."
In the book, Hilton details her own experience with Weinstein, which allegedly took place when she attended the Cannes Film Festival in 2000 when she was 19-years-old. Hilton had hoped to pitch a movie project at the meeting, but according to the heiress, "Harvey made pervy, weird comments," describing him as "as creepy and aggressive as a person could be over lunch in a crowded restaurant."
The following night, Hilton attended an American Foundation for AIDS Research event, which Weinstein also attended. She tried to ignore him, but he allegedly followed her to the bathroom. Hilton writes in her memoir, "[I] locked myself in a stall before he came in. He pounded on the stall door and yanked on the handle, yelling gross, drunk nonsense like 'Ya wanna be a star?'" Eventually, Weinstein was allegedly escorted out of the ladies' room by some security guards, much to Hilton's relief. In a statement to Variety, Weinstein's team denied Hilton's account, claiming the convicted predator always gave her the "utmost respect." 
If you or anyone you know has been a victim of sexual assault, help is available. Visit the Rape, Abuse & Incest National Network website or contact RAINN's National Helpline at 1-800-656-HOPE (4673).
Paris Hilton had an abortion in her 20s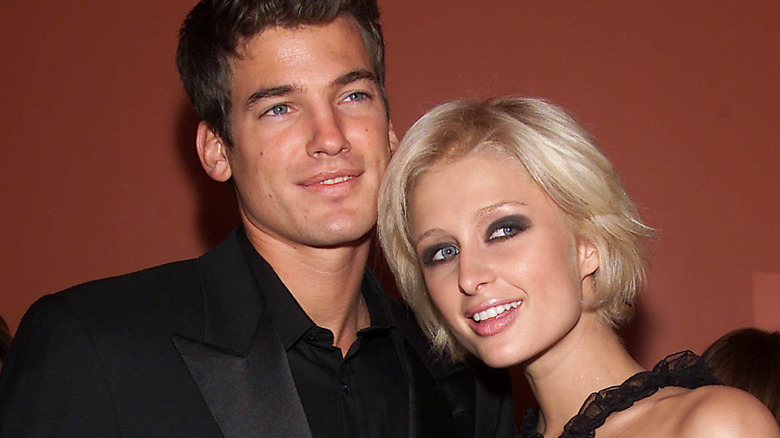 Evan Agostini/Getty Images
In 2003, Paris Hilton's star was on the rise, with her reality show "The Simple Life" hitting the big time. At the time, Hilton was 22 years old, and in a relationship with a guy called Jason Shaw, whom she'd been dating for two years. However, her world changed forever when Hilton discovered that she'd fallen pregnant. In "Paris: The Memoir," she explains, "When I realized I was pregnant, it was like waking up on the ledge outside a fortieth-floor window. I was terrified and heartsick." 
When Hilton discovered that she was pregnant, she didn't feel equipped to raise a child. "No one can ever know how hard it is to face this impossible choice unless she's faced it herself," she writes in her memoir. After grappling with her own anti-abortion upbringing, she ultimately decided to terminate the pregnancy. "Over the years, I've looked back on all this with sorrow, even though I know I made the right choice," she writes. Importantly, Hilton says she wanted to tell her story to help any other women in the same situation. 
While she was apprehensive to speak out against anti-choice legislation in the past, she now uses her platform to address abortion laws. "Why should there be a law based on that? It's your body, your choice and I really believe in that," she said in Glamour UK.
She begged her aunt Kyle Richards to rescue her from boarding school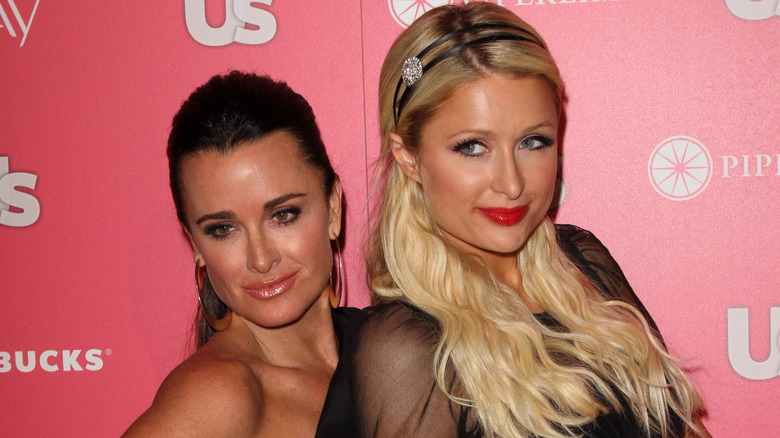 s_bukley/Shutterstock
Some fans of Paris Hilton may not know that she's actually related to "The Real Housewives of Beverly Hills" star Kyle Richards. Richards is the sister of Paris' mom, Kathy Hilton. Richards and Paris are only 12 years apart, and as the former has shared on "RHOBH," the pair were close while growing up. 
As a result, Paris once reached out to Richards to rescue her during an escape attempt from a school run by the CEDU Educational Service. After sneaking out of the facility, Hilton ran away to a gas station restaurant and made a collect call to her aunt, telling her, "Kyle, you have to save me. ... Please hurry. This place is f***ed up. The people are crazy abusive." Richards agreed to pick her niece up.
Hilton reveals that she hid in a "crawl space over the rafters" of a restaurant and waited. From there, she watched CEDU staff and multiple police officers come looking for her. When the restaurant closed, Hilton tried to phone Richards again. However, the call was interrupted. "A heavy hand clamped around my neck. I tried to hold on to the phone, but the enforcer lifted me off the ground and threw me into the SUV," she explains. While her escape attempt was thwarted, Hilton doesn't blame Richards. "Aunt Kyle was in her twenties when this happened," Hilton says. "[H]ow would she not call my mom?"
If you or someone you know may be the victim of child abuse, please contact the Childhelp National Child Abuse Hotline at 1-800-4-A-Child (1-800-422-4453) or contact their live chat services.
Paris Hilton underwent IVF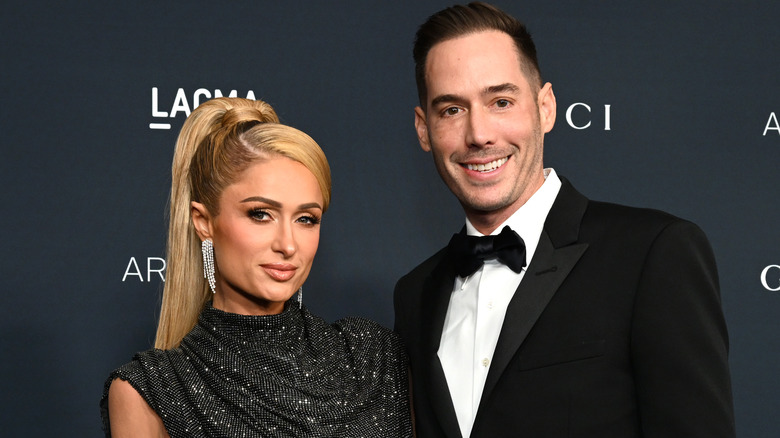 Michael Kovac/Getty Images
Paris Hilton is happily married to Carter Reum, whom she wed on November 11, 2021. In January 2023, the couple announced the arrival of their first child together, a son named Phoenix Barron Hilton Reum. As Hilton reveals in "Paris: The Memoir," she underwent IVF to try to conceive, writing, "Month after month of injections, several egg-harvesting procedures, more IVF injections, new ADHD meds, my natural state of chaos." 
Despite multiple attempts over the course of two years, Hilton didn't get pregnant via IVF. "It's a lot on my body and mind," she says. Instead, the couple opted to welcome their child via surrogate, and they managed to keep the entire surrogacy a secret until their baby was born. While Hilton doesn't discuss surrogacy in her memoir, she does explain, "If all goes well, by the time you read this, Carter and I will have a baby boy." As for why they named him Phoenix, Hilton writes, "it's the bird that flames out and then rises from the ashes to fly again." (Funny enough, Ellen DeGeneres guessed the baby's first name in 2022.)
Paris Hilton didn't want to make a sex tape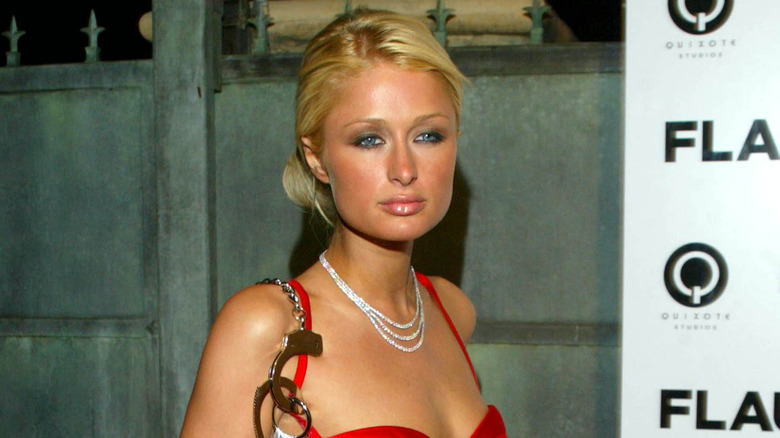 Matthew Simmons/Getty Images
Paris Hilton's celebrity status intensified in 2004 when Rick Salomon leaked their sex tape. As she said in Glamour UK, "I was vilified when it came out. I was made to look like I was the bad one and no one was looking and seeing this grown man."
In "Paris: The Memoir," she makes it clear that she had nothing to do with the leak. "It makes me want to vomit when people suggest that I was in on the release of that footage," she writes, noting that she was absolutely gutted when it was made public. "I think some people want to believe I was involved in the release of the tape — or that I benefited in some way — because it's unpleasant for them to think about the cruelty and complicity of their own response," she writes.
Although Hilton doesn't go into detail about Salomon, she does seemingly refer to him as "the ex who released the sex tape." Hilton also reveals that she didn't want to make the video in the first place, and ultimately went along with after he said he'd replace her with someone who was actually on board. What's more, according to Hilton, the ex simply claimed it was his to release, regardless of the consequences. "That tape, made when I was not legally old enough to be served rum and coke in a bar, was released and monetized against my will," she writes.
Paris Hilton was upset by Pink's Stupid Girls music video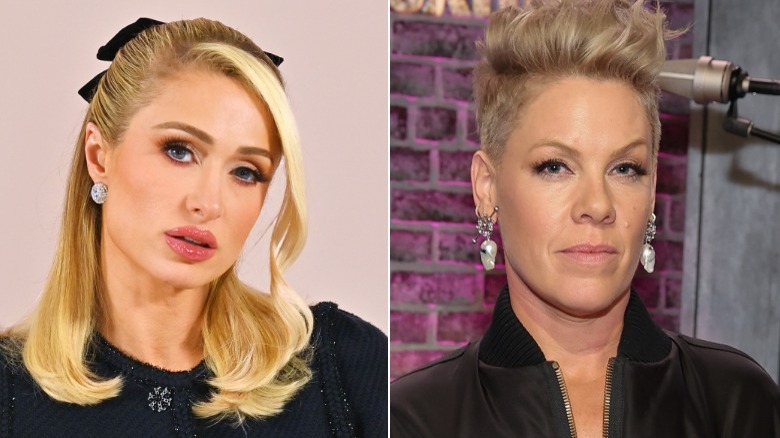 Mike Coppola/Getty & David M. Benett/Getty Images
In 2006, Pink released her single "Stupid Girls," and the music video parodied a number of famous women, including Paris Hilton. In particular, the video referenced Hilton's sex tape. In "Paris: The Memoir," Hilton starts by celebrating the singer, writing, "Who's more generous, evolved, and progressive than Pink?" However, she then goes on to suggest that even the most enlightened person isn't necessarily above taking shots at other women in the industry. "The whole video is a not-at-all-subtle send-up of 'porno paparazzi girls' in general and, specifically, me, in a parody of my infamous sex tape," she writes.
Understandably, Hilton was hurt by this portrayal, but she is quick to brush aside any suggestion of lingering drama. "There's no Pink-Paris 'feud,'" she writes. "That's not a thing. I have the attention span of a gnat, which means I suck at holding grudges." Still, it's clear that Hilton was forced to deal with a lot of criticism following the release of her sex tape.
According to Pink, she and Hilton did get a chance to talk about "Stupid Girls" — but it doesn't sound like an apology happened. When asked about the music video's backlash on a 2017 episode of "Watch What Happens Live," Pink said Hilton confronted her about the video at a club one night. "She said, 'I just want you to know ... I'm not dumb, I just play like I'm dumb,'" Pink recalled. "And I was like, 'That's kind of my point.'"
Paris Hilton's experience with asexuality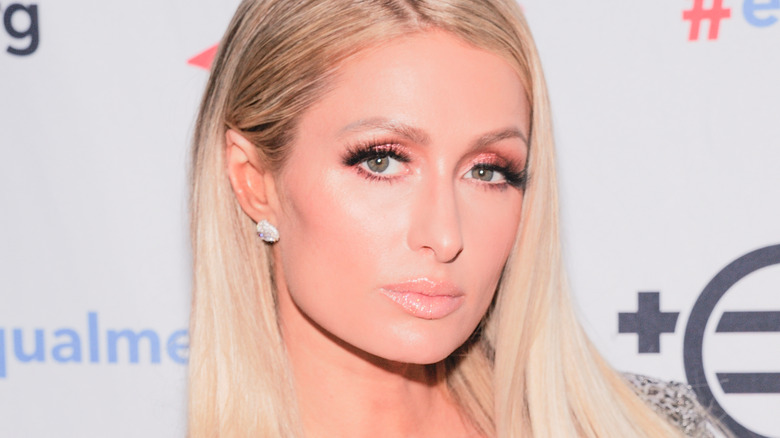 lev radin/Shutterstock
While many people likely assume that Paris Hilton embraces her sexuality, that hasn't always been the case. In fact, it would seem as though Hilton's public image is completely at odds with the person she is behind-the-scenes. While explaining why she ended up making a sex tape, Hilton writes, "The truth is, I wanted to be alive in a sensual way. I wanted to feel like a woman who's comfortable in her own skin." She continues, "I was struggling to understand my sexuality; there's no way I could have explained it to anyone else. I had no language for it. I'd never heard the word asexual."
At the time, the term asexual wasn't in Hilton's vocabulary, but as she got older, she realized that there were many reasons that she wasn't interested in sex. "The ironic thing is, because of the abuse and degradation I survived as a teen — and maybe partly because of the way I was raised — I feared sex," she writes in her book. "I hated the idea of sex. I avoided sex until it was absolutely unavoidable." Although Hilton admits that she's embarrassed about discussing sex, she decided to share her own journey to help others that may be going through the same thing, writing, "[T]hey're not weird or frigid or dead inside — they're just who they are at this moment: an asexual person in a hypersexualized world."
Paris Hilton lied about voting for Donald Trump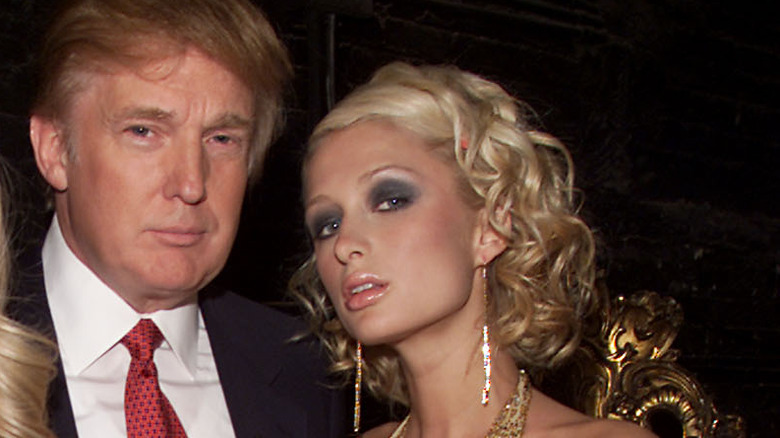 Frank Micelotta Archive/Getty Images
In her new book, Paris Hilton opens up about many embarrassing moments and regrets in her life, including the time she implied she voted for Donald Trump in the 2016 presidential election. While she did sort of walk this comment back in a 2017 interview with ES magazine, she really clears the air in "Paris: The Memoir."
"When I was put on the spot in an interview," she writes. "I pretended I voted for Donald Trump because he was an old family friend and owned the first modelling agency I signed with." According to Hilton, she was also fearful of Trump, saying, "When I left to go to another agency, he was furious and intimidated the s*** out of me on the phone." It would seem that the star of "The Hottie and the Nottie" felt obliged to make the claim in public, even if it was far from what really happened.
Opening up further, Hilton writes, "The truth is even worse: I didn't vote at all." She goes on to reveal that, if she were given the same choice again, she would choose differently. But she also notes, "People evolve," making it clear that she's spent a lot of time reflecting on her past actions, and interrogating why she made certain choices. But most of all, it seems that Hilton wanted to erase any doubts when it came to Donald Trump, once and for all.
She was forcefully taken to boarding school in the middle of the night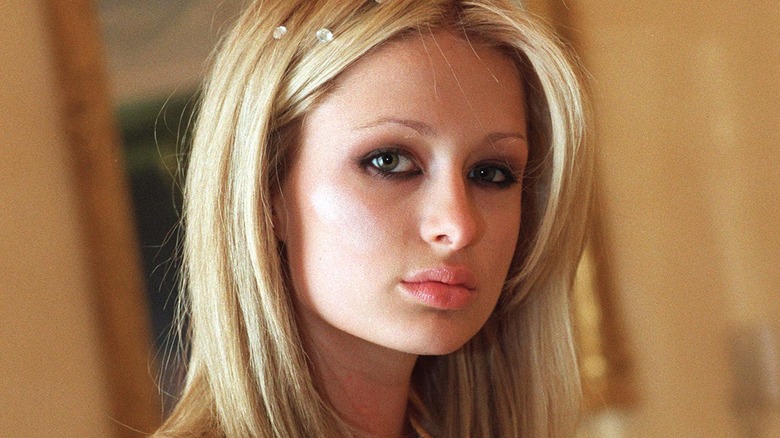 Dan Callister/Getty Images
In recent years, Paris Hilton has become heavily involved in advocacy work for children and young adults affected by organizations calling themselves psychiatric residential treatment centers for troubled youth. In "Paris: The Memoir," Hilton details some of the horrifying things that happened to her when her parents enrolled her in the CEDU Educational Service, writing, "I was sound asleep at about four thirty in the morning when my bedroom door crashed open, and someone tore the covers off of me. A thick hand grabbed my ankle and dragged me off the mattress." In a state of shock, Hilton reveals that she was terrified that she was about to raped or murdered by an intruder.
Describing the terrifying ordeal, Hilton continues, "One man clamped a sweaty palm over my mouth, wrenching my head back ... The other held up a pair of handcuffs." Hoping that her parents would help her, Hilton called out to them, but they simply watched as she was taken away. As it turned out, Hilton's parents had enrolled her in a special boarding school without her knowledge, believing that the program would stop her from partying and going off the rails.
As traumatic as the entire boarding school experience was, Hilton doesn't resent her parents for sending her away. "I know that wasn't my family's fault. They were lied to and manipulated," Hilton said to NPR in 2023. "My parents had no idea."
If you or someone you know may be the victim of child abuse, please contact the Childhelp National Child Abuse Hotline at 1-800-4-A-Child (1-800-422-4453) or contact their live chat services.
Paris Hilton has long embraced her ADHD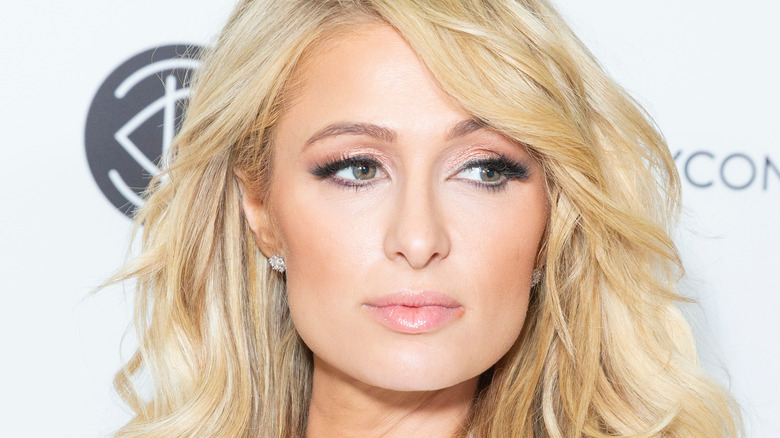 lev radin/Shutterstock
One of the best things about Paris Hilton's memoir is the way in which she describes living with ADHD. While the condition isn't always depicted accurately or well understood, her candid and honest descriptions of her own experiences are incredibly empowering. "My ADHD makes me lose my phone, but it also makes me who I am, so if I'm going to love my life, I have to love my ADHD first," Hilton writes in the book's opening. She echoed this sentiment in a chat with the AP: "When people can harness it in the right way, it can actually be a superpower. That's why I think in my career I've always been ahead of my time and taking risks and being an innovator and someone who thinks outside the box."
The "Nothing in This World" singer also praises her husband Carter Reum for putting in the effort to understand her better. "Early in our relationship, [Carter] spent a lot of time and energy researching ADHD, which is the most authentically loving thing any man has ever done for me," she explains. While explaining the disorganization and chaos she sometimes experiences as a result of her ADHD diagnosis, Hilton writes, "Where most people see a dumpster fire, Carter sees Burning Man." It's incredible to hear that Hilton has found a partner who embraces her for who she is, and adores her because of it.