How Long Is Will Smith Banned From The Oscars?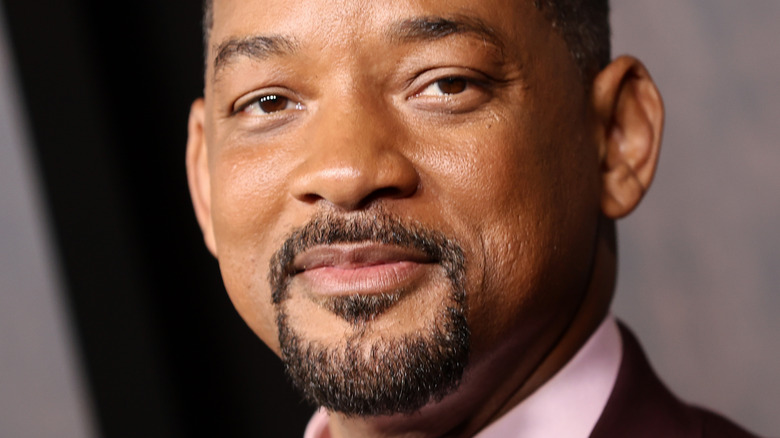 Matt Winkelmeyer/Getty Images
There are plenty of things that Will Smith is known for, but the one thing people can't stop talking about is his slap at the 2022 Oscars. In case you missed it, which would be shocking, Smith went after Chris Rock when Rock made a G.I. Jane joke about his wife, Jada Pinkett-Smith. Rock said, "Jada, I love ya. 'G.I. Jane 2,' I can't wait to see it." Initially, everyone in the audience laughed, but things turned south when Smith stormed the stage and slapped Rock. The "King Richard" actor then recited what is now one of the most infamous lines in pop culture history: "Keep my wife's name out of your f***ing mouth!"
For many viewers, at first, it was unclear if the whole thing was a bit. Things only became more awkward when Smith ended up winning Best Actor later that night. In his speech, Smith alluded to the situation between him and Rock earlier that night. He said, "In this business, you gotta be able to have people disrespecting you, and you have to smile and pretend that's ok." Towards the end of the speech, the actor also apologized to the Academy for his behavior, but it may not have been enough.
The following day was a media storm as people could not believe that Smith actually slapped Rock on live television. Debates ensued as to whether Smith was in the right or not. But more than that, people wondered whether he would receive any repercussions from the Academy ... and he did.
The Academy banned Will Smith for 10 years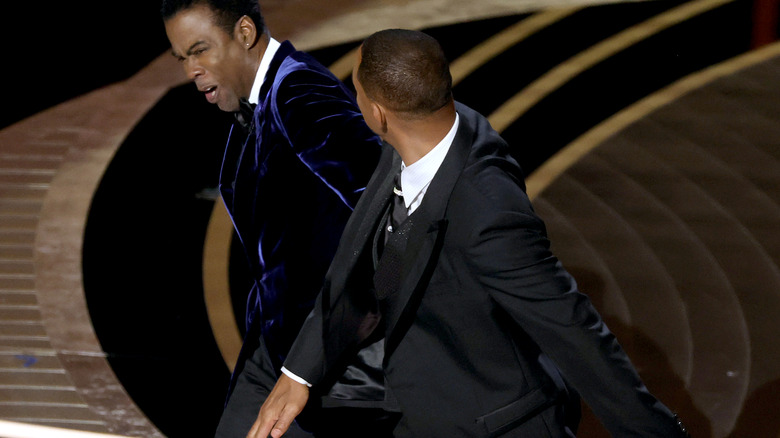 Neilson Barnard/Getty Images
When Will Smith slapped Chris Rock, it was unprecedented. And the days that followed were even more shocking as Smith released a statement to resign from the Academy altogether, per CNN. The actor said, "I am resigning from membership in the Academy of Motion Picture Arts and Sciences, and will accept any further consequences the Board deems appropriate."
A week after his resignation, the Academy released its statement finally addressing the situation, per Variety. "The 94th Oscars were meant to be a celebration of the many individuals in our community who did incredible work this past year; however, those moments were overshadowed by the unacceptable and harmful behavior we saw Mr. Smith exhibit on stage," the statement read. The Academy's Board of Governors also shared how they should have confronted the whole thing that night before finally revealing Smith's repercussions.
Not only did they accept his resignation, but they also banned the actor from Academy events for a decade. "The Board has decided, for a period of 10 years from April 8, 2022, Mr. Smith shall not be permitted to attend any Academy events or programs, in person or virtually, including but not limited to the Academy Awards," the statement continued. Again, people had a lot to say about the decision. Some believed it to be too harsh, and others not harsh enough. Still, this means that viewers will not get another slap gate at the Oscars. Well, at least not from Smith.
What Will Smith and Chris Rock have said about the Oscars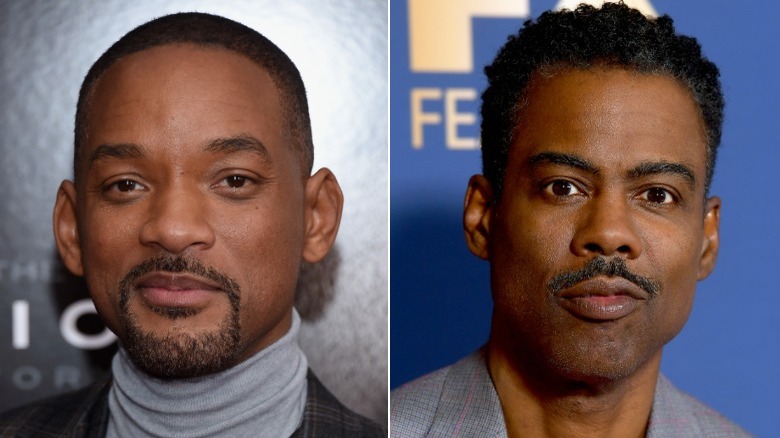 Dimitrios Kambouris & Matt Winkelmeyer/Getty
In any interview that Will Smith and Chris Rock do, people are waiting for them to mention the Oscars, and sometimes they have. Smith has continuously apologized for his behavior and even got emotional as he recalled the situation on "The Daily Show." He said, "I was going through something that night, you know? Not that that justifies my behavior at all ... all of that just bubbled up in that moment. That is not who I want to be." While Smith can't erase the past, he is trying to move on. He even starred in another film titled, "Emancipation," which follows the journey of a runaway slave, although this project just ended up being another joke for Rock.
Being the comedian he is, Rock incorporated the slap into his jokes. According to ET, the actor made a witty comment after hecklers shouted, "F*** Will Smith!" Rock said, "Where were y'all at the Oscars?" The comedian only continued to push the envelope in his 2023 Netflix special, "Selective Outrage." He said, "I love Will Smith ... he makes great movies. I've rooted for Will Smith my whole life," Rock shared on stage. "And now, I watched 'Emancipation' just so I could watch him get whooped." 
Both Smith and Rock have their way of dealing with the infamous slap, but, no matter how long it has been, people will continue to talk about the shocking moment.