Did Natalie Morales Really Try To Ban Kathy Griffin From The Today Show?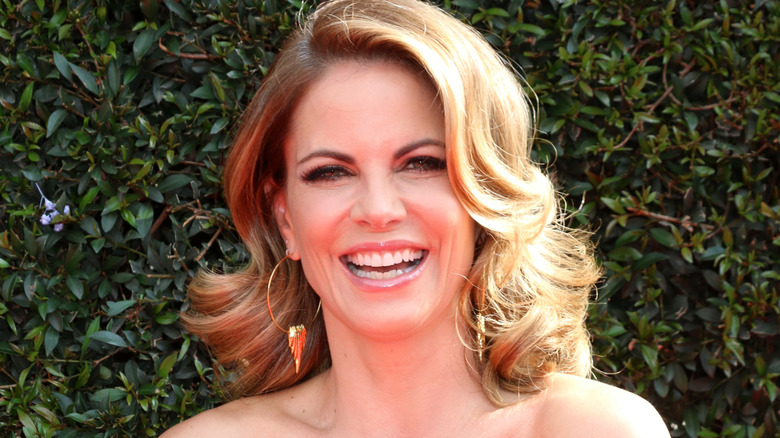 Kathy Hutchins/Shutterstock
Until 2021, journalist Natalie Morales, not to be confused with the actor of the same name, had spent her entire career as a member of the NBC News team. She gained notoriety on "Today" in 2006, and appeared on the true crime show "Dateline." When she moved to Los Angeles to serve as host on "Access Hollywood" in 2016, "Today" kept her on as west coast anchor. But in October 2021, after 22 years with the Peacock network, Morales decided she "needed a change." She told People, "I had been there a long time and being out here in Los Angeles, I wasn't getting to do as many of the things that I wanted to do." So she switched to CBS and became co-host and moderator of "The Talk."
Before the move, Morales got a tearful farewell from the "Today" team. As they celebrated her many years and breaking stories, co-host Savannah Guthrie told Morales, "I just think about what a great friend you've been to all of us. Gosh, and you were a friend to me when I needed it most." One person Morales may not have been so friendly with, however, is the comic Kathy Griffin, as Griffin once claimed Morales kept the provocative comic off of "Today."
Were Kathy Griffin and Natalie Morales at the Golden Globes together?
Kathy Griffin has always been brash, outspoken, and critical about celebrity culture, yet she's also self-deprecating, especially about how she fits into said culture. So perhaps it's not surprising that she would claim to be banned from "Today." But was she really, and at Natalie Morales' request?
"I just found out, I'm very excited, I'm re-banned from the 'Today' show," Griffin told USA Today in 2012, claiming she had been banned previously by the likes of Katie Couric and Matt Lauer. "This time my camp heard that it was actually Natalie Morales." Griffin explained how she'd worked with Morales on the NBC panel show "The Marriage Ref," and they met during Griffin's previous "Today" appearances (in 2009 and 2010, per IMDb). "What I heard from their team is that I was rude to her at the Golden Globes. Which is funny because I didn't go to the Golden Globes," Griffin said. She also said she didn't remember seeing Morales at any Globes parties.
Morales also says there's no beef there. When a Twitter fan asked if the ban was true, Morales said, "No. Total bogus PR." "Today" also chimed in, supporting Morales in a statement (via RadarOnline). "There was no incident between Natalie and Kathy at the Golden Globes or anywhere else," the outlet stated. "In fact Natalie is a big fan of Kathy's." Perhaps Griffin was joking to promote her new talk show. Meanwhile, Morales has skirted scandal before and since.
Cancel culture has helped Natalie Morales
While it seems there's no truth to Kathy Griffin's claim that Natalie Morales tried to ban her from "Today," Morales seems to have benefited from a few scandals surrounding others. Whether intentionally or just circumstance, Morales seemed to further her career by being a cancel culture replacement.
When "Access Hollywood" host Billy Bush got in trouble in 2016 for infamous comments made by then-presidential candidate Donald Trump, Morales was hired as Bush's replacement. She moved from her New York home to Los Angeles to fill the position on the NBC show. Despite a sexist claim that Morales made the move because of an alleged affair she had with Matt Lauer, per Page Six, a source clarified, "There's no validity to it. Zero fact. NBC News loves her." Proving their desire to keep her, NBC also made Morales west coast anchor on "Today," her broadcast home since 2006.
However, when she was apparently fired from "Access Hollywood" three years later amid a revamp that made Mario Lopez the new host, Morales took advantage of another cancel culture departure — one that changed her career in a huge way. After 22 years on the NBC News team, Morales moved to CBS in 2021 to take over for Sharon Osbourne after Osbourne defended her friend Piers Morgan for his controversial opinions about Meghan Markle. It's good to be in the right place at the right time.