Was Emily Ratajkowski Friends With Olivia Wilde Before Kissing Harry Styles?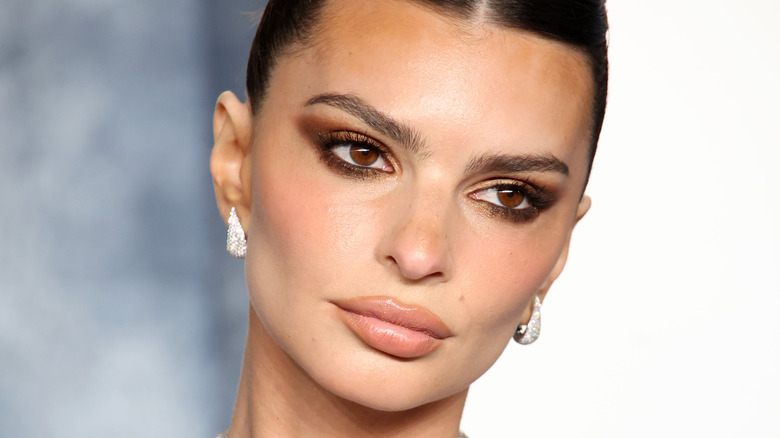 Daniele Venturelli/Getty Images
Emily Ratajkowski and Harry Styles were part of two of the biggest dating storylines of 2022, so when their sloppy snogging went viral, we should have seen that one coming.
Ratajkowski famously had a fling with comedian Casanova Pete Davidson after his split from Kim Kardashian. Us Weekly confirmed that Ratajkowski and Davidson were seeing each other in November 2022 — the same month that Olivia Wilde and Styles split up after almost two years of dating. But in January 2023, Ratajkowski was linked to another funnyman, "The Eric André Show" host Eric André.
Then, Styles entered the chat. His relationship with Wilde got off to a messy start when she cast him in her film "Don't Worry Darling" while she was still married to Jason Sudeikis, subjecting the new couple to endless rumors about whether their relationship began while Wilde and Sudeikis were still together. (For the record, Wilde told Vanity Fair, "Our relationship was over long before I met Harry.") Styles and Ratajkowski's romance also got off to a messy start, albeit in a different way. In late March, the "Watermelon Sugar" singer and the supermodel were filmed seemingly struggling to sync up a smooch on a Tokyo street, per the Daily Mail. And yet another messy layer has been added to this many-tiered cake of gossipy goodness — Ratajkowski was pals with Wilde before she kissed the director's pop star ex.
Olivia Wilde and Emily Ratajkowski attended a Harry Styles concert together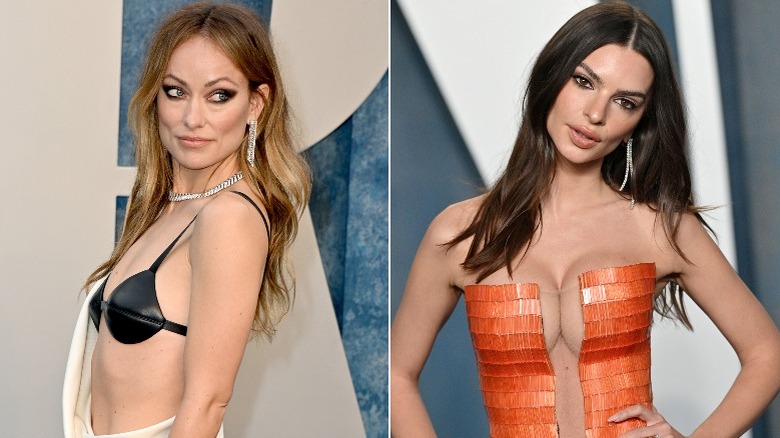 Lionel Hahn/Getty & Lionel Hahn/Getty Images
A TikTok user provided visual proof that Olivia Wilde and Emily Ratajkowski were once pretty close: a video of the two women standing next to each other at Harry Styles' July 2022 concert in Paris. (Oof!) Wilde and Ratajkowski were also photographed hanging out together at Vanity Fair's Oscar Party, which took place mere weeks before the model's makeout sesh with Styles. "Olivia and Emily were friends and this is a betrayal," a source told the Daily Mail. But the insider said that Wilde is trying to put her relationship with Styles behind her, so she's unlikely to put Ratajkowski on blast.
Page Six spoke to another insider who seemed to suggest that Ratajkowski regretted her lip lock with Styles, claiming that the swimwear mogul was "begging [Wilde] for forgiveness." But if another report by People is true, Ratajkowski wants to have her cake and eat it, too. "She hooked up with Harry, but they are not in touch every day. Emily is interested in seeing him again though," yet another anonymous insider told the mag. 
Continuing to see Styles would likely put Ratajkowski in the same place she once pitied Wilde for finding herself in: the merciless court of public opinion. "In the past year with Amber Heard and Olivia Wilde and the craziness of putting them in this box as if they're monsters or witches ... I feel very protective," Ratajkowski told Elle UK in 2022.
Emily Ratajkowski defended another Harry Styles ex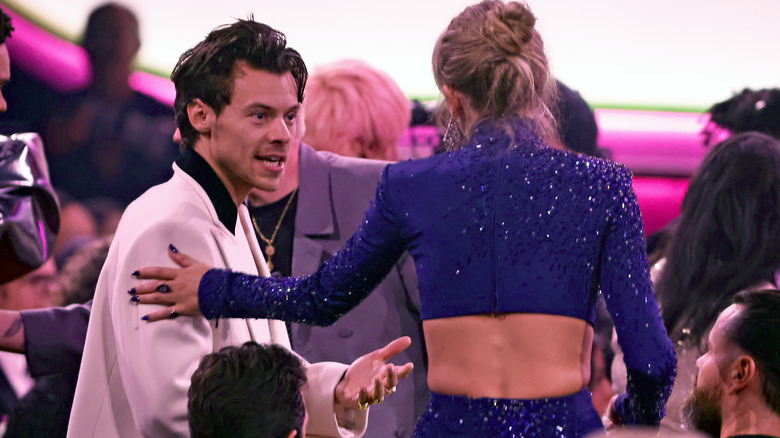 Frazer Harrison/Getty Images
In January 2023, Emily Ratajkowski commented on a resurfaced clip from "The Ellen DeGeneres Show" that went viral on TikTok. In it, DeGeneres showed Taylor Swift photos of the singer posing with different men and asked her to ring a bell if she'd been romantically involved with them. Swift got visibly upset, saying at one point, "It makes me feel so bad about myself! Every time I come here you put a different dude up on that screen." [1:55] In response to the video, Ratajkowski wrote (via Glamour UK), "This is so f***** up. She's literally begging her to stop." In March 2023, Ratajkowski spoke to Elle about Swift, who dated Harry Styles from 2012 to 2013. "I recently became a Swiftie," she proclaimed.
Ratajkowski also said of Swift, "She's another example of a woman who has been faced with such blatant misogyny and sexism." And unfortunately for Ratajkowski, she knows what it's like to have her own love life placed under a microscope in a manner that makes her uncomfortable. On her "High Low" podcast, Ratajkowski opened up about how strange it is to have to worry about being photographed while she's dipping her toes in the dating pool. "It's been really hard, because basically, any time I go on another date, everybody knows. So the other guys I'm dating see it," she said. [6:53] And now she's learned that it can also be awkward when a friend sees you kissing her ex.