RHONJ: Danielle Cabral's Damaged Relationship With Her Brother Explained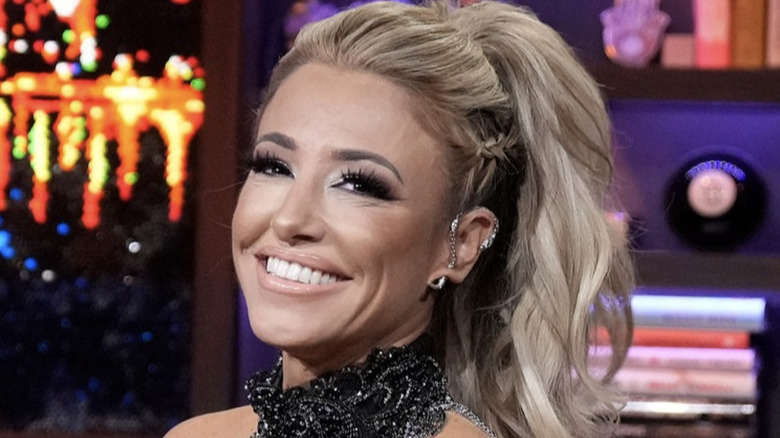 Charles Sykes/Bravo
Sibling rivalries are nothing new to "The Real Housewives of New Jersey," but the drama between newbie Danielle Cabral and her brother, Thomas DiPietro, has left many questions unanswered. So, what really happened between them?
According to Cabral, the estrangement began a few years ago over something she posted on Instagram. There were unkind words on her brother's part and a blocking on Cabral's part, then a wedding invitation revoked by DiPietro — and several years on, they're still not on speaking terms. A 21st-century family feud, if ever there was one! However, not all of Cabral's castmates were willing to take that story at face value. Housewife-turned-friend Jackie Goldschneider and Margaret Josephs rubbished the idea that an IG war was the root of the problem during a party hosted by Melissa Gorga. And, in an episode of "Watch What Happens Live with Andy Cohen," fellow newbies Jennifer Fessler and Rachel Fuda concurred — though Fuda did share that she wished it had been dealt with more sympathetically by the cast.  
For what it's worth, in an interview with Access Hollywood, Cabral pointed out that she could see why the other ladies may question her story. "Who wouldn't?" she asked animatedly. In fact, she admitted, "I am not sitting here saying that you don't have a right to think that. Everybody has a right to think that. I've questioned that, too!" So ... is there more to this fallout?
Even Danielle Cabral can't say for sure
Perhaps there is more to Danielle Cabral's feud with Thomas DiPietro — but don't ask Cabral what it is. After all, as she told Access Hollywood, she and her brother have never sat down to hash out their issues, leading her to wonder if there was more to it herself. 
"I'm questioning it, too — I'm not denying it. Everybody's got a right to think it's crazy. It's crazy!" she doubled down. In the same interview, she appealed to DiPietro on the off chance he was watching. "If there was something else, please let me know. Write me a letter [and] email it to me — you don't even have to talk to me. Just tell me what I did," she implored.
That said, the former MTV reality star does have one theory. Given the timing of their fallout — in the build-up to DiPietro's wedding — she told Entertainment Tonight there's a chance she over-stepped the mark with regards to sharing her ideas, which may have upset her sister-in-law. If that was the case, however, she was happy to apologize for it. "If there was ever a conversation where I made [her] feel uncomfortable, and she went back and told him, said something to him? Oh, my God! I'm so sorry. That was never my intention," she pondered. After all, she explained, "I always come from a place of excitement."
But she thought joining the show might help
Regardless of where the tension between Danielle Cabral and Thomas DiPietro began, Cabral has her eye on the future. It turns out that mending the rift was one of the reasons motivating her to join "The Real Housewives of New Jersey" in the first place. 
"You fantasize, like, 'Okay, he's gonna watch this, and he's gonna be like, 'My sister misses me,' and I'm gonna get a knock on the door, and we're both gonna fall to our knees and cry, and say, 'What the hell happened?'" she told Access Hollywood. At the time of the interview, that was yet to happen — although she told ET that she had a feeling their shared loved ones were keeping him up to date. Even so, Cabral explained that for DiPietro to understand just how badly she wanted to fix things, he would have to see the show himself. "If he did watch it, he would say, 'My sister's hurt' ... and take that and say, 'Well, maybe this is wild that our relationship ended,'" she mused. 
Whatever spearheaded the feud, and however they move forward, one clear thing is that Cabral misses her brother. As she told Access Hollywood, "When ...  you think about your childhood ... and what life has transpired to be, now, is not what you envisioned, growing up, as kids, as best friends ... it's tough." Here's hoping these two can make amends soon.