Jennifer Aniston's Defense Of Problematic Friends Jokes Gets Ripped To Shreds On Twitter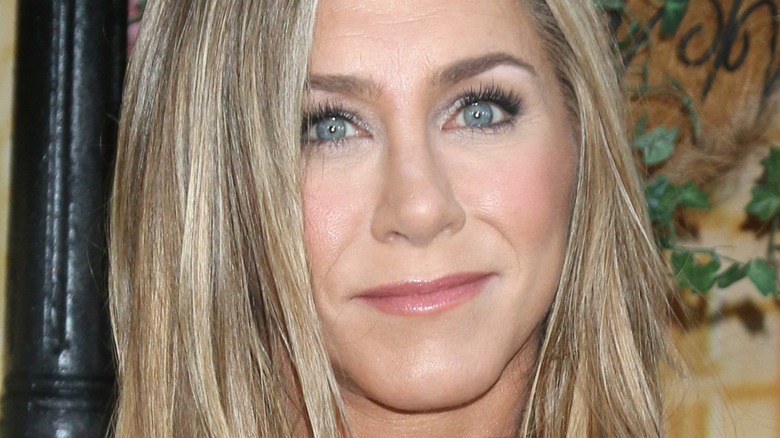 Kathy Hutchins/Shutterstock
There's absolutely no doubt that the hit television show "Friends" put Jennifer Aniston on the map and made her one of the most talked-about celebrities on the planet. But while "Friends" is one of the most popular shows ever made, that doesn't mean that it would translate to this day in age, at least not according to Aniston.
She was promoting her Netflix movie, "Murder Mystery 2" with Adam Sandler, and admitted to AFP (via Yahoo!) that "comedy has evolved" in recent years. "Now it's a little tricky because you have to be very careful, which makes it really hard for comedians, because the beauty of comedy is that we make fun of ourselves, make fun of life," the 54-year-old said. "[In the past] you could joke about a bigot and have a laugh — that was hysterical. And it was about educating people on how ridiculous people were. And now we're not allowed to do that."
Aniston added that there is a "new generation" of people who started watching "Friends," and many people find the show to be "offensive" at times. "There were things that were never intentional and others ... well, we should have thought it through — but I don't think there was a sensitivity like there is now." Some people don't like Aniston's take on things.
Fans slam Jennifer Aniston for her controversial comments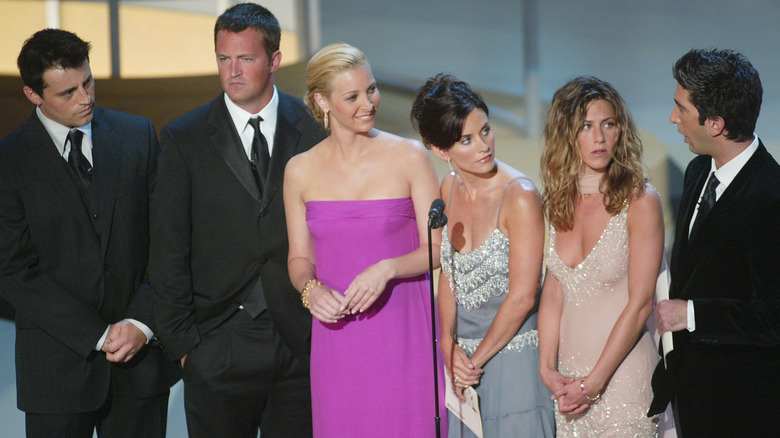 Frank Micelotta Archive/Getty Images
Nowadays, when you have an opinion about something, you take to social media, and that's exactly what people have done after hearing Jennifer Aniston's comments (and defense) over some controversial jokes in various episodes of "Friends." While some people agreed with the star that you just can't joke like you used to, asking questions on Twitter like, "Shouldn't comedy be funny?!" and others blaming the "woke culture" for making everyone so "sensitive," the overwhelming majority slammed Aniston over the interview. Many people didn't think it was right for Aniston to say it was okay to joke about someone being a bigot. Some compared the show to "Living Single," even suggesting that "Friends" copied off the show, which had a primarily Black cast. "I don't think I've ever willingly watched an episode of Friends. And that's not because it's offensive it's because it's a boring and unseasoned version of Living Single," one person commented on Pop Base's tweet. "Didn't Monica wear braids in one episode and made fun of it? Yeah. It's offensive then, still offensive now," another pointed out.
This is not the first time people have slammed Aniston for comments she made during interviews. In 2022, the star spoke with Variety and claimed that people like Paris Hilton got famous for "basically doing nothing." Well, some said Aniston was the pot calling the kettle black because she was a "nepotism baby" born to famous parents Nancy Dow and John Aniston.