What Really Happened Between Becky G And Austin Mahone?
Rodrigo Varela/Getty Images
Becky G and Austin Mahone were once considered teen royalty. The two entered the music scene at about the same time while teenagers and achieved commercial success around the early 2010s.
Their paths didn't cross until they collaborated on a song featured in the "Smurfs" movie, and since then, their lives have intertwined. "We first met in L.A. when we recorded the 'Magic' song... We met at the studio that we recorded it at," Mahone told J-14 in 2014. "We've been friends since." Despite rumors of a romantic relationship, Mahone insisted they barely had time to date due to their busy schedules. "We're both always so busy so it's rare that we're both in the same city at the same time," he said.
However, the following year it seems the tides had changed. Mahone was featured in the music video of Becky G's single "Lovin' So Hard," and not long after, he confirmed the two were indeed an item. "Yeah, you could say we're dating. We're dating. It's crazy, I never had, like, a real relationship before," he revealed to MTV. Meanwhile, Becky G shared with E! News that their relationship has been a long time coming. "I've known him for such a long time," she said. "We started off as really great friends and we'd always check in on each other...and we'd always get in the studio together. You grow up, things happen and here we are." Unfortunately, their romance was short-lived, as they reportedly broke up after a few months.
Becky G and Austin Mahone broke up to focus on their careers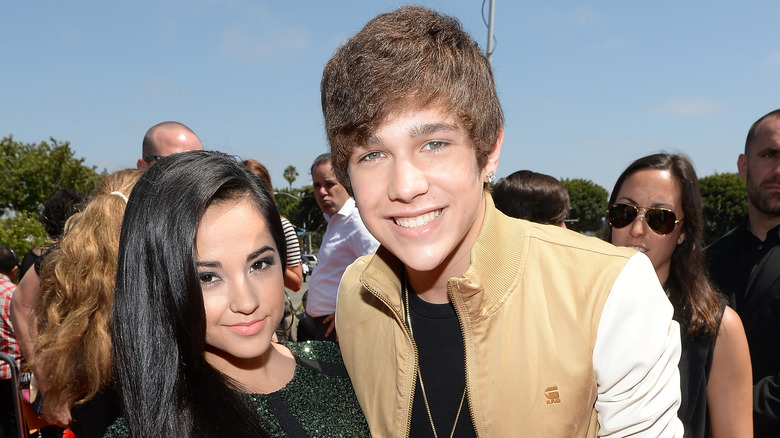 Michael Buckner/Getty Images
Becky G and Austin Mahone were still up-and-coming pop stars when they started dating, with the two prioritizing their careers over everything else. For that very reason, they decided to pause their relationship since they couldn't find the time for each other.
"We actually kinda broke up a few days ago, just 'cause we're so busy traveling and all that," Mahone told ET, clarifying that the split was amicable and that there's no bad blood between them. "We thought it was just kinda best if we just chill for a second, but we're still super close. We're close friends."
Becky G also opened up about the short-lived romance in her interview with Latina, explaining when the two first got together, she thought it was a dream come true. "I thought, 'OMG, I'm living the teenage dream, a pop star dating a pop star,'" she dished. But since they were focused on their respective careers, they decided that staying friends was more important than trying to maintain a romantic relationship that would most likely fail. "We both really cared about each other, but we had to decide if we were going to stay in this until the wheels fall off and we hate each other, or if we're going to put our friendship first," she continued. "We both knew what was coming in our careers, and that we just have to press pause."
Are Becky G and Austin Mahone still friends?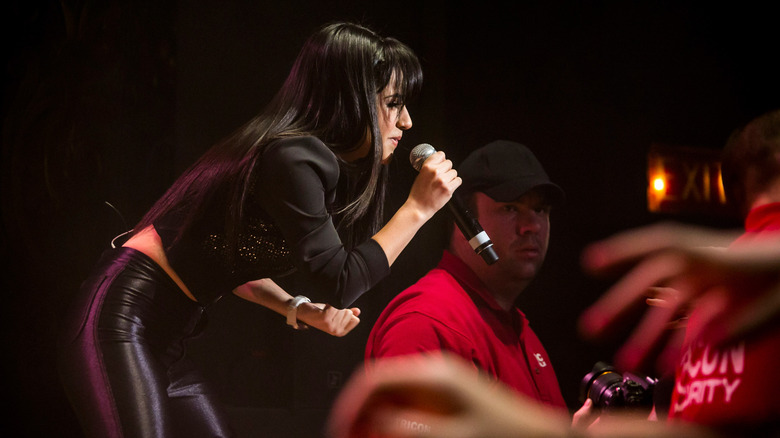 Scott Legato/Getty Images
Even though Becky G teased that a reconciliation with Austin Mahone may happen in the future, it never actually happened. The two moved on to date other people, with Mahone reportedly romancing Katya Henry and Becky G dating and eventually getting engaged to athlete Sebastian Lletget.
But Becky G and Mahone made good on their previous commitment to stay friends. On Twitter, the "Sin Pijama" singer told a fan that Mahone will always be "my boy," while Mahone told ET he planned to continue collaborating with his ex. "I think she'll definitely be featured on the album," he previously said. "Like I said, we're still close and I've produced and written some songs that we've done."
What's more, in 2017, Mahone even made a surprise appearance at one of Becky G's concert stops, much to the delight of fans. "Got to perform "Rollin" with my friend @AustinMahone," she wrote in an Instagram post, along with a snippet of the performance. "Congrats on the end of the tour & shout out to the whole team & fans for welcoming with open arms." We love to see it!