Suki Waterhouse Partied With Prince Harry After Her Bradley Cooper Breakup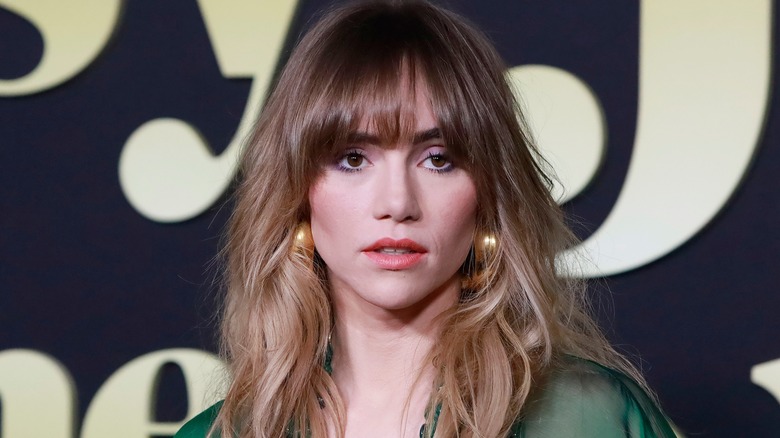 Joe Seer/Shutterstock
Remember when Suki Waterhouse dated Bradley Cooper? The pair were together from 2013 to 2015, and from Waterhouse's POV, it was a difficult split. "Can't believe I let someone who looks like me with this filter break my heart," the performer captioned a since-deleted TikTok video of herself with a beard filter, according to StyleCaster. Fans also believe that Waterhouse took a swipe at Cooper with her song "Melrose Meltdown," in which she sings, "I'll be crying on your milk-white sheets / Hoping one day we'll marry / In a house you'll build around me."
E! News reported that the couple parted ways because they wanted different things. "[Suki] loves Bradley and he loves her but she's so young and wants to concentrate on her acting career before becoming a mom," a source explained. This checks out, because Cooper went on to welcome a daughter with model Irina Shayk, whom he dated after Waterhouse. As for Waterhouse, she was linked to actor Robert Pattinson in 2018, and the couple — who have been together ever since — are known for keeping their romance under wraps. (Maybe Waterhouse's time with Cooper taught her a thing or two about dating in the public eye?)
It's nice to see Waterhouse so happy now, because she struggled following her split from Cooper. One of the best ways to pick yourself up after a breakup is to get back out there and have fun, and it looks like that's exactly what Waterhouse did — with a certain red-headed royal, no less.
Prince Harry and Suki Waterhouse had chemistry at a party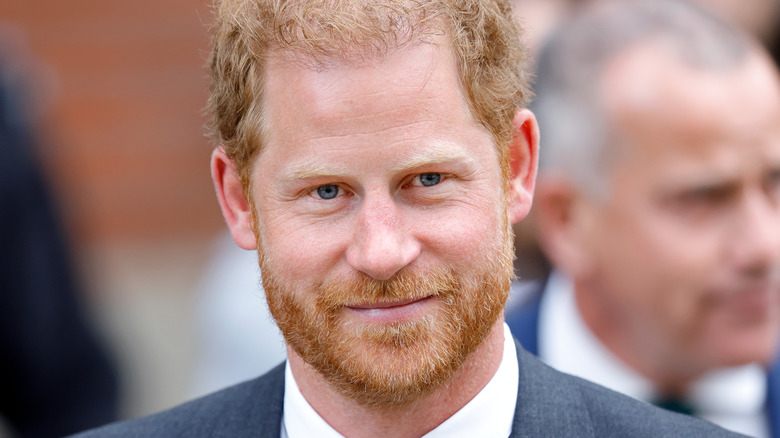 Max Mumby/indigo/Getty Images
Coming off of her breakup from Bradley Cooper, Suki Waterhouse spent some time with Prince Harry. "He came to a party at my house once and was absolutely lovely and really sweet. I had uncles and aunts and everyone there," the singer said, according to PopSugar. While that does sound nice, it's also incredibly vague. So, were Prince Harry and Waterhouse ever a *thing*?
It appears there may have been some energy between the pair, who struck up a conversation at a separate event in 2016: Waterhouse's Ciroc vodka bash. Prince Harry — who gave Waterhouse a hug when he saw her — appeared "completely interested in what she had to say," a source told The Mirror. "[Suki] was very bubbly and loud while [Harry] seemed to be enjoying her zaniness and free-spirited nature." And, despite there being plenty of gorgeous celebrity women at the event (including Cara Delevingne and Margot Robbie), "Everyone was talking about how Suki and Harry seemed particularly close ... Some even said there was the start of a romance brewing."
Clearly, nothing ever came to fruition, because Harry met Meghan Markle just a few months later, when a mutual friend set them up. However, the same source noted that Waterhouse fit the profile of the type of women Harry typically goes for: bubbly, blonde, attractive (and British, to boot)! All's well that ends well, but who knows what could have been.
Suki Waterhouse brought some positives to Prince Harry's life
David M. Benett/Getty Images
Prince Harry ended up with Meghan Markle, but it seems he still thinks fondly about Suki Waterhouse. In his 2023 memoir "Spare," he wrote that Waterhouse's music even got him through some hard times. "My brother [Prince William] would hurl insults at [Meghan and I] and we felt so hopeless," he said. "But we had 'Bulls**t on the Internet' playing and you know what? Nothing else mattered." No doubt Waterhouse would be flattered to know her music has made such an impact on the prince. Plus, her short-lived time with the royal birthed more positives than just catchy tunes; Prince Harry also made friends with Aussie actor Margot Robbie, whom he met at Waterhouse's Ciroc vodka party circa 2016!
That same year, Robbie prank-texted Harry with their mutual friend, Cara Delevingne, who told the royal that she'd dreamed of him, according to the Daily Mail). Ever wise to her antics, Harry guessed that she and Robbie must be together. This was just the beginning of a beautiful friendship. Robbie not only snagged Harry's phone number, per E! News, but they text often. "He's a really great guy," the "Wolf of Wall Street" star gushed about her royal pal in 2020, according to Now to Love.
To recap: Prince Harry and Waterhouse may not have dated, but out of their time together, the royal found some meaningful music, plus a good friend in Robbie. Not too shabby for a few nights of partying!