Kelsey Grammer's Relationship With Wife Kayte Walsh Started As An Affair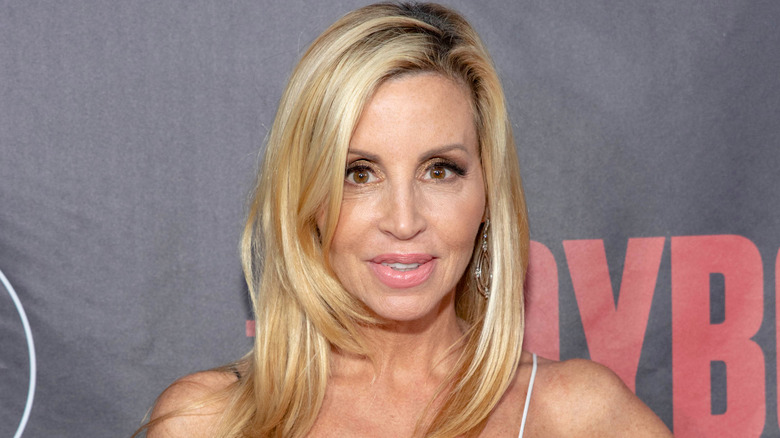 Eugene Powers/Shutterstock
The cheating scandal that resulted in the demise of Kelsey Grammer's marriage to Camille Grammer and his quick marriage to Kayte Walsh may seem like a sitcom, but it's very much real life. Camille and Kelsey wed in 1997, at the height of his "Frasier" fame, in sunny Malibu, California. According to Life-Stylez, the pair met on a blind date in 2010 and hit it off. Camille used to model for "Playboy" so she was pretty well-known even before marrying the actor-director. She also made a sexy appearance as a Halloween party guest on "Frasier." 
During their marriage, Camille and Kelsey welcomed two children, Mason and Jude. But things eventually came to a dramatic end. People reported that Camille pulled the plug on the relationship in 2010, nearly 14 years of marriage. The couple finalized the divorce in 2011 and Kelsey married his current wife only two weeks later. 
In 2021, Camille told Andy Cohen on "Watch What Happens Live" that she missed one thing about her marriage to Kelsey. "Well, I miss, you know, the family unit being together back then when it first happened — and being alone for so long and our children without their dad around," she shared. But, with the way things ended between her and the "227" actor, it's no surprise that she doesn't miss much else.
Kelsey Grammer cheated on Camille Grammer for six months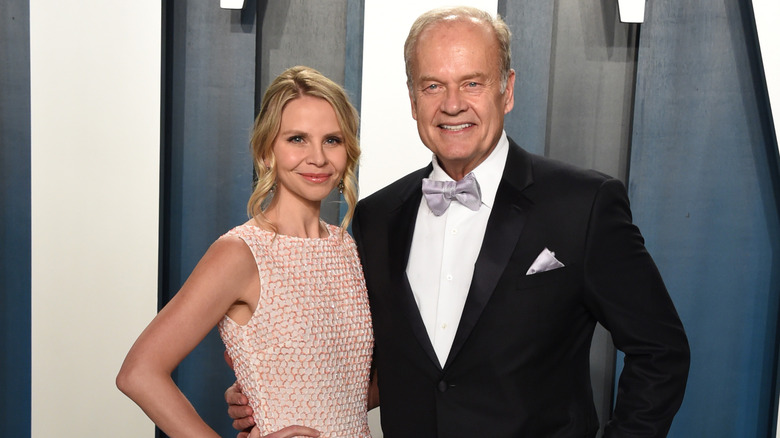 John Shearer/Getty Images
Some relationships start off spicy– like  Kelsey Grammer and his now-wife, Kayte Walsh. As those of us who watched "The Real Housewives of Beverly Hills" during the Camille Grammer era know, there was a lot of drama and the relationship between Walsh and Kelsey didn't exactly get off on the right foot. As Camille would say about her ex, "big hands, big feet, big disappointment."
According to Kelsey, he and Walsh met in 2009 when she was working as a flight attendant. "We actually met in the air on a plane to England. It was very romantic, she was working on the plane," he told Jimmy Fallon in 2012. "We went out for coffee several days later and had this magical night in the snow in London around Christmas time. It was two years ago," Kelsey added. The only problem? At the time, he and Camille were still married and that means that the affair lasted for six months before Kelsey left Camille.
Camille spoke about the infidelity on an episode of "Ellen," (via Daily Mail), telling the talk show host that a friend tipped her off and told her that the "Frasier" star was having an affair. "I called him that night and texted him –- no answer from him. I waited for three hours, and then he called me and said, 'I don't want to be married anymore.'" Camille recalled. Ouch! 
Camille Grammer still came out big in the divorce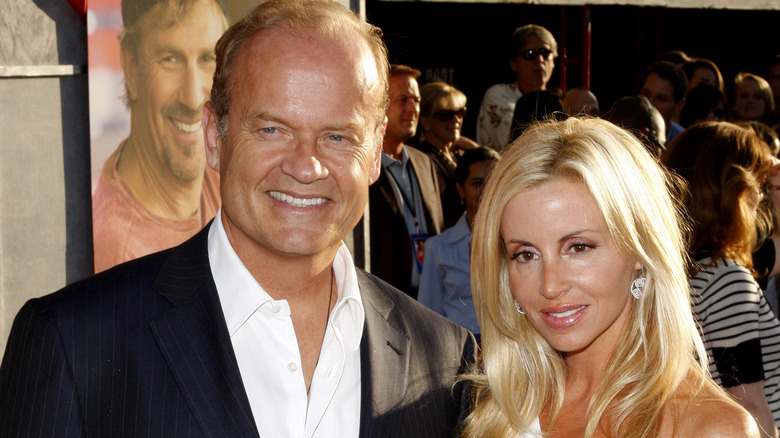 Tinseltown/Shutterstock
At the end of the day, Camille Grammer had one thing to celebrate from her divorce from Kelsey Grammer as she walked away with (ahem $30 million dollars) in the settlement. In 2019, Camille defended herself and her big ol' bag of cash on "The Real Housewives of Beverly Hills" season nine reunion. Camille knew that she would be in the "hot seat" as she was doing hair and makeup, saying that she was going to walk "into the lion's den with these ladies." While she took the reunion stage, Camille defended walking away from her highly-publicized divorce with a big chunk of change — especially since she had been through so much. "I just felt that, you know, working — and I worked hard," Camille said of the settlement money when talking to Denise Richards about Richards' messy split from Charlie Sheen. "I just didn't sit back, buying fancy clothes and shoving bonbons in my face. I mean, I worked hard."
That is not the first time that Camille spoke about the settlement. People reported that the reality star also addressed the details of the split in 2011 when everything was fresh. "Thank God I didn't have a prenup. Thank you, Kelsey. I guess you loved me at one point," she said before adding that she's definitely learned her lesson for future romances. "If I get married again, I will absolutely insist on a prenup," she added.