Body Language Expert Says We're So Wrong About Blake Shelton And Gwen Stefani - Exclusive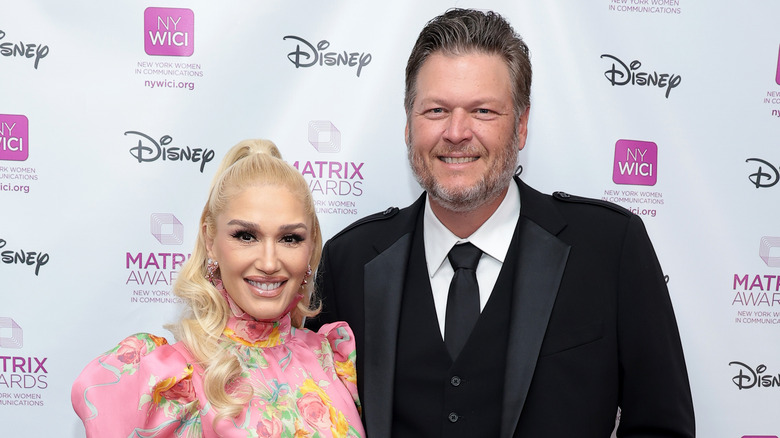 Dimitrios Kambouris/Getty Images
Gwen Stefani and Blake Shelton are just shy of reaching two years of marital bliss, but there's already speculation that they may not make it to another anniversary. Although their millions of adoring fans once eagerly rooted for the fellow musicians, who met while judging "The Voice," clung to each other in the wake of their respective divorces to Gavin Rossdale and Miranda Lambert, and channeled their love through several musical collaborations, recent rumors suggest that they've hit a wall in their relationship. According to Radar Online, Stefani and Shelton are just not into each other anymore. "When they started dating, they couldn't keep their hands off each other," shared a purported close friend to the publication. "But the spark started disappearing after their wedding. It seems like they argue constantly now." 
Unfortunately, this isn't the first time that breakup rumors have circulated about the couple. In 2020, Us Weekly reported that stress incurred from the pandemic was threatening to sever their bond. Stefani's and Shelton's recent CMT red carpet appearance has only fueled speculation of their supposed demise. However, Nicki Swift spoke to Jess Ponce III — Body Language Expert, Communication coach, and author of "A.W.E.S.O.M.E," who offered up a more optimistic perspective about their relationship.
Blake Shelton and Gwen Stefani share a genuine bond
Blake Shelton may have retired his hosting position on "The Voice," but he didn't say anything about retiring his voice. On April 2, Shelton took the stage of the 2023 CMT Awards and performed his song, "No Body." And though there's speculation that he and Stefani haven't been on good terms, her behavior during his performance, according to Jess Ponce III, suggests otherwise. "In an unconventional public display of affection, Gwen Stefani showed audiences how much she loves and supports her husband during his CMT performance," stated Ponce.
Ponce pointed to Stefani's enthusiastic lip-syncing of Shelton's lyrics. "Initially she had a small glimpse of self-consciousness, indicated by her glance downward as the camera focused on her," Ponce said, adding, "Once that awkward moment passed, she surrendered to the music and the moment. She was on beat, mouthing every single word — and seemed to be thoroughly enjoying the experience and the opportunity to say 'I love you' to Blake." Ultimately, Stefani more than proved that "she respects and admires him."
Fortunately, for those still rooting for Stefani and Shelton to make it, this isn't the only positive slant regarding their relationship. In September 2022, Shelton revealed that though they've exchanged vows, he still refers to Stefani as his "girlfriend." Simply adorable!