How Keira Knightley Really Feels About Getting Mistaken For Natalie Portman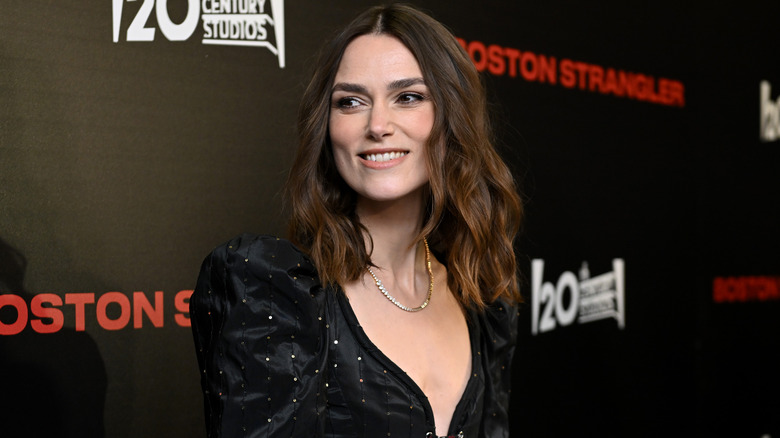 Noam Galai/Getty Images
As far as celebrity look-a-likes go, Natalie Portman's a pretty flattering one. It's also one that Keira Knightley gets a lot. The two definitely have several physical characteristics in common: they're both doe-eyed brunettes with lithe frames, delicate bone structures, and strong brows. They're also of a similar age, but considerably different heights. Knightley is four years younger than Portman and four inches taller, per 80s Kids.
The stars have switched roles on screen before to trick their on-camera adversaries — and their real-life folks, albeit unintentionally. "Our mums did actually confuse us on set," Knightley told The Telegraph. They both appeared in 1991's "Star Wars: Episode 1 — The Phantom Menace," where Portman played Queen Padme, and Knightley portrayed her handmaiden, Sabe. Per Sideshow, Knightley swapped outfits with Portman during the Naboo invasion to become a "decoy" queen. At the same time, Padme pretended to be Sabe to avoid capture.
But that's about as far as it goes when linking the couple. Because when the actors aren't working, they lead very different lives. They're both married, but that's where the similarities end. Portman's husband, Benjamin Millepied, is a ballet dancer and choreographer. They met while he was training Portman for her role in "Black Swan." Meanwhile, Knightley's husband, James Righton, plays keyboards for the British psychedelic rock band Klaxons. According to People, they were set up by a mutual friend at a dinner party. So, how does Keira Knightley feel about getting mistaken for Natalie Portman?
Keira Knightley's a celebrity shape shifter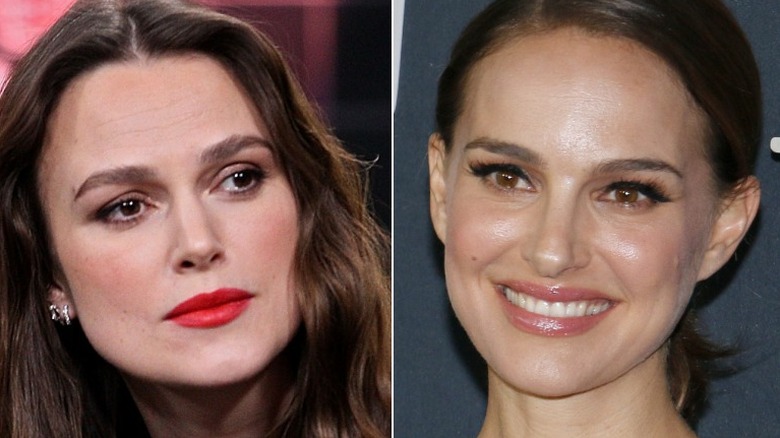 SD Mack & Tinseltown/Shutterstock
Keira Knightley's not mad at people for mistaking her for Natalie Portman. In fact, she said she feels "quite sorry" for her A-list doppelganger. Knightley was asked during a "Late Late Show with James Corden" appearance if people ever think she's somebody else. "All the time," she replied. "I've been chased through an airport as Natalie Portman. I mean, Natalie Portman, a lot." Knightley admitted she's posed as Portman in tons of fan pics. "I've been chased through a park as Kate Winslet," she continued. "Quite a few people have come over to me to ask me to say hello to Daniel Craig for them because they think I'm Rachel Weisz."
Most bizarrely, though, Knightley said she's been mistaken for Britney Spears too. "The other ones, I get it. I'm like English," she said. "But Britney Spears?" Never one to disappoint the public, Knightley confessed to posing as Britney as well for fan photos. However, she takes it all in her stride and isn't offended by not being recognized. "I quite enjoy it," Knightley admitted. "I'm much more polite, I think, when people think I'm somebody else."
She shared her Portman misidentification story on "The Graham Norton Show" too (via Just Jared). "I feel quite sorry for her because she must get chased a lot because it's happened like five times where someone's been like, 'Natalie! Natalie! Natalie!' And I'll sign and take a picture as Natalie," Knightley said.
Forget Natalie Portman, Keira Knightley's all about Emma Thompson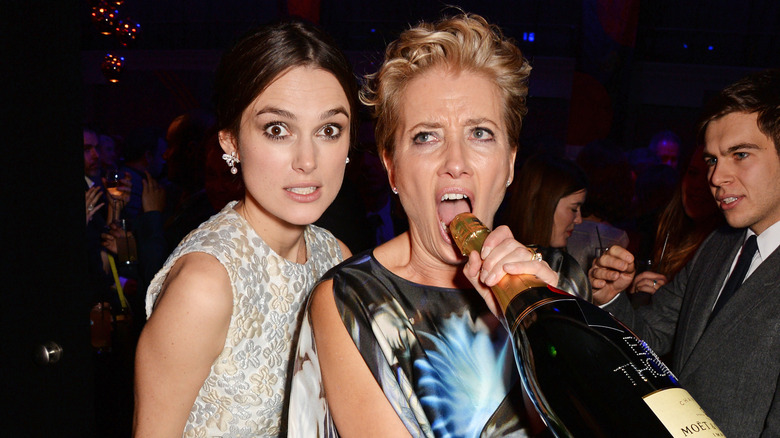 David M. Benett/Getty Images
Keira Knightley might be non-plussed about getting mistaken for Natalie Portman. But she'd be over the moon if it was Emma Thompson. In addition to being one of the favorite Emmas in Hollywood, Thompson also tops Knightley's fangirl list. The acclaimed British thespian and anointed Dame of the British Empire, who wore sneakers to receive her ceremonial medal, has been an idol of Knightley's since she was a little girl.
She was so in awe of Thompson that her mother evoked her name to motivate her daughter when she was growing up. "My mum, who worked with her on 'Sense and Sensibility,' got me a copy of the screenplay Emma had written," Knightley told GQ (via The Guardian). "And I was – am – dyslexic, and the way she got me over it was to say: 'If Emma Thompson couldn't read, she'd make b***dy sure she'd get over it, so you have to start reading because that's what Emma Thompson would do.'"
Knightley finally got to work with her idol in 2003 when they both starred in "Love Actually," every rom-com fan's favorite Brit Christmas flick. Funnily, "Love Actually" (specifically the cards on the doorstep scene) resulted in Knightley being recognized as herself for once. "[I got stuck in London traffic], and someone in the car next to me did the whole sign thing," she told Yahoo! Entertainment. Clearly, Knightley should have just wound down the window and pretended she was Portman.