Who Is Natalie Portman's Husband, Benjamin Millepied?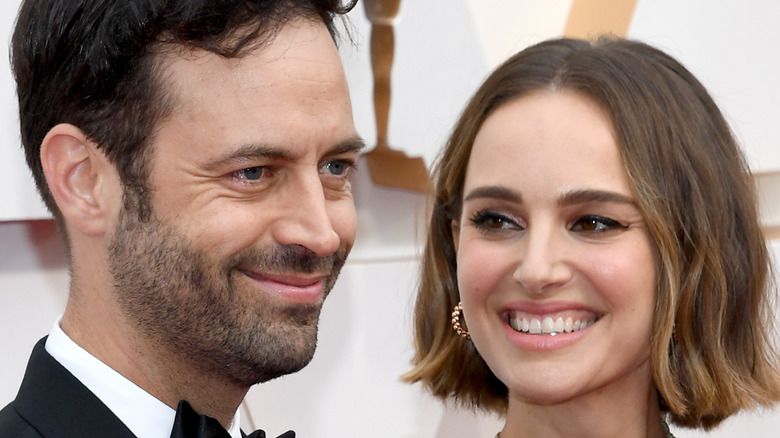 Kevin Mazur/Getty Images
As the face of Miss Dior, Natalie Portman is no stranger to asking, "What would you do for love?" It's no surprise, then, that her own love life with husband Benjamin Millepied reads like something from a fairytale. However, just who is the "Thor" star's real life leading man?
Since confirming their engagement and pregnancy to People in 2010, Portman has been known, on occasion, to gush over her husband. Speaking to AE World in 2017, the actor reminisced over the early days of their love story, on the set of "Black Swan." Describing the time as "so magical," Portman shared, "The process of falling in love is so special, you remember all of the little details, from what song was playing, and what the weather was like, to what smells there were." She has also previously joked that even working on a psychological thriller at the time couldn't get her down. In a sit-down chat with Hoda Kotb on SiriusXM, she laughed, "I was in, like, dreamland ... so it seemed pretty fun the whole time." In the same interview, Portman also joked that it helped that they spent much of that time with him "teaching me how to dance." 
In other words, a blossoming romance between the movie star and the choreographer was inevitable.
Benjamin Millepied is a renowned choreographer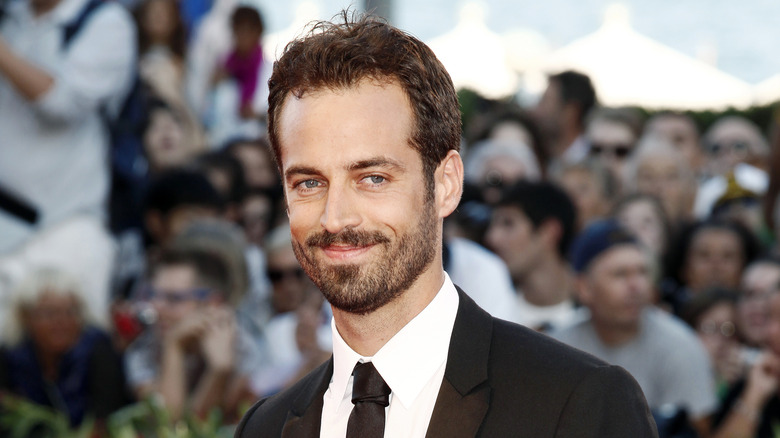 Andrea Raffin/Shutterstock
To the general public, Benjamin Millepied is best known for his choreography in the Oscar-winning "Black Swan." However, the film is just one of his many career highlights. Prior to "Black Swan," Millepied spent a decade as a principal dancer at the American Ballet Theatre. He subsequently went on to co-found L.A. Dance Project in 2012, before being appointed as the Paris Opera Ballet director in 2014 (via The New York Times). Per BBC, Millepied went on to leave that post in 2016. 
Since then, he's been hard at work on his directorial debut. Natalie Portman's beau is bringing Bizet to the big screen with the film adaptation of "Carmen," and Variety has pegged him as a top director to watch because of it. As Film Updates tweeted in January, the movie is set for release in 2022. As for what to expect, Millepied has referred to it as "a Hollywood musical," via South China Morning Post. 
Chris Hemsworth's wife of 10 years, Elsa Pataky will feature in a supporting role in "Carmen" — and Mrs. Millepied may have had something to do with that. In an interview with The Sydney Morning Herald, Pataky shared that her husband's "Thor" co-star made the introductions. "I met Benjamin Millepied through his wife Natalie Portman, who was working with Chris." This is one group we'd love to see on a double date! 
Family comes first for Benjamin and Natalie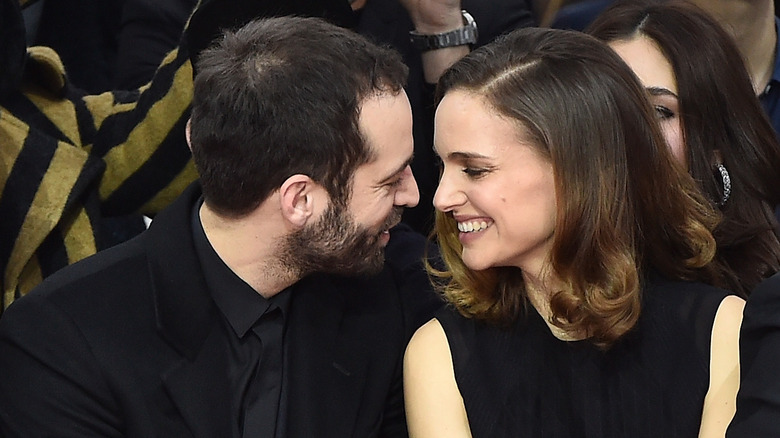 Pascal Le Segretain/Getty Images
Working on "Black Swan" alongside Natalie Portman may have propelled Benjamin Millepied into the world of pop culture, but don't expect them to work on too many projects together in the future. That's not because they didn't have a great working relationship. Rather, Millepied's hesitation comes down to wanting to keep their marriage running as smoothly as possible. Speaking to Vanity Fair in 2016, Millepied explained, "Ultimately I think as a couple, you automatically learn from one another, and hopefully feed each other in ways that are positive. But I think, work ... we keep very separate. I think that's important." Given that this is a Hollywood couple with a decade of marriage under their belt, we're going to say whatever they're doing, it's working!
That said, Millepied and his missus have gone on to work together again, post-"Black Swan" — and it seems like that went off without a hitch. As Portman told ExtraTV of "Vox Lux" in 2018, "getting to work with my husband ... is always so fun." She later told People, "It was fun to get to watch him create because I don't often watch him in the studio. Just to see the ease and the expertise that he has, and of course with different kinds of dance too, was really, really stunning."
As with anything in life, we'll chalk up their working dynamic to moderation. Either way, we couldn't be happier to catch glimpses of this real-life fairytale!