RHOSLC: Why Meredith Marks Stopped Talking To Jen Shah After She Went To Prison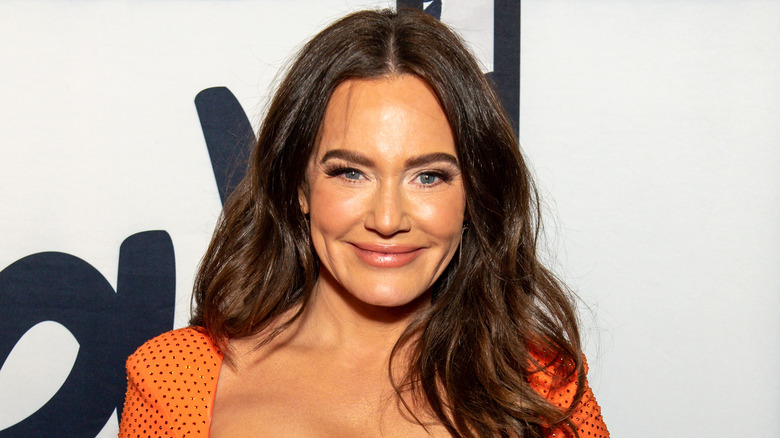 Elyse Jankowski/Getty Images
"Real Housewives of Salt Lake City" mainstay Meredith Marks gave an update on her level of communication with former Housewife Jen Shah since the outcome of her controversial legal issues. After being tried in court for wire fraud and allegedly serving as the head of a telemarketing scheme, Shah pled guilty to the charges against her in July 2022. Facing a 30-year sentence, she ultimately received six and a half years. On February 17, the former reality star reported to a federal prison in Bryan, Texas. According to the facility's records, Shah's sentence was reduced by one year and she's set to be released in 2028.
Each of Shah's fellow Housewives has developed their own opinions on her legal troubles, with Marks defending her friendship with her castmate. In a "Watch What Happens Live with Andy Cohen" episode from November 2022, the jewelry designer explained that she doesn't want to "kick someone when they're down" and she has an "understanding of where she was coming from."
Following Shah's entrance into prison, Marks answered whether or not she has kept in contact with her.
Meredith Marks says she hasn't spoken to Jen Shah
"Real Housewives of Salt Lake City's" Meredith Marks has mostly been on Jen Shah's side in terms of her legal troubles. But she revealed that she has not been in correspondence with Shah. On the red carpet of the 2023 GLAAD Media Awards in March, Extra TV asked Marks if she's "talked to" her imprisoned castmate.
"I have not. I don't know that she's really had communication..." Marks surmised. "I think she's in touch with obviously her family, you know her manager, people like that. But I don't think she's really been in communication with anyone beyond that."
Although they haven't had a conversation since her prison sentence, Marks still wishes her former castmate the best. In a December 2022 interview with People, Marks explained she was "shocked" by Shah's guilty plea, but "[hopes] for the best outcome for everybody." Some of the other "RHOSLC" stars have also been conflicted about their friendships with Shah.
Jen Shah's court case has shaken up the Salt Lake City franchise
On Season 3 of "Real Housewives of Salt Lake City," Jen Shah maintained her innocence amidst her federal trial, but that all came into question when she ended up pleading guilty in court. In fact, castmates Meredith Marks and Heather Gay traveled to New York City with Shah to be there for her before she submitted her plea in the Season 3 finale. The fallout of this admission has caused complicated feelings among all of the Utah Housewives. For example, mainstay Lisa Barlow exclusively told TheWrap in January that she wasn't sure if Shah should be allowed to attend the Season 3 reunion because she didn't want to "'reward bad behavior.'"
"Bad Mormon" writer Gay — who was once Shah's self-proclaimed "ride-or-die" — has had a change of perspective when it comes to the case. In a February interview with Us Magazine, the Beauty Lab owner admitted that "everything changed ... when [Shah] pled guilty."
"Now my focus is on the victims and her family and the collateral damage of this crime that she perpetuated and admitted to perpetuating," Gay explained to the publication. "And I just hope that everyone can be made whole."