Body Language Expert Decodes Donald Trump's Attempt To Salvage His Power Amid Arrest - Exclusive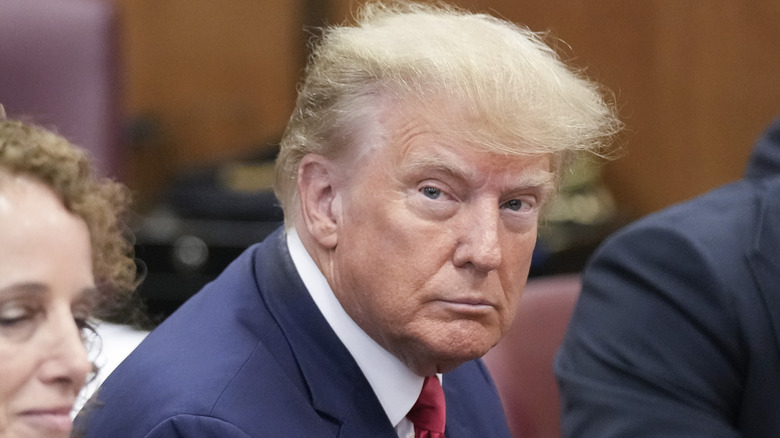 Pool/Getty Images
On April 4, former United States President Donald Trump surrendered himself and was brought in for his highly-anticipated and widely-reported arraignment. All eyes were on him, and Trump's reaction to his situation in front of the cameras was certainly surprising to some viewers. Nicki Swift consulted a body language expert to determine what the indicted businessman is trying to convey to the public through his behavior.
To recap, the Manhattan District Attorney charged Trump with a total of 34 counts of falsifying business records, with most of the alleged offenses taking place while he served as U.S. President in 2017. At first, it seemed the charges were limited to Trump's funneling of hush money to porn star Stormy Daniels through his campaign funds, but his official unsealed indictment reveals that there are over 30 suspected instances of "false entry" of financial documents like invoices and check stubs.
After he was charged for these financial grievances, the former president had to appear in New York court on April 4 to submit his plea of not guilty. In analyzing the videos that cameras caught of Trump exiting the arraignment, it's clear the known provocateur was trying to subvert expectations.
Donald Trump's non-reaction was meant to 'assert authority'
Leading up to his court appearance on April 4, political pundits tried to guess how Donald Trump would act in front of the press as he became the first post-term American president to be indicted for a crime. The New York Times reported that the former reality star said he was ready for his "perp-walk." While his lawyers pushed for there to be no cameras in the courtroom, the press caught Trump as he sauntered out of the building, acting surprisingly stoic.
After a close examination of Trump's behavior in court, Jess Ponce III — a body language expert, communication coach, and author of "A.W.E.S.O.M.E." — surmised exclusively to Nicki Swift that Trump suppressed his attention-grabbing nature as a tactic against the media. "He was understated on many levels, not giving any substantial or unique facial expressions [...] and without saying a word expressed agitation with his eyes," he explained. Ponce specifically pointed out how Trump merely glares at the person from the press section who calls out his name. "He was not only visibly annoyed, but also claiming his space as the soon-to-be aggressor or 'champion' in this case. He was doing what he could to assert authority."
Of course, this is only the beginning for Trump, with more court dates coming up in his future for this Manhattan case. According to The New York Times, it will be months until the beginning of the formal proceedings for his case. Until then, all eyes will still be on the former president as he faces the music.