Behati Prinsloo Dated Dakota Fanning's Now-Ex Before Becoming Adam Levine's Wife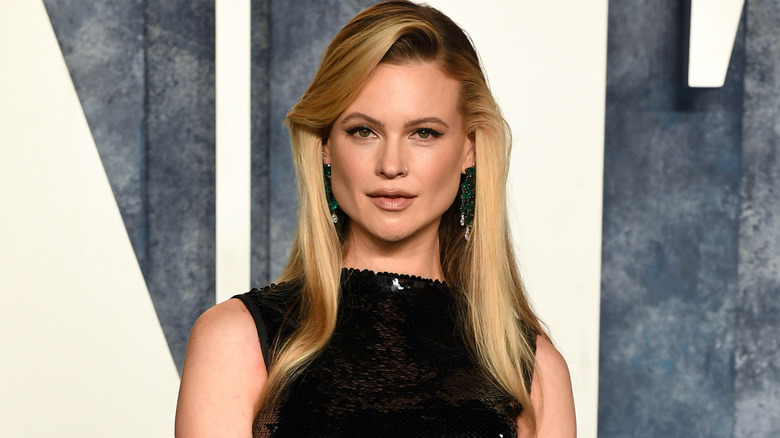 Jon Kopaloff/Getty Images
The Hollywood dating scene is something else and it's not uncommon for someone to break up with one celebrity only to date another. A little-known fact is that Behati Prinsloo's ex later moved on with Dakota Fanning and after the split, Prinsloo married Maroon 5 frontman Adam Levine. Can you even keep up with it all? So who's the suitor that the two have in common? British model Jamie Strachan. Fanning and Strachan began dating in 2013, and the public learned about it after magazines published photos of the pair holding hands.
During much of their romance, the pair flew under the radar (though they did attend the Met Gala together in 2016), ultimately calling it quits the same year. Not too long after Fanning and Strachan broke things off, the "I Am Sam" actor spoke about her love life to Town & Country. While she didn't mention the British model by name, she also didn't seem to have the fondest memories of dating. "The way I prefer to meet someone is through a friend... [They're] most likely not a freak," she confessed. "I find dates, in general, horrific. We have to sit there and ask these questions and pretend to eat a meal, and it just feels so stiff." Fanning also noted in the interview that she's "a very private person," which is probably why we don't know a ton about her love life. 
And before Fanning, Strachan linked up with model Behati Prinsloo.
Inside Behati Prinsloo's love life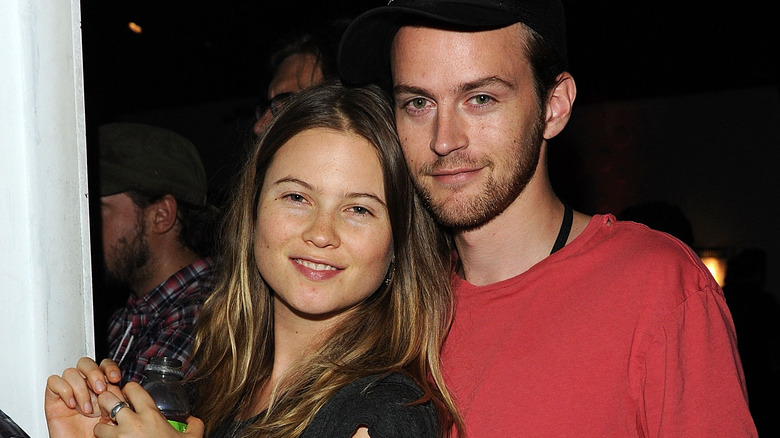 Andrew H. Walker/Getty Images
Before Behati Prinsloo began her relationship with Adam Levine, she struck up a romance with Dakota Fanning's now ex-boyfriend, Jamie Strachan. ABC News reports that Prinsloo dated the Strachan around 2010, when they were photographed together. Like Prinsloo, Strachan is a model and the two posed for i-D magazine together. We don't know many details about their romance, but there are a few other photos of the pair together to prove that they did, in fact, date.
Though Prinsloo's relationship with Strachan didn't earn a ton of attention or press headlines, her romance with Adam Levine certainly has. In an interview with Net-A-Porter, Prinsloo revealed that she and Levine first met over email when a mutual friend suggested that Prinsloo would be good in Levine's music video since she's a "tomboy." The couple hit it off, later tying the knot at Flora Farms in Mexico in 2014, according to Us Weekly.
Prinsloo and Levine share three children and they regularly post about one another on social media, including on special days like Father's Day. "Happy Father's Day. I'm so lucky to have an amazing Dad, my girls are so lucky to have such a loving, present father," the Victoria's Secret model wrote on Instagram in 2020. "My Dad showed me what i wanted in a husband and I'm so lucky to have found you." But, not everything has been sunshine and roses for Levine and Prinsloo because, in 2022, a scandal rocked their world.
Adam Levine's alleged affair made headlines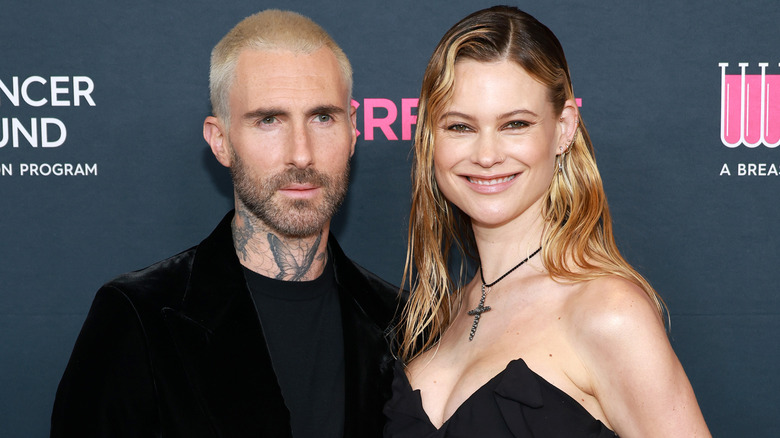 Matt Winkelmeyer/Getty Images
Behati Prinsloo and Adam Levine are one of the most popular couples in Hollywood, so pretty much everything surrounding their marriage makes headlines. In 2022, model Sumner Stroh posted a viral TikTok video alleging that she and Levine had an affair while he and Prinsloo were married. The model also included some now-viral screenshots of Levine's DMs, including one reading, "It is truly unreal how f**king hot you are. Like, it blows my mind." In another message, Levine asked Stroh how she felt about him using her name for his third child with Prinsloo. Yep, it was wild! 
Not too long after Stroh's TikTok went viral, Levine issued an apology on his Instagram Stories while also coming to his own defense. "I used poor judgment in speaking with anyone other than my wife in ANY kind of flirtatious manner," he wrote. "I did not have an affair, nevertheless, I crossed the line during a regrettable period in my life. In certain instances it became inappropriate; I have addressed that and taken proactive steps to remedy this with my family."
Since the scandal, the couple welcomed their third child and Prinsloo has basically addressed the elephant in the room in her own way. After the "Call Her Daddy" podcast teased that Levine would be on the show (before revealing that Adam Devine would actually be appearing), Prinsloo took to the comments section, leaving a simple "LOL" and nothing else.