Stormy Daniels Once Defended Melania Trump But Quickly Changed Her Tune
Ethan Miller/Getty Images
Former President Donald Trump is no stranger to bad press or even scandals. However, his recent blunder is far different than the past; in fact, he's the first former president to be indicted — so yeah, it's kind of a big deal. According to The Guardian, Trump was initially indicted because of a case that involved alleged hush money that was paid to adult film actress, Stormy Daniels, to keep quiet about a reported affair in 2006. But as NPR reported, Trump was also charged with 34 felony criminal charges after unsealed documents showed alleged falsifying of business records — a Class E felony in the state of New York — in relation to the Daniels case.
Trump has of course denied any extramarital affair with Daniels. Daniels, for her part, actually doesn't think Trump should go to jail for what he's allegedly done. And this isn't the first time she's somewhat "stood up" for someone on Trump's side of this issue. Daniels once came to the defense of Trump's wife, Melania Trump, who had just had their son, Barron, four months prior to this alleged affair. But it doesn't seem like it's something Melania would be grateful for, coming from Daniels.
Stormy Daniels wanted people to stop speculating about Melania Trump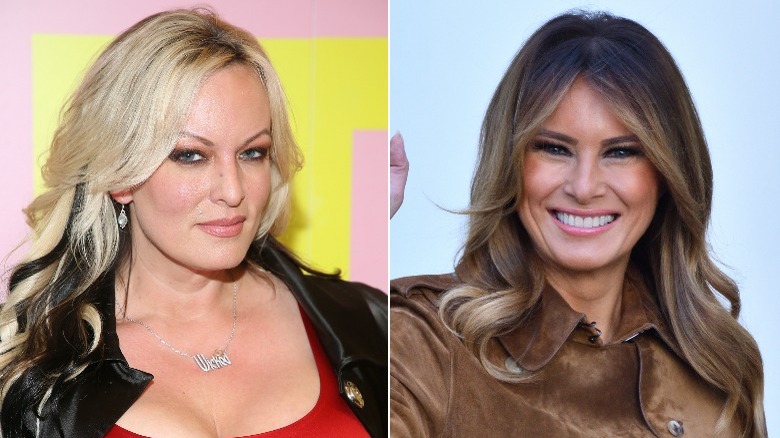 Phillip Faraone/Getty & Evan El-Amin/Shutterstock
Back in 2018, Stormy Daniels talked to the Mirror about potentially testifying against Donald Trump if he went to trial over this issue; she still stands by this now, telling Piers Morgan that she'd "absolutely" testify if asked, per CNN. Daniels also talked about the rumors in 2018 that Melania Trump was angry and felt "trapped" in her marriage to Trump, saying that no one actually knows that. "People should stop speaking for her. Maybe she's happy," Daniels said. "Everything we say about her is a projection. Some people misplace sorrow and pity on another person." Daniels also said that if Melania never shared her thoughts on this, then "that is her right and I support it."
However, in 2020, leaked audio came out of Melania Trump insulting Daniels. Newsweek reported that in the audio, Melania was scoffing with her former friend and aide Stephanie Winston Wolkoff at a photoshoot Daniels did. "If you Google, go Google and read it, Annie Leibovitz shot the porn hooker, as she will be in one of the issues, September or October," the former First Lady said of Daniels.
Of course, Daniels had something to say about this. "Hahaha! Although I wasn't paid for sex and therefore technically not a 'hooker' I'll take being that over what you are any day," Daniels tweeted in October 2020. "You sold your p**** AND your soul ... and I'm legal..." along with some more insults. 
Melania Trump is angry about the alleged affair, but happy on her own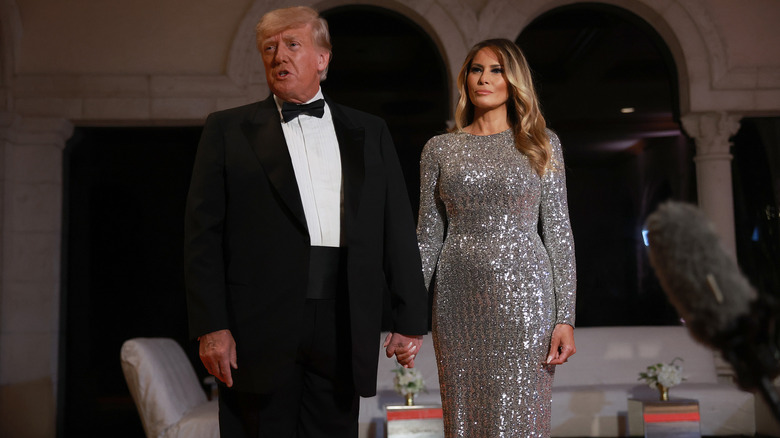 Joe Raedle/Getty Images
As for how Melania Trump feels about her husband, Donald Trump, and this trial directly involving Stormy Daniels? Close sources speaking to People shared that Melania is minding her business and staying in her home, which is why people haven't seen her with Trump in New York City. "Melania is leading her own life, and still feels happy being at Mar-a-Lago, surrounded by people who love her and who never talk about reality, or bad things about her husband," the insider said. But don't get it twisted; Melania is definitely not happy about Stormy Daniels still.
"She remains angry and doesn't want to hear [the alleged hush money payment] mentioned," the source said. "She is aware of who her husband is and keeps her life upbeat with her own family and a few close friends." Basically, the insider said that the former First Lady is trying to ride it out and "ignore it and hope it will pass, but she doesn't sympathize with Donald's plight." They also said that the two live separate lives but keep up appearances well socially.
Stephanie Winston Wolkoff — who Melania was talking to in the leaked audio — told Page Six that the former First Lady is actually living in delusion. "Melania lives in an ivory tower of denial," she told the outlet. She said that Melania's "silence is her dignity" and "deliberate." Wolkoff also noted that Melania's silence is "her weapon of choice and her protective armor."