Why No One Saw Nicollette Sheridan's Divorce From Aaron Phypers Coming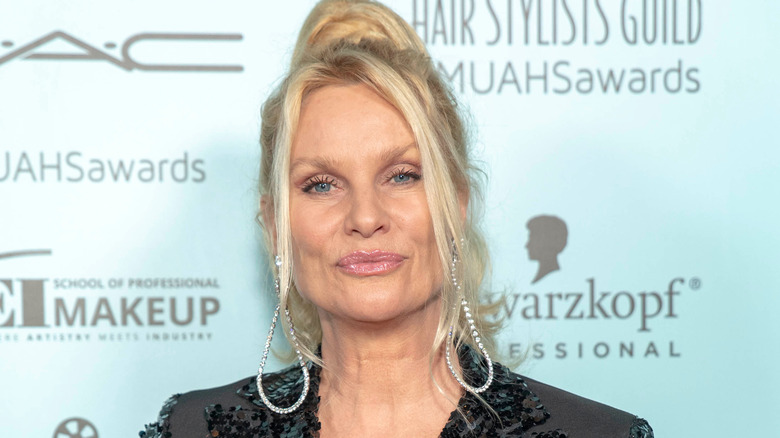 Eugene Powers/Shutterstock
Some relationships withstand the test of time, while others simply don't. Sadly, that was the case with Nicollette Sheridan and Aaron Phypers following their whirlwind romance. Sheridan has a history of dating well-known men, and before Lisa Rinna was in the picture, Sheridan wed Harry Hamlin. The pair were married from 1991 to 1992 before eventually parting ways. The "Desperate Housewives" star also had a pretty publicized relationship with singer Michael Bolton and the two were on-again and off-again for 17 years. Talk about a storied romance! Sheridan and Bolton got engaged in 2006 but called it off in 2008 before walking down the aisle. Bolton even told Access Hollywood that he wrote about the romance in his memoir. "I wouldn't bet on more chapters as much as I think that, certain people you're always gonna love. [It's] just a fact," he said of the romance. "I'm not saying there is, I'm not saying there isn't."
On the contrary, little is known about Sheridan and Phypers' relationship other than their brief romance and marriage between 2015 and 2016. It's difficult to come across many photographs of the couple together, though they did appear at the Hallmark Channel and Hallmark Movies and Mysteries Winter event in 2016 — and there are photos to prove it. See? Proof!
While Sheridan and Bolton had a long and publicized romance, her one with Phypers was anything but that.
Nicollette Sheridan and Aaron Phypers kept things on the DL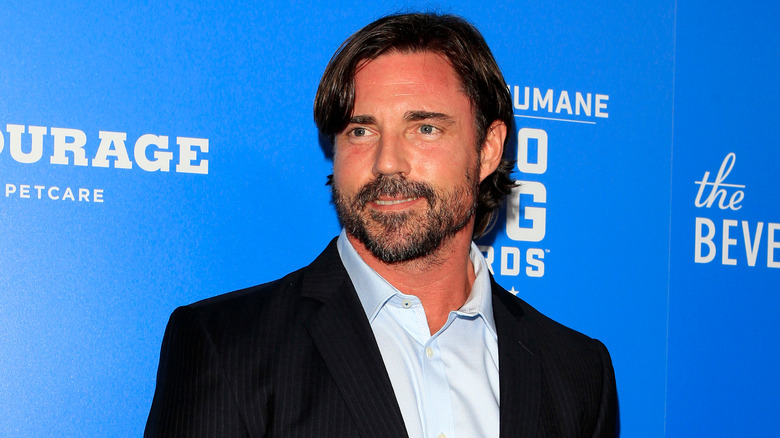 Kathy Hutchins/Shutterstock
Nicollette Sheridan may be a pretty well-known figure, thanks to her roles in shows like "Dynasty" and "Desperate Housewives," but her ex-husband, Aaron Phypers, flew under the radar seeing as he's a holistic medicine expert and not an actor. So, it was a little bit of a surprise when the couple opted to go their separate ways and initiate a divorce, seeing as most people didn't even know that they were married in the first place. People shared that the two wed in a super-secret ceremony, and they did a great job of hiding it from the public. So, when Sheridan filed for divorce, it came as a shock to most. According to TMZ, the couple separated five months into the marriage, and after six months, they officially filed the paperwork. 
People reported the pair finalized their divorce in 2018, and a judge didn't grant Sheridan or Phypers spousal support. According to the settlement, Sheridan got to keep their home in Hidden Hills, California, in addition to "all clothing, jewelry, artwork, antiques, and other items of a personal nature in [her] possession." In turn, a judge ruled that Phypers would get to keep his cars and any real estate properties in his name in addition to "all clothing, jewelry, artwork, antiques, and other items of a personal nature in [his] possession."
Not long after he and Sheridan parted ways, Phypers moved on with another leading lady.
Aaron Phypers and Denise Richards have a very public romance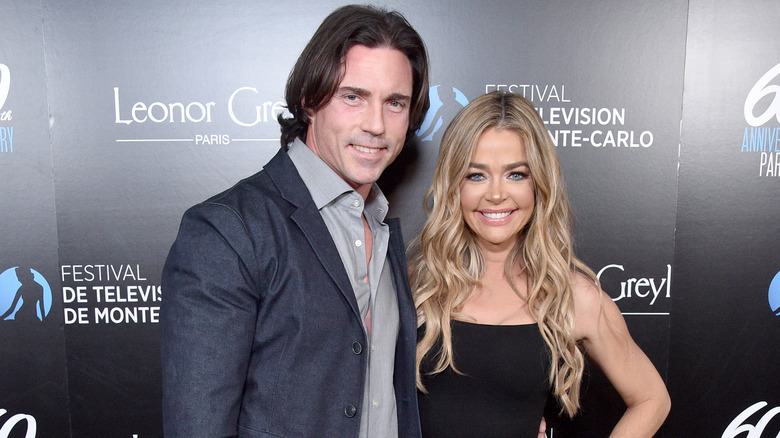 Gregg Deguire/Getty Images
Following his divorce from Nicollette Sheridan, Aaron Phypers struck up a romance with Denise Richards. The pair began dating in 2017. with fans watching their relationship play out on "The Real Housewives of Beverly Hills." In one episode (via Us Weekly), Richard, revealed that she and Phypers met at his Quantum 360 center. "So, I met him at his center doing DNA repair, anti-aging, and that sort of thing," the mother of three shared. "Then, one time we had sex in one of his rooms. We've been inseparable ever since." At the time, Phypers and Sheridan were still legally married — although they were not together.
Richards and Phypers later wed in 2018 at an intimate ceremony in Malibu. "I am so happy to officially be married to the love of my life. I can't wait for everyone to go on this incredible journey with me this season on 'The Real Housewives of Beverly Hills.' It has been a wild ride so far!" she told The Daily Dish after the wedding, which was featured on "RHOBH." Even though Richards quit the show, fans still see many aspects of Richards' relationship with Phypers on social media thanks to her lovey-dovey posts. "Everyday is a dream with you. I love you so much and can't wait to spend a lifetime of birthdays together," she wrote on Instagram in March. 
Phypers definitely went from an under-the-radar romance to one super public one!