What Lisa Marie Presley's Relationship Was Like With Elvis' Ex Linda Thompson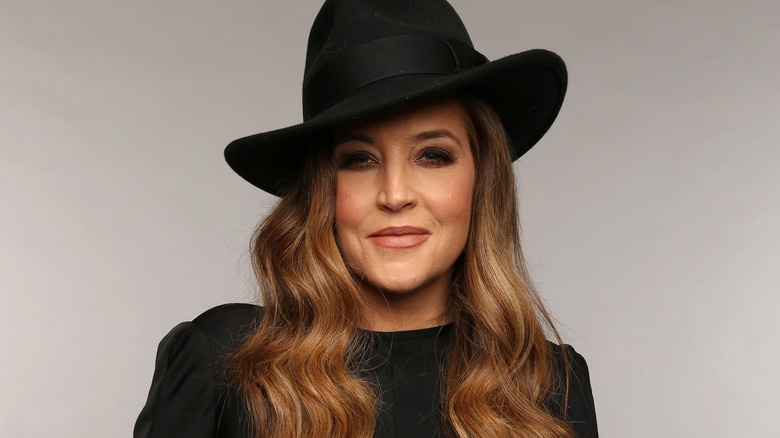 Christopher Polk/Getty Images
The biggest love of Elvis Presley's life was his daughter, Lisa Marie Presley. Per Insider, Elvis met Lisa Marie's mom, Priscilla Beaulieu, in 1959 while stationed overseas in Germany. Despite being 14, she fell hard for the 24-year-old heartthrob. Priscilla was heartbroken when he returned to the US, and rumors started flying that he was dating Nancy Sinatra. "Each story about Elvis seemed to upset me all the more," Priscilla wrote in an essay for People. "He seemed to be romantically linked with many beautiful starlets in Hollywood."
Priscilla eventually moved stateside, and despite Elvis' multiple well-publicized liaisons, she married him in 1967. Lisa Marie arrived in 1968, but being a dad didn't stop Elvis' wandering eye, and the couple split in 1972. He immediately moved on to Linda Thompson, who'd always believed it was her destiny to be with the singer. "My love for Elvis began long ago in my little Memphis girl's heart," she wrote in her memoir, "A Little Thing Called Life." "It seemed perfectly logical that I would grow up to marry the man everyone in Mississippi Delta talked about and swooned over."
Thompson moved into Graceland just months after meeting Elvis and played stepmom to Lisa Marie over the next four-plus years. The couple split eight months before Elvis' death in 1977 at age 42. Thompson shared in her book that Lisa Marie broke the news to her in a telephone call. So, what was Lisa Marie Presley's relationship like with Elvis' ex Linda Thompson?
A deep and loving lifelong bond
Priscilla Presley's side of the bed was still warm when Elvis Presley moved Linda Thompson into Graceland in 1972. Despite her dad scoring a new girlfriend before her parents' divorce was finalized, Lisa Marie Presley's relationship with her father was super close. And unlike many kids who struggle with a parent's new partner, Lisa Marie's relationship with Thompson blossomed immediately.
"When Lisa was a little girl, I played Santa Claus to her four times at Christmas, and I was the Easter bunny on Easter, hiding eggs around Graceland. We took golf cart rides together, and Elvis trusted me and my love for her enough that he let me drive her to the movies and to visit my family," Thompson told People. After she and Elvis split in 1976, Thompson remained close to Lisa Marie. She shared in her memoir that she'd "learned to love [her] deeply" over the years and that they spoke regularly.
Thompson offered her love and support to Lisa Marie after she lamented on Instagram that her son, Benjamin Keough, wasn't still alive to see the biopic Baz Lurhman made about his grandfather. "You are forever in my heart and soul — right alongside your dad," Thompson wrote. "You have suffered such a profound tragedy and loss... One that no parent should ever experience. My heart hurts for you. I love you always and forever...I have from the first moment I met you."
Paying tribute to precious little Yisa Marisa
After news broke in January 2023 that Lisa Marie Presley had been hospitalized, Linda Thompson shared some rare old photos. "I am fervently praying for someone I have always held so near & dear to my heart @lisampresley," she captioned the pics. "Please join me in sending out your best thoughts, love, prayers, and well wishes for a full and speedy recovery for her."
When she died days later, Elvis Presley's ex posted a rare glimpse into Lisa Marie's childhood with more photos, including some adorable ones of the then-6-year-old in a huge, gappy grin showing off her baby teeth loss. "Little 'Yisa Marisa' as I remember her so lovingly. She was a precious little girl!" Thompson wrote. "We had such a wonderful relationship for so many years. She's still a part of my heart," she continued.
"Lisa and I kept in touch off & on for all these years — most recently by text. In fact, the very last text to me was a simple 'Love you Linda' with a heart emoji," Thompson told People. "Lisa Marie was so much like her daddy it was uncanny. She had his deep, soulful eyes, his pouty lip, and his raucous, irreverent sense of humor." Thompson praised Lisa Marie for her honesty and loyalty. "I don't think there was a phony cell in her body. I believe she lived her life authentically," she said.