Amy Robach And T.J. Holmes Reportedly Tried To Return To TV After Their GMA Scandal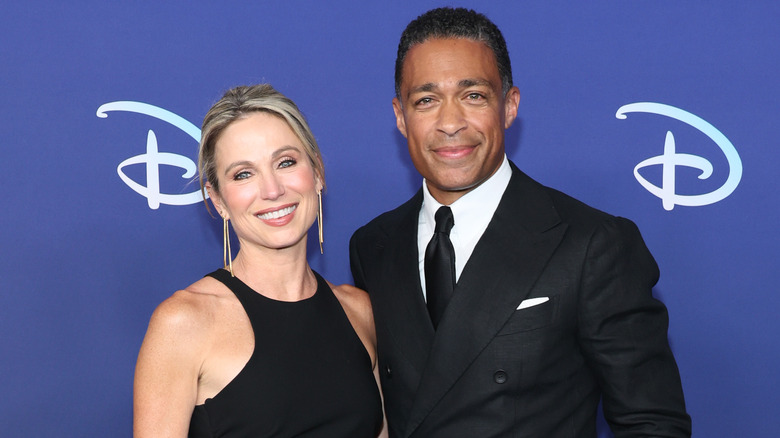 Dia Dipasupil/Getty Images
Amy Robach and T.J. Holmes both worked for "Good Morning America" — and were married to other people — when they were photographed holding hands in November 2022, People previously reported. Not long after their off-camera romance was brought to light, their professional lives fell apart. Both Robach and Holmes were suspended by ABC, with ABC News president Kim Godwin reportedly telling employees that the couple "will remain off-air pending the completion of an internal review," according to the Daily Mail. After the internal review was conducted, both Robach and Holmes found themselves out of jobs.
"After several productive conversations with Amy Robach and T.J. Holmes, about different options, we all agreed it's best for everyone that they move on from ABC News," a representative for ABC told USA Today. "We recognize their talent and commitment over the years and are thankful for their contributions," the statement concluded. As the months passed by, Robach and Holmes continued to make headlines as they decided to carry on their relationship — with both since filing for divorce from their respective spouses. When it comes to their careers, however, they've made some moves there, as well, but things haven't turned out quite the way they were hoping.
Amy Robach & T.J. Holmes haven't had success landing new jobs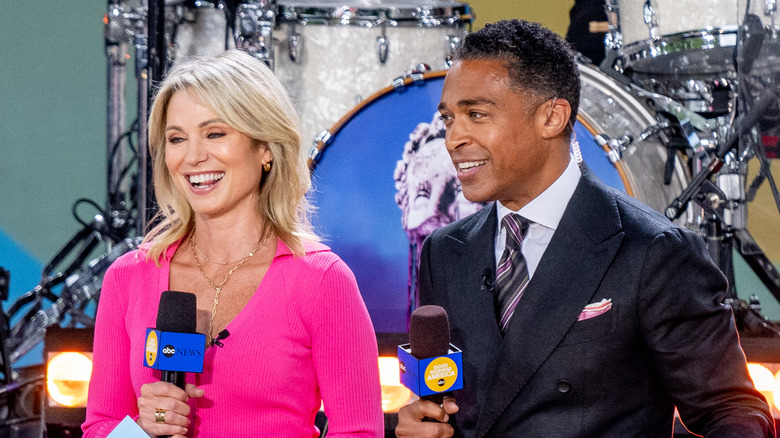 Roy Rochlin/Getty Images
After getting fired by ABC, Amy Robach and T.J. Holmes reportedly tried to pitch their very own talk show to various networks, according to the New York Post. A source told the outlet that CBS Media Ventures and CNN both turned down the couple's idea. "If they did a talk show, what would they talk about? What's their expertise — infidelity? They'd take anything. I think they'd host a game show at this point," a television expert told the Post.
Meanwhile, a source told People that Robach and Holmes are confident in the future of their careers. "They're actually in love and still in touch with people who work on the show. They're not worried about not working again, but they know the dust needs to settle a bit more before they get another job. There's still too much going on," the source said. 
In January 2023, TMZ reported that Robach and Holmes had both obtained lawyers. At the time, sources told the outlet that if the anchors were fired by ABC, they would be filing lawsuits. A source did tell People that the couple really yearned for privacy, which being fired sort of offered them, but that they still "feel like their termination was wrong." Thus far, no lawsuits have been filed.
Amy Robach previously said T.J. Holmes was like a 'brother' to her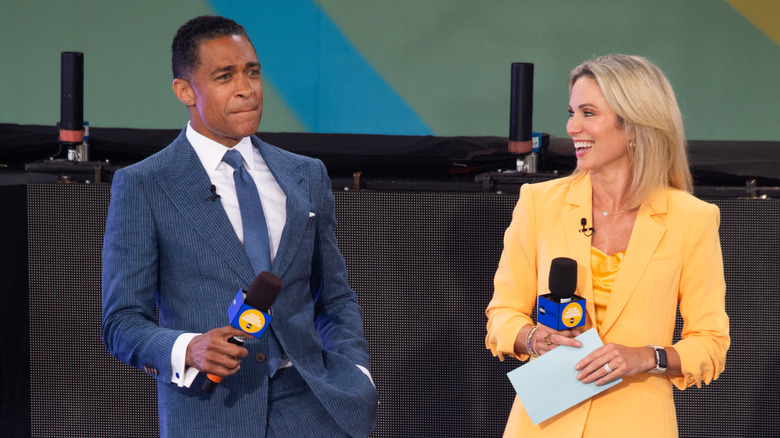 Noam Galai/Getty Images
Before their romance really took off, Amy Robach and T.J. Holmes would go on double dates with their spouses. When Holmes joined "Good Morning America" in 2014, he and Robach bonded right away. "The moment he started at ABC, I think we just clicked. We've gone on tons of double dates with our spouses and my daughters babysit his daughters," Robach previously told People. "Basically, he's like my brother. We just can finish each other's sentences ... It's so wonderful to have, again, it's that trust, and you don't always have that on the set. But I know no matter what I do or say, he's got my back and vice versa" she added.
Robach and her ex-husband, Andrew Shue, had been together since 2009, while Holmes and his ex-wife, Marilee Fiebig, tied the knot in 2010. Neither Robach nor Holmes have released statements about their relationship, but sources say that the two separated from their spouses before they started dating each other. "This was two consenting adults who were each separated. They both broke up with their spouses in August within weeks of each other. The relationship didn't start until after that," one source told People.
As for how things are going between Robach and Holmes following their ABC firing, the two are still very much together — and it seems serious. The following February, the Daily Mail reported that Holmes purchased a $650 "promise ring" for Robach.