The Lavish Lives Of Elton John's Kids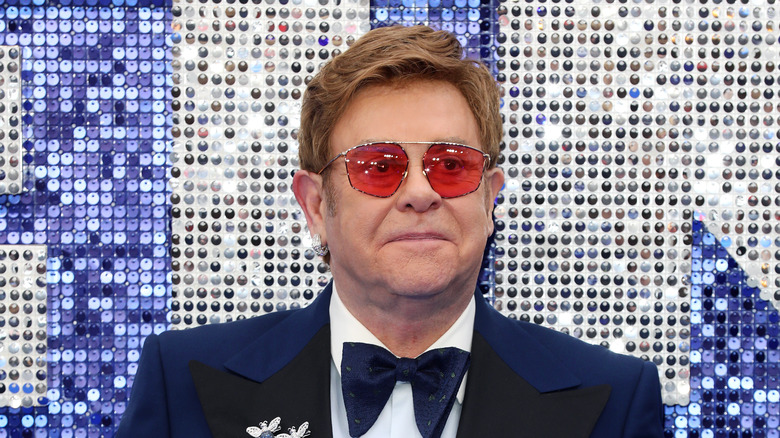 Tristan Fewings/Getty Images
Shortly before he became a dad, Elton John lost his close friend and keyboard player, Guy Babylon. In the wake of Babylon's death, Elton began to reconsider fatherhood. As per The Guardian, he once said, "What better opportunity to replace someone I lost than to replace him with someone I can give a future to?" Zachary Jackson Levon Furnish-John, the first someone he could give a future to, was born on Christmas Day 2010. Elton and David Furnish's second child, Elijah Joseph Daniel Furnish-John, was born in 2013.
The name "Levon" is not a nod to the Elton John song, but a tribute to a kid who changed the musician's life. As Elton shared with The Father Hood, he and David had originally tried to go the adoption route but it didn't pan out. However, after meeting a child in an orphanage named Lev (and later helping to reunite Lev with his grandmother), Elton recognized he wanted to try to become a father again, so he and David looked into surrogacy. "Lev was like an angel, a messenger, who taught me something about myself," he said. 
Given who their parents are, it shouldn't come as a surprise that Zachary and Elijah live rather unique lives. Let's take a look at the lavish worlds of Elton John and David Furnish's kids.
Elton John's kid's breast milk was a special delivery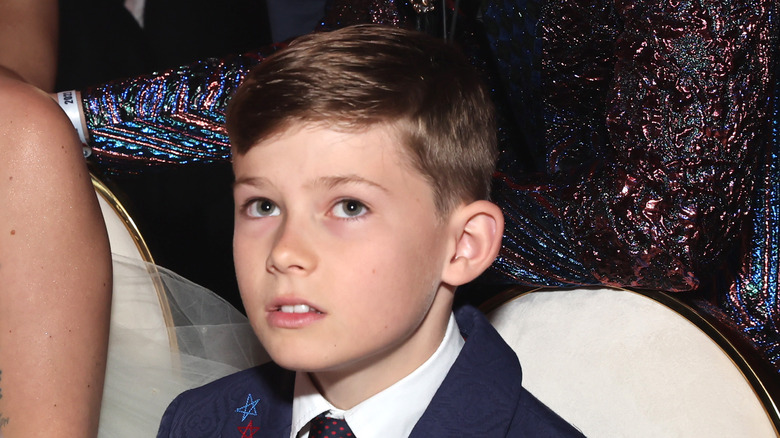 Amy Sussman/Getty Images
Zachary Jackson Levon Furnish-John was born via surrogate but was not fed formula or other breast milk replacements. Instead, Elton John and partner David Furnish opted to receive very special deliveries from their surrogate. As per ABC News, Elton told Barbara Walters in 2011, "She's been providing him with breast milk. We have the breast milk Fedex'd from where she is."
The Furnish-John family is rich enough to have actual breast milk regularly shipped to their abode, but as the "Rocket Man" singer said to Walters, he and David made a point early on to raise their family in a relatively grounded household. "The worst thing you can do to a child, and I've seen it happen so many times, is the silver spoon," Elton said, as per ABC News. "Being the child of a famous person is very difficult and we're very well aware of the pitfalls of that." With the help of a nanny, David and Elton were eager to take on various parental duties, even changing his diapers. 
Elton has also made a point of downplaying his level of celebrity. As he explained to the Mirror in 2019, he and David hadn't fully explained what a big deal the "Tiny Dancer" rocker is or why people ask him for autographs. "We always say, 'Because people like my music,'" he shared. "We don't say because I'm famous, or anything like that. I try to leave Elton on the stage.
Both of Elton John's children share a love for music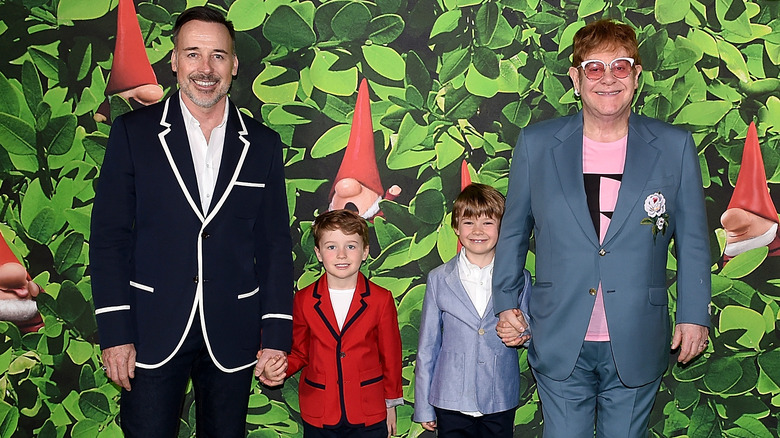 Stuart C. Wilson/Getty Images
When a famous person has a child, it isn't exactly shocking when the child follows in their parent's footsteps; there's no shortage of nepo babies in Hollywood. However, in a 2022 chat with E! News, Elton John noted that his two kids have not expressed any interest in pursuing careers in the performing arts — well, not yet at least. "They are still so young, so not entirely sure," the music legend said. "But of course, whatever their dreams and ambitions are, my husband David and I will fully support them."
That said, in a November 2022 interview on "Good Morning America," John did note that his kids do seem to be into music to some degree. "They both play the piano, and Elijah stared playing the trumpet. Elijah is heading towards the stage," he shared. 
Hey, when one of your parents is one of the most revered recording artists and songwriters in recent history, it shouldn't come as a surprise that music is a part of your life. On the flip side, John and David Furnish sure seem to be more than okay with their sons pouring energy into other interests. As Furnish once told Us Weekly, "All Elton and I try to do as parents is expose them to as many things as possible and encourage them to be open-minded and follow in life what they love and what they feel passionate about."
Donatella Versace gifted them with robes
Social media has allowed fans to have a closer look at a celebrity's life and whatever intimate moments they feel comfortable sharing online. However, a number of famous people have opted to leave their children — or at least their faces — far away from their feeds. Elton John and David Furnish have clearly made their kids' privacy a priority. One look at John's Instagram account, and you'll find that he rarely shows his sons. Rather, his feed mostly includes throwbacks, clips of his concerts, and photos with other celebrities. And Furnish has shared a handful of photos where the kids are cheesing for the camera, but in many of the shots, the boys are turned away or their faces are obscured by things like ski gear.
Which brings us to the family photo John posted on Instagram in August 2021. While all four members of the Furnish-John crew are facing away from the camera, their luxe threads happen to be staring us right in the eye. They all happen to be wearing customized Versace robes that were gifted to them by the one and only Donatella Versace. In the caption, the "Candle In the Wind" singer thanked the fashion icon for the robes, writing, "You made our Summer so glamourous.Ti amo." Who among us can't relate to receiving a customized robe from Donatella Versace when we were still in grade school — or ever, for that matter — and posing with your very famous parents for a social media post?
Lady Gaga is a godmother to the boys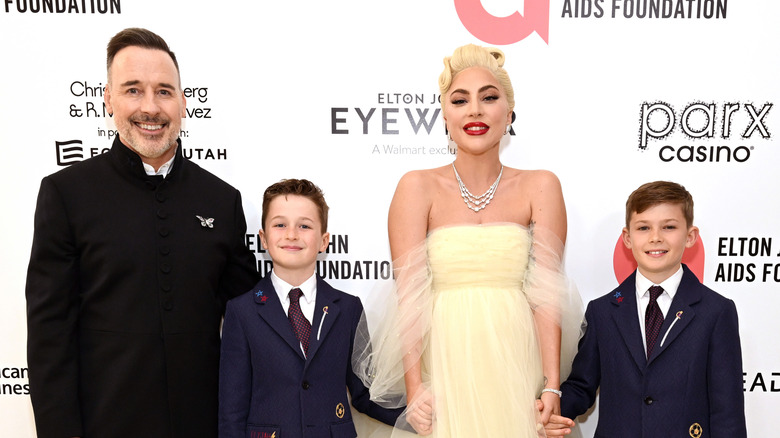 Michael Kovac/Getty Images
Of course Elton John's children have their very own Godmother Monster. In his aforementioned chat with Barbara Walters, John opened up about asking Lady Gaga to be Zachary Jackson Levon Furnish-John's godmother. "When you get to the real person underneath, there's a very simple New York girl who loves her parents," he gushed to Walters, as per Daily News. "I love her to death, and a lot of people said, 'Oh, that's crazy,' but they don't know her and we do." When Elijah Joseph Daniel Furnish-John arrived some years later, Elton and David Furnish asked Gaga if she'd do them the honor of being their second child's godparent, too. Naturally, she accepted. 
In a 2018 chat with Heart 96-107, Elton noted that despite Gaga's extremely busy schedule, she always makes time to see her godchildren. "She bathes them, she sings to them, she reads stories to them. She's the greatest godmother. She really cares," he shared. "They call her GaGa-mother. They love her records – they've got to the stage where they have their own little record player." In 2019, when Lady Gaga was nominated for an Oscar, David said on Z100, "If Gaga Mother wins we'll have to send her a congratulations note and we are big on handwritten notes and of course flowers, I think beautiful white flowers." She did take home the trophy that year, which means Zachary and Elijah have an Oscar-winning parent and an Oscar-winning godparent. Not too shabby. 
Elton John's sons work for their 'pocket money'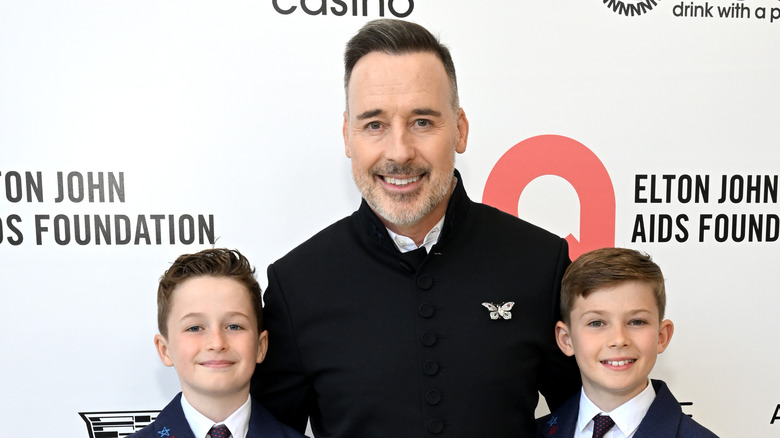 Michael Kovac/Getty Images
From the moment the boys were born, both Elton John and David Furnish were set on making sure their kids developed a good work ethic. And once they were old enough, the boys were assigned chores around their home. "They both have pocket money, but they have to work in the house for it and they have to work in the garden," John said in a 2016 interview with BBC Radio 6 (via Mirror). In a separate interview with Mirror, John shared that his sons even have a chore chart where they can keep track of what they've accomplished. "They understand they need to do these things, and they enjoy it," he said. 
As well-off as he is now, John comes from a humble background and appreciates the values that were instilled in him at an early age. And while it's easier said than done when you're a wildly rich and famous person, he hopes his kids grow up with a similar drive and understand the value of the dollar. What's more, Elton and David have taught their kids to give back and save. Regarding their allowance, Elton told The Guardian, "They get £3 pocket money, but £1 is for charity, £1 is for saving and £1 is for spending, they get three coins and put them in separate jars."
One of Elton John's sons has a surprising hobby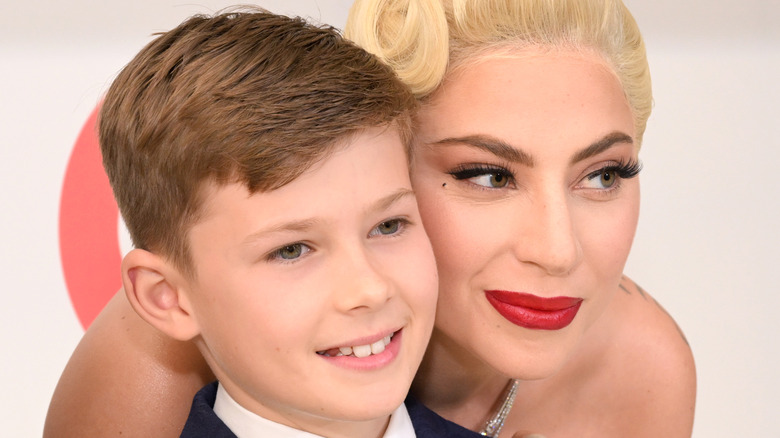 Michael Kovac/Getty Images
Most parents raising children in this time and age are concerned with the kinds of hobbies their kids pick up, especially when it comes to spending hours in front of a screen playing video games or scrolling through social media. That is one of the reasons why David Furnish and Elton John are all about Zachary Jackson Levon Furnish-John's passion for fishing. Furnish told the Irish Mirror that even though he and Elton aren't exactly experienced fishermen themselves, they encourage Zachary's hobby as much as possible. This all started when their firstborn was 10 years old. "Zachary our oldest has become completely obsessed with fishing," David said. "He's done lake fishing, he's done sea fishing but he hasn't done fly fishing so we're able to get a couple of days up north (Canada) to introduce him to fly fishing which he absolutely loved."
The boy's parents are happy to see that the hobby motivates him to spend time outside and practice patience. "He's learned a lot about it on YouTube, there's angling magazines you can get in the newsagents here in Britain so he's picked up a lot of those and he's just dived into all aspects of it, really researching it and he knows it all so well now," David said. 
Elton John's sons won't receive a massive inheritance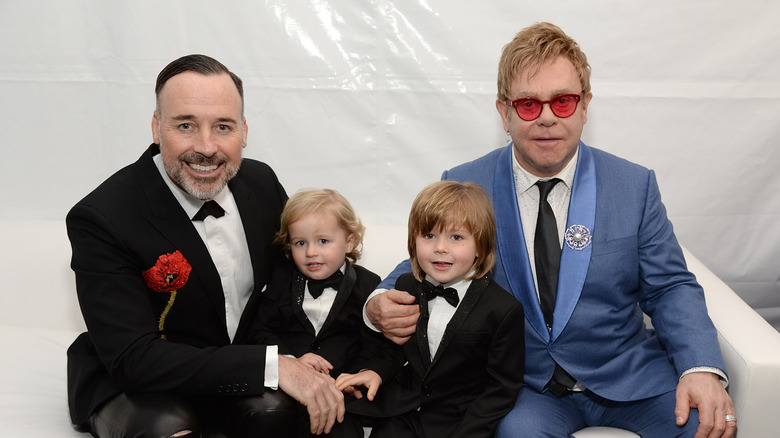 Michael Kovac/Getty Images
While Zachary Jackson Levon Furnish-John and Elijah Joseph Daniel Furnish-John surely are more than comfortable, their dads aren't going to hand them everything. In a 2016 interview with the Mirror, Elton John shared that he and David Furnish don't plan on leaving their entire fortune to their sons. "Of course I want to leave my boys in a very sound financial state," Elton said. "But it's terrible to give kids a silver spoon. It ruins their life." In a separate interview with BBC Radio 6 (via Mirror), Elton shared a similar sentiment. "[I]f they want a new car they're going to have to pay for it, and they're going to have the second hand car to start with- that's what I had," he said.
At the time of the aforementioned Mirror interview, Elton and David were putting their wills together. The former made it clear that, above all else, they want to do right by their boys and encourage them to find some level of financial independence. 
Sure, Elton and David's sons are godchildren to Lady Gaga and have received gifts from Donatella Versace, but at the end of the day, their dads hope they always remember to keep their feet firmly planted on the ground. "Listen, the boys live the most incredible lives, they're not normal kids, and I'm not pretending they are," John said. "But you have to have some semblance of normality, some respect for money, some respect for work."