Donald Trump's Cruel Nickname For Stormy Daniels Packs A Personal Punch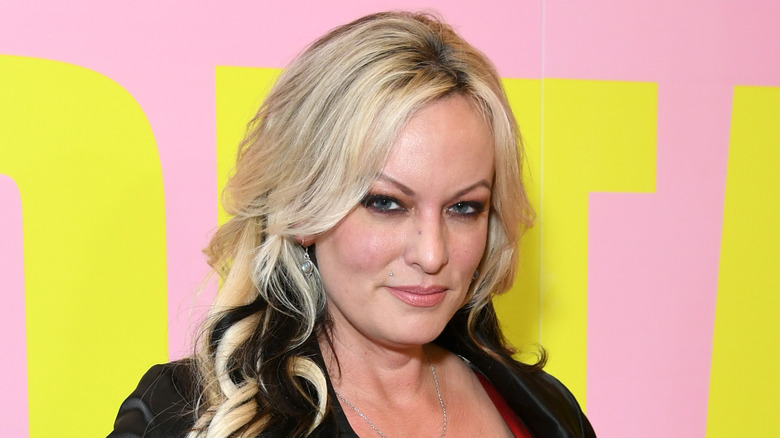 Jc Olivera/Getty Images
Former President Donald Trump is a man of many words — and insults. Ever since he ditched his TV show gig for good and vied for the presidency, the business mogul — who has always been known to be outspoken — reached new heights with his way with words, often slinging degrading remarks to anyone who dares oppose him.
According to his niece, Mary Trump, the former "The Apprentice" host tends to resort to vitriol to mask his long list of insecurities. If he doesn't have any worthy rebuttal, he fires an avalanche of derogatory words to belittle his dissenters. "Donald is an extremely insecure person. One of the things he's most insecure about is his level of intelligence," the clinical psychologist explained to NPR. "And whenever he feels threatened, whenever he feels outclassed by somebody's superior intelligence or knowledge base or whenever he feels contradicted, he needs to go on the attack. And as he often does, he projects. He attacks the person with the thing he's most secure about in himself."
From 2015, when Trump began campaigning for the presidency, to 2021, when he got banned on Twitter, The New York Times culled a list of insults that appeared on his account. It totaled somewhere between 6,000 and 10,000, according to the editors. Of course, it happens offline, too, with Trump flinging insults in his many public outings. And out of all the demeaning words that have come out of his mouth, online or otherwise, one of the most memorable was his nickname for his alleged former mistress, Stormy Daniels.
Donald Trump called Stormy Daniels 'horseface'
In 2018, Stormy Daniels lost her defamation lawsuit against Donald Trump. The latter asserted in a tweet that Daniels had lied about being threatened by a man when she agreed to publicly share her experience with the former president, with whom she claims to have had an affair back in 2006. Daniels declared in her lawsuit that Trump had defamed her by painting her as a liar. "A sketch years later about a nonexistent man. A total con job, playing the Fake News Media for Fools (but they know it)!" Trump tweeted at the time.
However, CNN reported that a federal judge tossed the case, noting that Trump's tweet "constitutes 'rhetorical hyperbole,'" and is therefore covered by the First Amendment. In true Trump fashion, he basked in his win with a celebratory tweet packed with insults aimed directly at Daniels and her legal team. "Great, now I can go after Horseface and her 3rd rate lawyer in the Great State of Texas. ... She knows nothing about me, a total con!" he said.
Why "horseface," you ask? Well, not many know that Daniels is an equestrian and would occasionally dabble in eventing. But it's not like she was offended by Trump's special moniker for her, anyway. She made sure to fire back at him and sling a few insults his way, too. "Ladies and Gentlemen, may I present your president. In addition to his...umm...shortcomings, he has demonstrated his incompetence, hatred of women and lack of self control on Twitter AGAIN!" she wrote. "And perhaps a penchant for bestiality. Game on, Tiny." Oh my!
Stormy Daniels was riding a horse when Donald Trump got indicted
It's true what they say that what goes around, comes around. Stormy Daniels was again in the middle of a media storm when Donald Trump was indicted for allegedly paying her hush money back in 2016 to prevent her from publicizing their purported 2006 affair. Prosecutors noted that Trump may have only paid her to boost his chances for presidency, but the real estate mogul vehemently denied the allegations and pleaded non-guilty to all charges.
Interestingly, Daniels, who Trump had called "horseface," was riding a horse when she found out that he had been indicted. "I'm straddling a horse named Redemption when he got indicted," she shared in her interview on "Piers Morgan Uncensored" on Fox. "Redemption is his name. ... I can't make this up." And while she admitted that there is "no joy in the fact that we had somebody in office that had this much power to cause these [alleged crimes]," she went on to celebrate anyway. "In the moment, I was like, 'F*** yeah!'"
But make no mistake. Daniels said that she doesn't feel "vindicated" just yet. If Trump gets convicted, she shared that it'd "definitely be a giant step closer in that direction but I don't think it'll ever be 100%" because at this time, many are still "unwilling to admit that they were wrong or that he lies."