Stormy Daniels Once Appeared In A Maroon 5 Music Video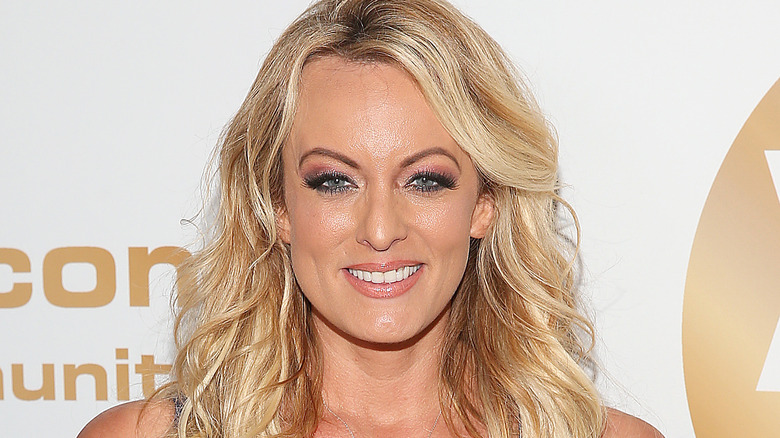 Jesse Grant/Getty Images
Stormy Daniels may be the talk of the town now, but she didn't achieve popularity overnight.
Daniels, whose legal name is Stephanie Clifford, is an adult film star and director who rose to infamy due to her involvement in the probe of former President Donald Trump. The real estate mogul was indicted for allegedly shelling out $130,000 as a payout to Clifford in an effort to stop her from publicly divulging their affair that purportedly happened in 2006. Al Jazeera notes that paying hush money is usually only deemed a "misdemeanor," but considering how Trump completed the transaction during his campaign for the presidency in 2016, prosecutors may be able to convict him if it was proven that he had done it to conceal any controversy that may jeopardize his bid for the oval office.
Outside of the scandal, Daniels is quite well-known, too. Despite mainly operating in the adult entertainment scene, she had been part of numerous mainstream projects, including cameo appearances in movies like "Knocked Up" and "The 40-Year-Old Virgin." She also appeared on "Saturday Night Live" in 2018 and almost joined "Celebrity Big Brother." And at one point, she starred in a Maroon 5 music video.
Stormy Daniels was in Maroon 5's Wake Up Call music video
You've probably already seen Stormy Daniels way before she took the world by, well, storm. Not many know that back in 2007, she was featured in the music video of Maroon 5's "Wake Up Call" track, in which she played a pole dancer and a police officer. And apparently, she never expected to get the part.
"They asked me to dance around in front of a screen, and I said, 'Oh, I didn't know I was going to be dancing in the video,' and they're like, 'Oh, no, no, no, the part you're auditioning for doesn't have to dance' — which is funny, because I ended up dancing in the video — 'but the boys want to see you move around,'" Daniels told AVN of her experience attending the casting call.
What's more, she even insulted the song, saying that it wasn't danceable. "So they started playing this song, and I said, 'This is the worst song to try to dance sexy to ever.' And they were like, 'Uhhh ... that's just our song,'" she added. And even though she confessed to disliking the track, she ended up being the star of the music video anyway. "But apparently I left a lasting impression," she dished. "Because not only did they call me the next day to book me for the shoot, they actually gave me a bigger part."
Stormy Daniels also appeared in popular films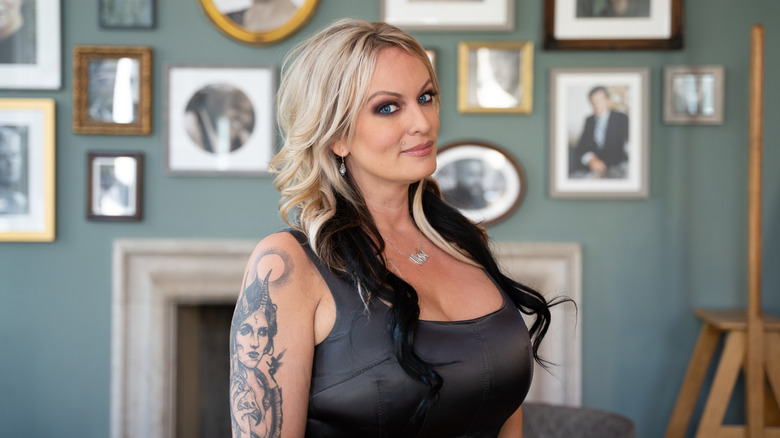 Nordin Catic/Getty Images
From time to time, Stormy Daniels loved exploring other projects outside of her main industry, which is why she ended up also starring in Judd Apatow-helmed films, "Knocked Up" and "The 40-Year-Old Virgin." In fact, the acclaimed director loved working with Daniels, noting that he found her to be the kind of woman who knows what she wants and goes after it.
"She was a very serious businesswoman and a filmmaker and had taken the reins of her career," he told The New York Times. "She is not someone to be underestimated." He also told The Hollywood Reporter that Daniels was the ideal colleague, prompting his team to work with her repeatedly. "She's very nice and super smart and great to work with, so we kept asking her to be in all of our movies," he shared.
And while Daniels has since pivoted to writing and directing her own adult films, she's said she's not discounting how she started. "I have very mixed emotions about stripping because stripping got me where I am now," she admitted. "I own my own house, I own my own car, I own my own business. My credit is excellent. I have nice furniture and nice things."