Who Is Drake Bell's Estranged Wife, Janet Von Schmeling?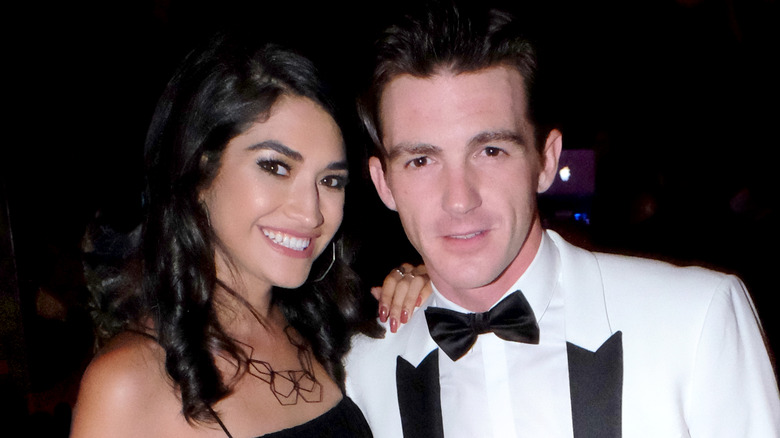 Matthew Simmons/Getty Images
This article contains mentions of substance abuse and child endangerment.
Drake Bell's estranged wife, Janet Von Schmeling, is also involved in the entertainment industry. In January 2023, Page Six reported that Bell and Von Schmeling, who have a son together named Jeremy, per OK!, had chosen to separate. The news site additionally wrote that the two had tied the knot in 2018, five years after their union began. People stated that Bell was pursuing treatment for substance abuse amid the split. A source told the news site that raising their child harmoniously was the priority for Bell and Von Schmeling.
"Janet is devoted to raising their son," the source said. "Drake and Janet are committed to maintaining a peaceful co-parenting relationship and giving their son the best life possible." Leading up to the breakup, as noted by BuzzFeed News, Bell had been charged in 2021 with child endangerment, which resulted in a sentencing of two years of probation. That same year, Bell took to Twitter to share that he and Von Schmeling had "been married for almost three years," per Newsweek. Here is everything to know about the "Drake & Josh" alum's estranged spouse.
Janet Von Schmeling is an actor and producer
Janet Von Schmeling, Drake Bell's past partner, is also an actor. Her IMDb page, which is listed under the name Janet Von, reveals that she has performed in projects such as "Painting Autumn," a 2017 series that Bell was likewise featured in. Von Schmeling also appeared in the 2017 film "Dawning of the Dead," and her most recent acting credit is playing a role in the 2018 short "Street Ships." Furthermore, she has produced five projects, two of which were music videos of Bell's.
In 2021, Page Six stated that Von Schmeling was employed at Decibel Media Group, a public relations firm representing Bell. Aside from her professional roles, she is a devoted mother to her and Bell's child. Von Schmeling shared photos of herself celebrating the holiday season with her son and other family members via Instagram in December 2022. She simply captioned the post, "#familia." Previously she posted a series of pictures with loved ones from the summer of 2022 in Florida, where she resides. "June in Florida," Von Schmeling wrote alongside the images, one of which showed Bell holding their son. Lately, Bell's status was of concern for a time.
Drake Bell was reported as 'missing and endangered' but is 'safe'
It was recently revealed that Janet Von Schmeling's former significant other, Drake Bell, may have been missing. The Daytona Beach Police Department announced in an April 2023 Facebook post that the department was hoping to find the actor and singer, whom they referred to by his birth name, Jared. "Officers are looking for Jared Bell, DOB 06/27/1986," the social media post read. "He should be traveling in a 2022 grey BMW and his last known location is potentially the area of Mainland High School on 4/12/2023 just before 9p.m." It also detailed, "He is considered missing and endangered." In an update, the department said that "law enforcement officials are in contact and Mr. Bell is safe."
Leading up to this report, some of Bell's latest public updates have included spending time with his and Von Schmeling's son, Jeremy. In February, Bell and Jeremy were seen in photos from an amusement park outing. "Disney World with my best friend!!" Bell said via Instagram. One month later, Bell posted a short video clip of his son grinning. Meanwhile, Von Schmeling's last social media post was in January, when she shared images of herself and loved ones, captioning it, "Life Lately."