Barbie Ferreira's Life Since Leaving Euphoria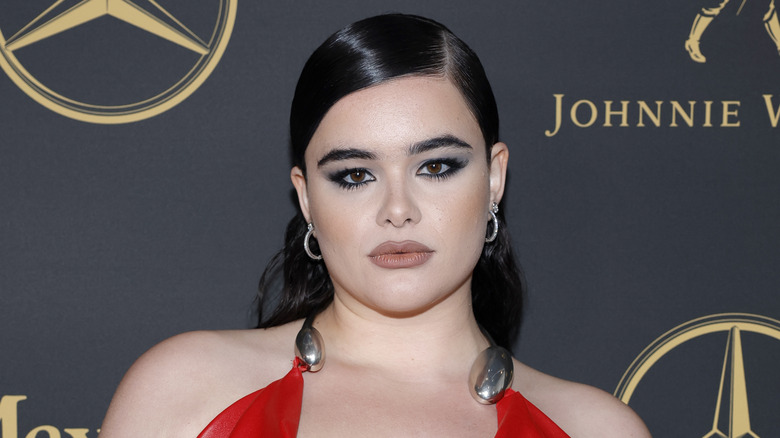 Stefanie Keenan/Getty Images
Barbie Ferreira shot to fame as Kat Hernandez on HBO's "Euphoria." However, in August 2022, she shocked fans by announcing her departure from the show ahead of its third season. In an Instagram Story, Ferreira wrote, "After four years of getting to embody the most special and enigmatic character Kat, I'm having to say a very teary-eyed goodbye." She continued, "I hope many of you could see yourself in her like I did and that she brought you joy to see her journey into the character she is today. I put all my care and love into her and I hope you guys could feel it. Love you Katherine Hernandez."
Having been such an important part of "Euphoria" Season 1, fans were disappointed when Ferreira appeared to have a scaled back role in the show's second season. As a result, rumors started to spread that the actor was unhappy on the HBO series, with suggestions Ferreira was embroiled in a dispute with "Euphoria" creator Sam Levinson. She addressed those rumors, telling Insider in March 2022, "I've seen so many different things and a lot of it is untrue and some of it's kind of like mundane little things." 
The model has since opened up about the truth about her decision to leave the hit series, and she's also made some ambitious career moves in the months since cutting ties with HBO. Here's what you need to know about Barbie Ferreira's life since leaving "Euphoria."
Setting the record straight on her Euphoria exit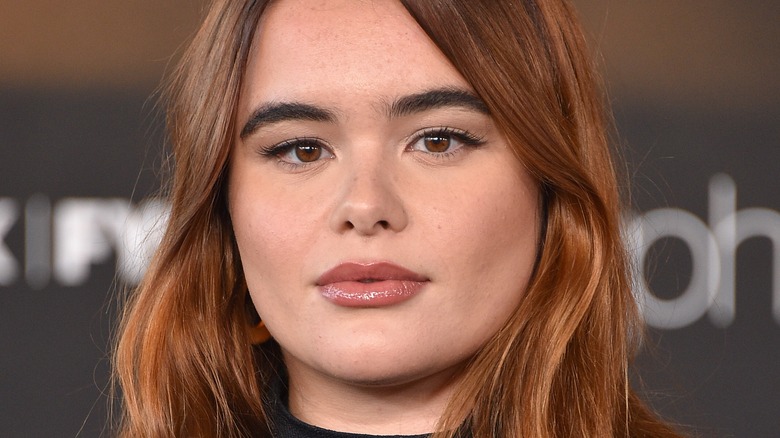 DFree/Shutterstock
In April 2023, Barbie Ferreira sat down with Dax Shepard for his "Armchair Expert" podcast to talk about why she really left "Euphoria." Speaking about her character Kat Hernandez, Ferreira explained, "I think there were places she could have gone. I just don't think it would have fit into the show. I don't know if it was going to do her justice, and I think both parties knew that I really wanted to be able to not be the fat best friend. I don't want to play that, and I think they didn't want that either." 
Just a few years earlier, Ferreira told Teen Vogue she was excited about Kat and the direction the character was headed. "'Euphoria' took [the fat best friend] trope and turned it upside down," she said. "Kat's a fat girl who takes command of her own life and takes command of how people look at her. You don't really see that on TV."
Unfortunately, Ferreira's character ultimately did not develop in a way that was satisfying to the actor or the audience. So, the "Nope" actor made the difficult decision to walk away from Kat Hernandez. While viewers were disappointed by Ferreira's departure, her reasoning makes a lot of sense. No one should be reduced to feeling like they're playing "the fat best friend" in 2023, especially as Ferreira's character was so bold, interesting, and inspirational in the show's first season.
Barbie Ferreira hated seeing Euphoria fans upset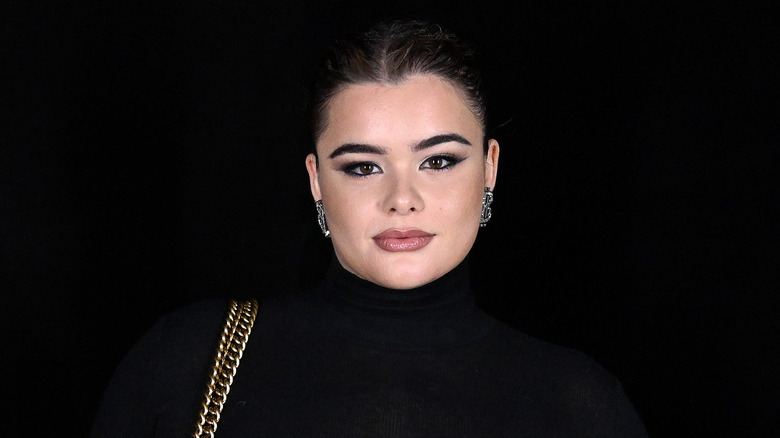 Anthony Ghnassia/Getty Images
In "Euphoria" Season 2, Kat Hernandez's big storyline was attempting to break up with her boyfriend by pretending she was terminally ill. Rather than seeing the burgeoning, sex-positive Kat who came out of her shell in the show's first season, Barbie Ferreira's character was essentially relegated to the background. "Kat's journey this season is a little more internal and a little mysterious to the audience," she told The Cut in April 2022. As far as some fans were concerned, it was a little too mysterious and internal. 
When talking with Dax Shepherd about her exit on "Armchair Expert" in April 2023, Ferreira said, "I just felt like ... I overstayed my welcome a little bit?" Ferreira made the decision to step away in consultation with the show's creator. As she explained, "I actually felt good to be like, 'Okay, I get to not worry about this, and we both don't get too worried about this, because it's exhausting.'"
Ferreira was clearly very aware of fan disappointment about the story arc given to her character in the second season of "Euphoria." Discussing the difficulty she experienced while filming Season 2, Ferreira said, "At first, I was like, 'Oh, my God, I'm a flop. I'm a loser.'" She also explained, "It was a struggle to find the continuation of [Kat]. So that was actually really hurtful watching it and seeing the fans get upset." At least "Euphoria" fans know that Ferreira only wanted the best for her character.
Barbie Ferreira returned to Brazil with her family
"Euphoria" Season 2 started airing in January 2022. Amid rumors of tumult behind the scenes, including a report from The Daily Beast suggesting that Barbie Ferreira had walked off the set on more than one occasion, the actor escaped to Brazil. Brazil holds a special place in Ferreira's heart, as her mother, Jana Seppe, is from there. "She's from Minas Gerais, a city in the middle of Brazil called Governador Valadares," the actor told Flaunt in September 2022.
Posting a series of photos and videos from the trip on Instagram in March 2022, Ferreira wrote, "the girlies and I went to brasil." The group could be seen riding horses, taking boat trips, admiring sunsets, sunbathing in cute bikinis, and hanging out by the pool. Basically, if any drama was taking place in Ferreira's work life, she took some well-earned time out on a vacation with her friends and family. Speaking to Flaunt, Ferreira said of the trip, "It was the first time I'd been to Brazil in ten years. I went to Bahia, which is my favorite place. It's so gorgeous."
While Ferreira didn't announce her decision to leave "Euphoria" until August 2022, negative fan reaction to her character's journey was likely on her mind throughout the year. What better place to unwind than her mom's home country.
She's starring in a movie with Dacre Montgomery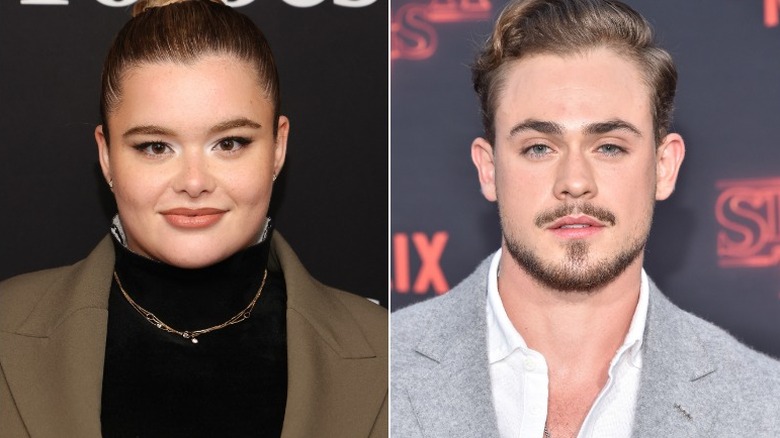 DFree/Shutterstock & Taylor Hill/Getty
Despite having left one of HBO's most popular shows, Barbie Ferreira has had no shortage of work offers. In fact, the "Unpregnant" star has gone on to book multiple film roles, proving that her career is only getting better. In March 2023, The Hollywood Reporter revealed that Ferreira had been cast in "Faces of Death," a horror movie remake based upon the 1978 film of the same name. Ferreira is starring in the film alongside Dacre Montgomery, who became a household name thanks to his visceral performance as Billy in "Stranger Things."
The original "Faces of Death" was banned in many countries due to its shocking plot and graphic visuals. In the film, a doctor makes his students watch footage of the deaths of humans and animals, in turn forcing the audience to view the disgusting and horrifying clips. The team behind 2018's "Cam," Isa Mazzei and Daniel Goldhaber, will update the distressing mockumentary for a modern audience, with Ferreira playing the main character. In a statement provided to The Hollywood Reporter, Mazzei and Goldhaber said of the movie, "'Faces of Death' was one of the first viral video tapes, and we are so lucky to be able to use it as a jumping off point for this exploration of cycles of violence and the way they perpetuate themselves online."
Barbie Ferreira graced the cover of Vogue Brasil
In further proof that she's thriving after her "Euphoria" exit, Barbie Ferreira was photographed for the April 2023 issue of Vogue Brasil. The actor's glam was on point for the shoot, with her long brown hair styled like an old Hollywood movie star. With bold red lips and subtle baby blue eyeshadow, Ferreira embraced her post-"Euphoria" era, proving that she's more than comfortable being front and center. Ferreira was photographed by Gabriela Schmidt.
During her appearance on the "Armchair Expert" podcast, Ferreira opened up about her Brazilian heritage. The actor explained that her mom, Jana Seppe, moved to Queens, New York, from Brazil as a young woman, where she met Ferreira's father. "Astoria, Queens, at the time had a big Brazilian community, so I think my mom just found a roommate who was Brazilian," the model said on the podcast. Ferreira is no longer in contact with her father, explaining on "Armchair Expert," "I had a relationship with my father 'til I was about 7, and then he bounced. To this day I don't really know where he is; he's, like, in Portugal sometimes, in Brazil sometimes. He'll, like, send me messages."
By being featured on the cover of Vogue Brasil, Ferreira not only honors her Brazilian heritage, but showcases the immense talent that made her one of the breakout stars of "Euphoria."
She's collaborated with brands like YSL, Levi's and Pandora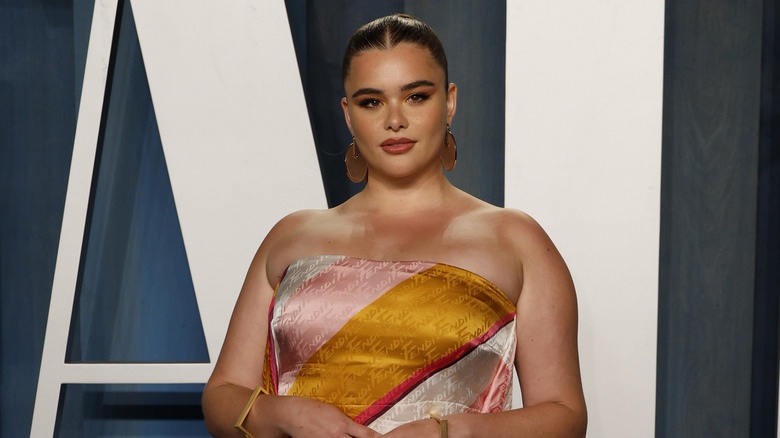 Frazer Harrison/Getty Images
Aside from her successful acting career, Barbie Ferreira is an in-demand model who has been tapped to represent several popular brands. Collaborations with the likes of Levi's, Pandora, and YSL Beauty have cemented Ferreira's status as an influencer, and prove that she's had no shortage of offers since leaving the HBO series that made her famous.
In an October 2022 interview with Flaunt,  Ferreira discussed her collaboration with the iconic brand. "I remember looking at the YSL Beauté lipsticks growing up, and feeling that my dream in life would be to own one. The gold ones with the jewel. So fancy, just so stunning," she said. "I like working with people who have a really strong vision for their brand. YSL Beauté is just so chic and hot." It would seem that working with the cosmetics arm of the legendary fashion house has given Ferreira more confidence, with the "Divorce" star telling Flaunt, "YSL Beauté makes me feel... really sophisticated. I see myself as a silly person. I love wearing silly clothes. Then with YSL Beauté, I put on this character, of this badass, really Parisian-esque girly. 'Paris camp.' Luxurious, sophisticated, grown up." We can't wait to see who Ferreira works with next.
She's starring in House of Spoils for Prime Video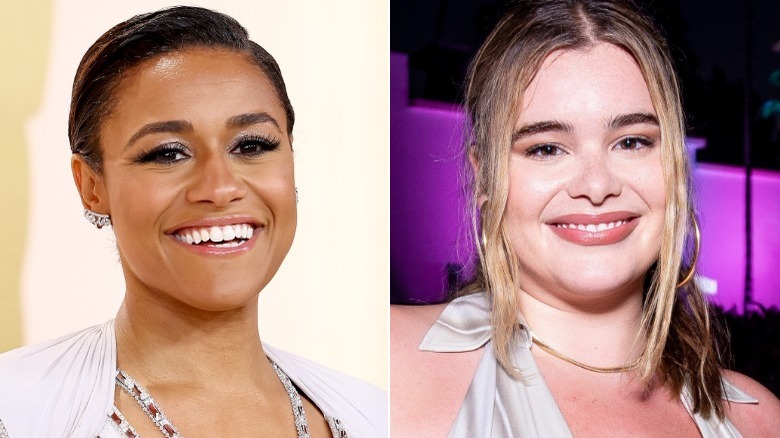 Arturo Holmes & Kelly Lee Barrett/Getty
In addition to being cast in the horror movie "Faces of Death," Barbie Ferreira is set to star in a movie alongside Ariana DeBose for Prime Video. "House of Spoils" is a thriller about a chef, played by DeBose, who opens her first restaurant, per Variety. While dealing with the various realities that come with starting a business, and trying to impress her investors, the chef is apparently haunted by the previous owner of the property. While it's unclear just how much this supernatural element will play into the movie, it's clear that "House of Spoils" will be an intense thrill ride. Ferreira is lined up to play a sous chef, meaning she'll be at the center of any action that happens in the restaurant kitchen.
"House of Spoils" is directed by Bridget Savage Cole and Danielle Krudy, who previously brought 2019's "Blow the Man Down" to the screen. As per Collider, the president of Blumhouse Television, Chris McCumber, said in a statement, "We're excited to see Ariana's fresh, bold and spirited energy that won her an Oscar in a role that is completely different. And with the gifted filmmaking team of Bridget and Danielle, the talent in front of and behind the camera is exceptional." The addition of Ferreira to the cast only ups the ante when it comes to the psychological thriller.
Barbie Ferreira discussed being 'babied' as an actor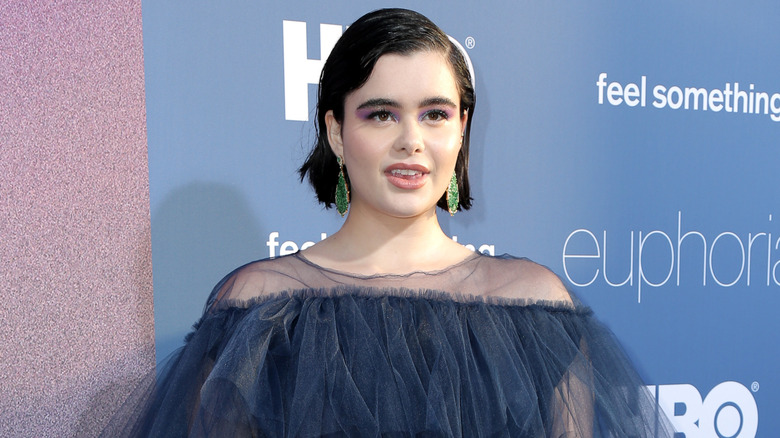 Kathy Hutchins/Shutterstock
Following what must have been an eventful time working on two seasons of "Euphoria," Barbie Ferreira opened up about the realities of being an actor during an interview with Flaunt in October 2022. While she has certainly worked hard to get to where she is, she recognizes how lucky she's been. "Actors have the most dramatic personalities, or they can be the opposite, but we are usually dramatic people, and we usually tend to be very emotional," she explained to the publication. "You get 'babied' a lot. But you have to realize that you have it so good. You're very privileged to have all these things that you get to do. You get to feel financially secure. Not a lot of job security, but much more than the average person. So you have to make fun of yourself." 
Of course, life as a professional actor is not always a breeze. At times, the path is lined with disappointment, rejection, and hurt. However, Ferreira always dreamed of working in the entertainment industry, so she takes the rough with the smooth. As she told Flaunt. "Sometimes I have moments where I'm like, 'Oh my god, I'm an actor. What I wanted to do, and I'm literally here.' What are the odds?" The actor is literally living her dream, and it's not lost on her, which is pretty refreshing. A grounded perspective that sure can go a long way. 
Building a home in Los Angeles
Barbie Ferreira has lived in many places. Opening up about her childhood, the actor told Flaunt that she spent the first several years of her life in Queens before her family relocated to Maywood, New Jersey. "When I was in Jersey, I spent almost everyday back in New York," she said. Since then, she has relocated to Los Angeles, where she has renovated her own house, bringing personal touches to an older property. "Being in LA is so nice because it feels like I really get to be internal, like water my plants, pretend I'm Oprah in my garden," she told Flaunt. "A little bit of suburbs in your life. I love to be at home, l'm a homebody." It sounds as though Ferreira has created a haven for herself in the middle of a big city.
Describing her love of personalizing a home to her own specifications that began way back when she played "The Sims" as a kid, the "Unpregnant" star told Flaunt, "My house is an older house from the 1940s, and I renovated it, but I made it over into the exact opposite of how people would usually renovate something like that—all minimalist. Mine is Maximalist, Art Deco meets 70s... just a trippy-ass house." As for why she loves Los Angeles in particular, Ferreira said, "You can literally build whatever you want."
She's been open about her love life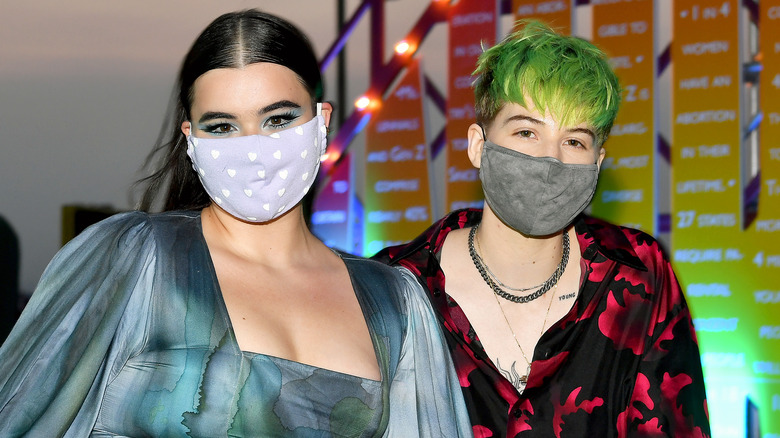 Amy Sussman/Getty Images
Throughout her career, Barbie Ferreira has been open about her sexuality, telling Out Magazine in 2019, "I'm queer. In my private life, it's been going on for a long time." She continued, "I obviously don't really identify as a straight woman ever in my life, but I feel like now I'm really in my queerness. I'm in LA living my 'L Word' life. Isn't it amazing?" Ferreira reiterated this in an interview with The New York Times in September 2019, saying, "I feel like in my personal life I've been gay as hell." It wasn't long before the "Euphoria" star started sharing details about her romantic life with her fans on social media.
Ferreira started dating musician Elle Puckett in 2019. Per the site, the couple even got matching heart tattoos in March 2022, and shared the intimate designs on Instagram. While it's unclear if the couple is still together, it seems as though Ferreira is more than happy to share the most important moments of her life with her fans, which makes her an exciting role model. The future looks very bright for Barbie Ferreira.