Everyone Kanye West Has Had Beef With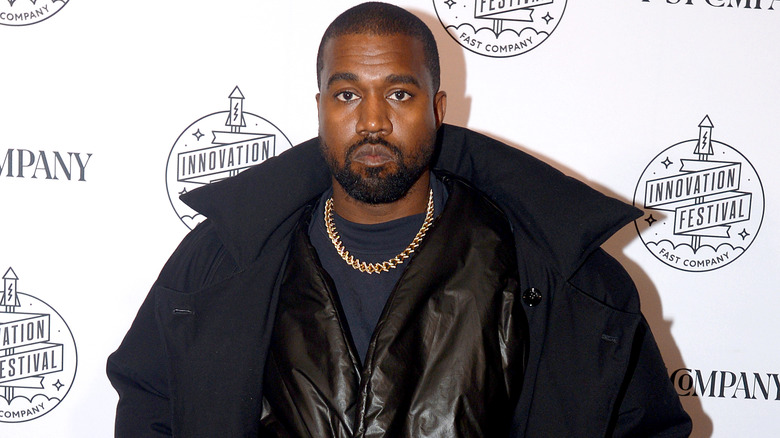 Brad Barket/Getty Images
This feature discusses mental illness and racism.
Kanye West is one of the most polarizing figures in the music industry. Whether you like him or not, his name commands attention. The legendary rapper's story started in Chicago, where he spent most of his life growing up. The musician got his start in the 90s and early 2000s producing tracks for legends like Jermaine Dupri and Jay Z before finding his own voice. 
His debut studio album "The College Dropout" was released in 2004 to critical acclaim, winning Best Rap Album at that year's Grammy Awards. Though he is often called a musical genius, West's penchant for controversy has clouded the public's view of him as an artist. He is often called out for inciting public feuds with celebrities — so much so that the artist even released a list of his enemies in 2022 (35 people to be exact). 
While controversial, he's also complicated. In his song "Yikes," he once said of having bipolar disorder, "That's my superpower." And while outlets like The Washington Post have long debated whether his experience of the mental health condition could help to explain some of his erratic behavior — or whether it should even be conflated with his actions in the first place — one thing is certain: He sure does love a public feud. 
We could write a book about everyone the "Waves" rapper has issues with — but for now, we're breaking down the most noteworthy people Kanye West has beefed with.
If you or someone you know needs help with mental health, please contact the Crisis Text Line by texting HOME to 741741, call the National Alliance on Mental Illness helpline at 1-800-950-NAMI (6264), or visit the National Institute of Mental Health website.
No one can forget his feud with Taylor Swift
Christopher Polk/Getty Images
The day Kanye West hopped onstage and stole the microphone from a mid-speech Taylor Swift at the 2009 MTV Video Music Awards will forever live in pop culture infamy. The words "Imma let you finish" still ring in ears everywhere — cementing a decade-long on-and-off feud. Though West called to apologize for interrupting Swift's acceptance speech, the beef was far from over. 
The pair were seemingly on good terms for years and even teased potential musical collaborations together. But the drama reignited when West released his 2016 track "Famous" which featured the lyrics, "I feel like me and Taylor might still have sex. Why? I made that b*tch famous." Unimpressed, Swift seemingly referenced the Yeezy founder in her Album of the Year acceptance speech at the Grammys that year, by telling her female fans, "There are going to be people along the way who will try to undercut your success or take credit for your accomplishments."
During an interview with GQ, Kim Kardashian further claimed the singer-songwriter approved the lyric in question, and released a Snapchat video as supposed proof. In response, Swift wrote on Instagram, "Where is the video of Kanye telling me he was going to call me 'that b*tch' in his song? It doesn't exist because it never happened." Speaking to Elle three years later, Swift admitted she wasn't holding her breath for an apology, saying, "Maybe all I'll ever get is the satisfaction of knowing I could ... thrive in spite of it."
Kanye West ditched Nike for Adidas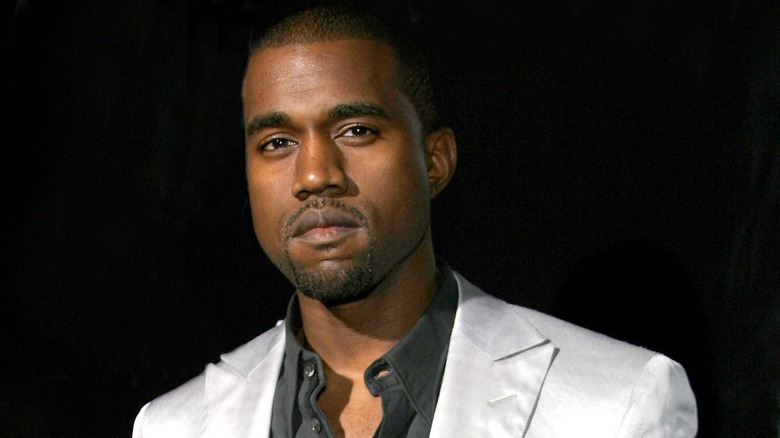 Tinseltown/Shutterstock
While pursuing his fashion designer dreams, Kanye West first worked with Nike on a set of Air Yeezy's back in 2009. However, he allegedly dropped his partnership with the company after not receiving enough money for his stake. In an interview with New York radio station Hot 97 (via Sports Illustrated), West revealed that his bowing out came down to the company's refusal to pay him royalties. "Michael Jordan has 5 percent and that business is $2 billion. He makes a $100 million dollars a year off of 5 percent royalties. Nike told me, 'We can't give you royalties because you're not a professional athlete.' I told them, 'I go to the Garden and play one-on-no-one. I'm a performance athlete.'"
West went on to sign a deal with Adidas — who did pay the rapper royalties. "I took the Adidas deal because I have royalties and I have to provide for my family ... I'm gonna be the first hip-hop designer and because of that, I'm gonna be bigger than Wal-Mart," the rapper told Hot 97. 
West went on to launch his own line of sneakers in 2015, and he continued to partner with Adidas until his own comments got the best of him. The brand dropped West in 2022 after the rapper made antisemitic remarks and wore a t-shirt emblazoned with a slogan associated with white supremacy, per The New York Times. In a statement, the company said, "Ye's recent comments and actions have been unacceptable, hateful, and dangerous."
He beefed with his own wife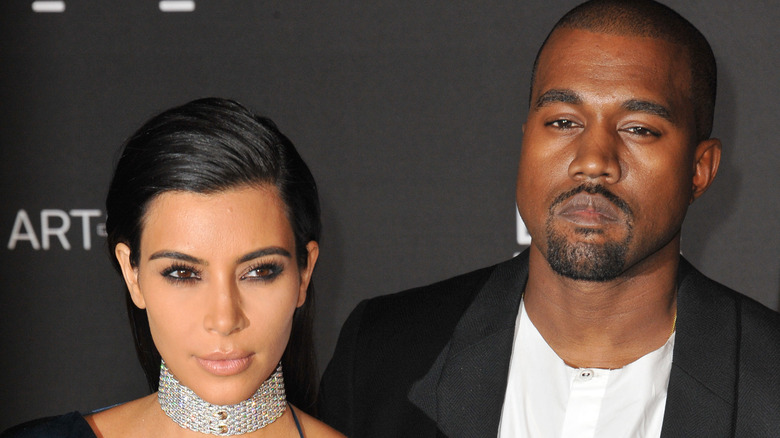 Featureflash Photo Agency/Shutterstock
Kanye West and Kim Kardashian were once one of Hollywood's most talked-about power couples. The stars ran in the same circles for years until finally becoming friends in 2008, before starting their romance in 2011. The couple got married three years later and share four children together. Their love story eventually ended in 2021 when headlines announced their separation, and Kardashian was declared legally single the following year.
The beef between the pair began when cracks surfaced in their marriage. In a 2021 episode of "Keeping Up With The Kardashians" (via Us Weekly), the SKIMS founder opened up about being on separate pages with her then-husband. "I just honestly can't do this anymore. Why am I still in this place where I'm stuck for years? Like, he goes and moves to a different state every year," Kardashian said. "I have to be, like, together so I can raise the kids."
Though declared single by the courts, West publicly pleaded with his former wife to come back to him. During a benefit concert, he also re-worded the intro to his song "Runaway," singing, "I need you to run right back to me, more specifically, Kimberly." However, Kardashian had already moved on to Pete Davidson, much to West's dismay. On Instagram Stories, she addressed her ex-husband's behavior concerning their breakup, writing, "Divorce is difficult enough on our children and Kanye's obsession with trying to control and manipulate our situation so negatively and publicly is only causing further pain for all."
Ye threatened Pete Davidson multiple times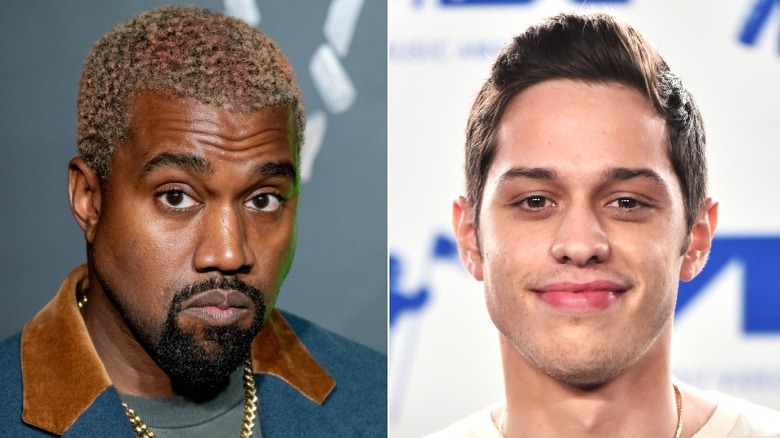 Alberto E. Rodriguez, Roy Rochlin/Getty
It was a feud for the ages — the infamous publicized beef between Kanye West and Pete Davidson, with Kim Kardashian at the center of it all. The drama began when the SKIMS founder started dating Davidson after she hosted "Saturday Night Live" in 2021. The rapper was unwilling to let his former wife go without a fight — cue many grand public displays of his love for her (the truck full of roses, anyone?) 
Though Davidson had made some digs at Ye in the past during an appearance on "SNL," the real drama ignited in 2022 when West took shots at the comedian on the tracks, "City of Gods" and "Eazy." Verses like "This afternoon, a hundred goons pullin' up to 'SNL,' when I pull up, it's dead on arrival," and "'God saved me from that crash, just so I can beat Pete Davidson's a**," were seemingly direct threats at the former "SNL" cast member.
After several public attacks by West on Kardashian's parenting, Davidson clapped back in a text exchange with the rapper that was later leaked by Ye himself. "What [Kim] does for those kids is amazing and you are so f***ing lucky that she's your kids' mom. I've decided I'm not gonna let you treat us this way anymore and I'm done being quiet," Davidson wrote. He topped it off with a shirtless selfie alongside Kardashian, accompanied by the brag, "In bed with your wife." The beef fizzled out once Davidson and Kardashian split up in August 2022. 
Trevor Noah was concerned for Ye's mental health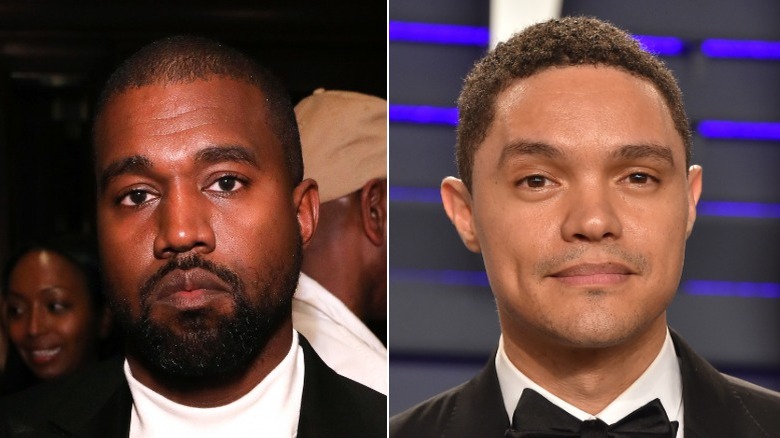 DFree/Shutterstock, Robin Marchant/Getty
Kanye West had some harsh words for Trevor Noah in 2022. The feud between the pair was sparked when the political comedian expressed his concern for the rapper after he released a claymation music video appearing to depict him decapitating a Pete Davidson look-alike. Addressing the intense discomfort level that accompanies the music video for "Eazy," Noah pointed out that it was difficult for audiences to discern whether the video was simply an artistic statement under the guise of a persona or an alarming cry for help. "What's weird about the situation is Kanye West has told us that he struggles with his mental health," he said on an episode of "The Daily Show." "... With Kanye, we don't know how to feel. And I think Kanye doesn't seem to understand that."
West was less than pleased with the remarks, using a racial slur in reference to Noah in a since-deleted Instagram post on the topic which led to him being suspended from the platform. In the comments, the former "Daily Show" host responded, "It breaks my heart to see you like this," he wrote. "I don't care if you support Trump and I don't care if you roast Pete. I do however care when I see you on a path that's dangerously close to peril and pain." In a later episode of "The Daily Show," Noah clarified that he never had beef with the rapper, he was solely concerned about the artist's mental health.
If you or someone you know needs help with mental health, please contact the Crisis Text Line by texting HOME to 741741, call the National Alliance on Mental Illness helpline at 1-800-950-NAMI (6264), or visit the National Institute of Mental Health website.
He clashed with Wiz Khalifa in a lengthy Twitter battle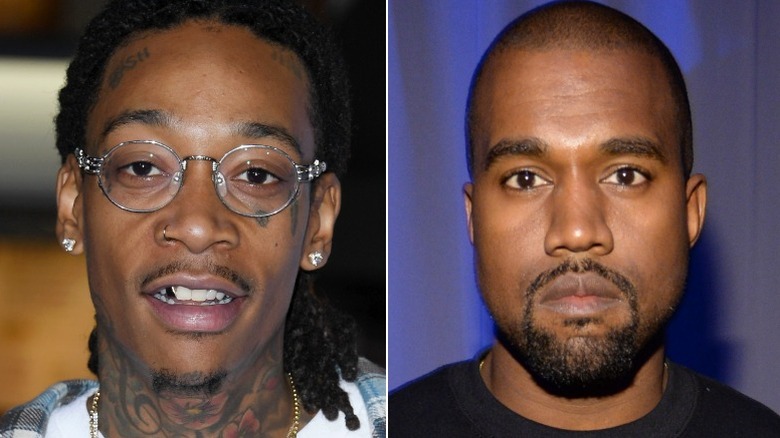 Jon Kopaloff, Kevin Mazur/Getty
One of the many names on Kanye West's list of enemies is rapper Wiz Khalifa. The drama between the two artists began around the time West was preparing to release "Waves" in 2016. Hyping up the album, Ye wrote on Twitter, "This is not album of the year. This is album of the life." His feed caught Khalifa's eyes, who threw shade at West's decision to change the album name from "Swish" to "Waves," tweeting, "Max B is the wavy one. He created the wave. There is no wave without him."
After a couple of back-and-forths on the topic, Khalifa tweeted, "Hit this kk and become yourself," — which West naturally took as an attack on his then-wife Kim Kardashian. However, Khalifa was seemingly referencing his own marijuana strain, Khalifa Kush. Regardless, West was irked, and unleashed a stream of consciousness in response, writing in since-deleted tweets, "Bro first off you stole your whole s*** from Cudi," and "Don't ever ever ever come out the side of your motherf***ing neck bro or bruh or however you say it, Mr. Waves."
The Yeezy founder backtracked when he realized that Khalifa was not attacking Kardashian. "I'm happy that I now know that KK means weed ... please excuse the confusion," he tweeted. West then complimented a pair of pants he'd seen the rapper wearing on Twitter and added that he was distracting him from his creative process.
Kanye West and Jay Z have a brotherly rivalry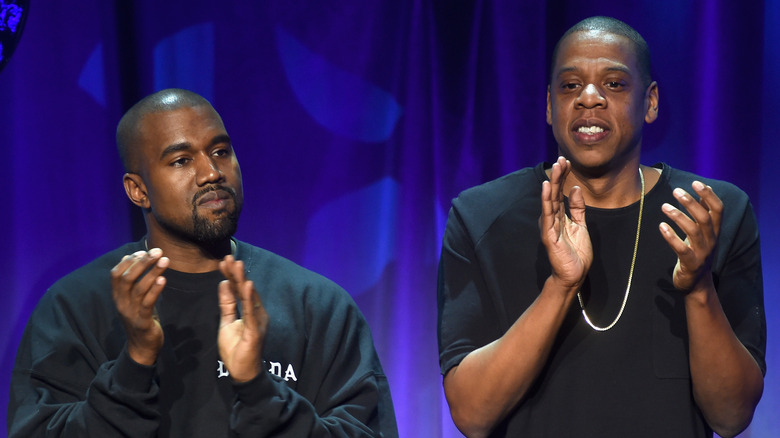 Jamie Mccarthy/Getty Images
Kanye West and Jay Z's complicated relationship has had many ups and downs over the years. The rappers have been close for decades — with Jay Z mentoring his musical pal in his early years when his rap career had yet to take off. West has even produced several tracks for his friend, and the two collaborated for years until their relationship hit a turning point.
The trouble seemingly began in 2016 when Jay and Beyoncé didn't show up to West's wedding to Kim Kardashian. Jay Z seemed to address this on the track "FRIENDS" in which he alluded to the well-documented issues in his marriage at the time as to why they couldn't attend, rapping, "I ain't going to nobody for nothin' when me and my wife beefin.'"
In November 2016, West was hospitalized for his own safety after launching into a 20-minute rant during a performance, which partly targeted Jay and his wife, per NME. While HOV suggested that West had crossed a line on the Rap Radar Podcast (via Okay Player) in 2017, later that year the two had potentially mended fences. The "99 Problems" rapper told The New York Times Style Magazine, "He's my brother. I love Kanye ... It's a complicated relationship." But just a year later, West was still calling Jay and Bey out for their absence at his wedding. "I understand they was going through some things," he told Charlamagne Tha God on Power 104.1 (via Billboard). "But if it's family, you're not gonna miss a wedding."
If you or someone you know needs help with mental health, please contact the Crisis Text Line by texting HOME to 741741, call the National Alliance on Mental Illness helpline at 1-800-950-NAMI (6264), or visit the National Institute of Mental Health website.
Kanye West berated Billie Eilish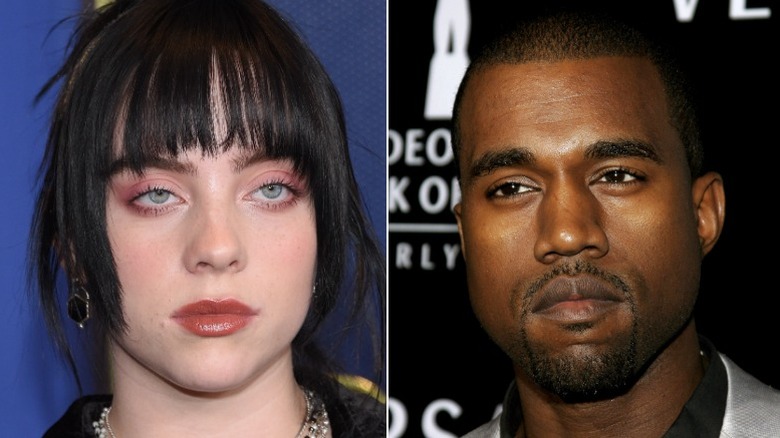 DFree, Tinseltown/Shutterstock
Of all the people Kanye West could have beef with, Billie Eilish seems an unlikely target. But with Ye, nothing is too out of the left field. The beef began when the "Lovely" singer stopped her set while performing in 2022 to help a fan who was having difficulty breathing. In an attempt to quell the chaos, Eilish said to her fans, per Nylon, "Don't crowd. Relax, relax, it's okay ... I wait for people to be okay before I keep going." West took this as an attack on Travis Scott, who famously came under fire when several fans were killed in a massive crowd-crushing incident at his 2021 Astroworld festival in Houston.
Ye aired his grievances in an Instagram post. In the all-caps caption, he wrote, "Come on Billie, we love you. Please apologize to Trav and to the families of the people who lost their lives. No-one intended this to happen ... Trav was very hurt by what happened." He then threatened to back out of his Coachella performance unless Eilish came through with an apology. On the since-deleted post, she responded, "Literally never said a thing about Travis. Was just helping a fan."
With or without an apology from Eilish, West ultimately pulled out of the 2022 Coachella festival just two weeks before the show was set to start. Sources claimed to Page Six that the rapper was seeking care for his mental health at the time. 
If you or someone you know needs help with mental health, please contact the Crisis Text Line by texting HOME to 741741, call the National Alliance on Mental Illness helpline at 1-800-950-NAMI (6264), or visit the National Institute of Mental Health website.
Drake and Ye dissed each other for years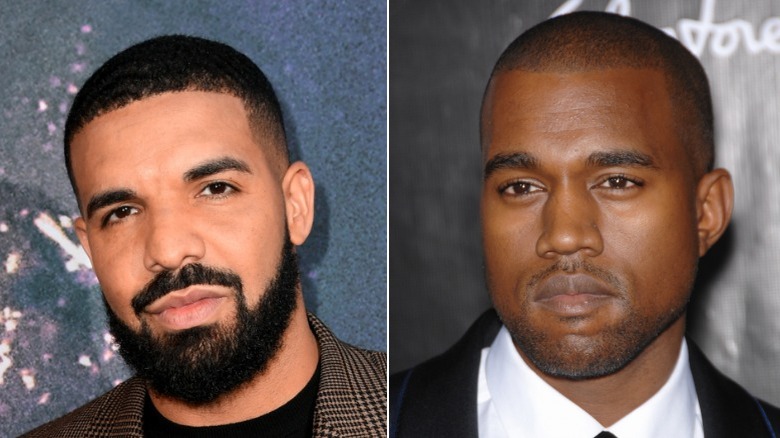 Featureflash Photo Agency/Shutterstock, Kevin Winter/Getty Images
Drake and Kanye West have gone from friends to enemies to friends again since they met in 2010. The rappers' beef was first ignited when Drake's verse was cut from West's "All of the Lights" track that year. While the Canadian rapper claimed that all was well between the pair, several diss tracks by Champagne Papi in the years that followed told a different story. 
For instance, Drake's 2016 "Summer Sixteen" track saw him bragging, "Now I got a bigger pool than Ye." Meanwhile, two years later, fans were convinced that the lyric, ""Kiki, do you love me? Are you riding?" from "In My Feelings" was a reference to the rumors that he'd once hooked up with Kim Kardashian (she denied it ever happened). On Instagram, West hit back that he didn't appreciate Drake's blatant attempts at stirring the pot. "You're not saying anything and you're carrying it well like that," he wrote. "Don't sit well with my spirit."
In 2018, rumors swirled that West had spilled the beans about Drake's secret son, Adonis, to his label mate, Pusha T — who had referenced him in his track, "The Story of Adidon." West denied his involvement, and Pusha T even confirmed he wasn't the one to tell him. Fast forward five years and the beef was still being served fresh via his song, "Search & Rescue." The track featured a sample of Kardashian discussing her divorce from West on "Keeping Up With the Kardashians." As of this writing, West was yet to respond.
He shaded Kid Cudi for taking sides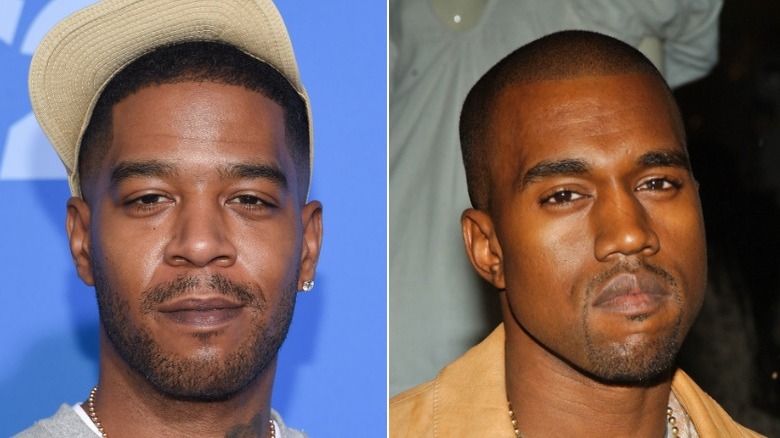 DFree, s_bukley/Shutterstock
There's no shortage of rappers that Kanye West has taken shots at. And while he and Kid Cudi seemed thick as thieves for years, a fall-out between them in 2022 led to beef. Keeping it Kanye, the rapper took to Instagram to air out the drama. In his since-deleted post, the rapper took shots at Cudi for being friends with Pete Davidson amidst West's ongoing feud with the comedian.
In an interview with Esquire, Cudi clapped back at the Yeezy founder, saying, "I'm not one of your kids. I'm not Kim. It don't matter if I'm friends with Pete or not friends with Pete. None of this s**t had anything to do with me." He continued, "If you can't be a grown man and deal with the fact that you lost your woman? That's not my f***ing problem." On Instagram, West announced that he'd removed the rapper from his "Donda 2" album, stating, "We all speak in Billie language now," referencing his former spat with Billie Eilish. Cudi clapped back in the comments, "Too bad I don't wanna be on [your] album [you] f***in' dinosaur hahaha."
It doesn't seem like the two are putting their beef to bed anytime soon. Pusha T released a track featuring the pair in 2022. Clarifying the collab, Cudi tweeted "I am not cool [with] that man. He's not my friend and I only cleared the song for Pusha cuz that's my guy."
Kanye West took aim at Kris Jenner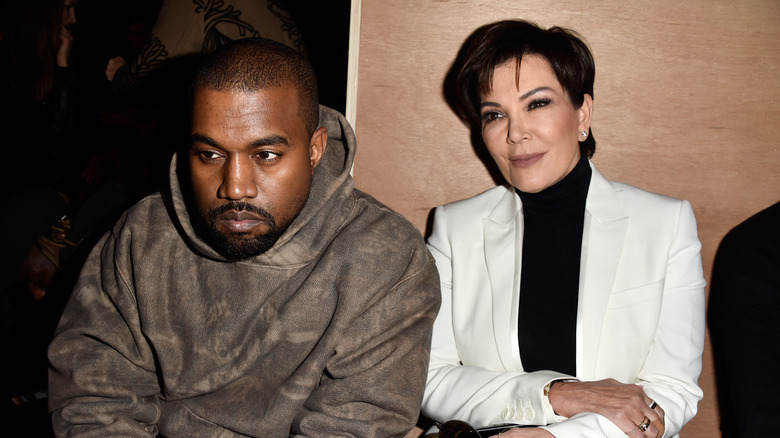 Pascal Le Segretain/Getty Images
Kanye West had bad blood with his former mother-in-law, so much so that he brought the momager to tears. West's beef with Kris Jenner was sparked in 2022 when he uploaded an Instagram post of Kylie Jenner's friend Victoria Villarroel with the caption, "Don't let Kris make you do Playboy like she made Kylie and Kim do ... Pornography destroyed my family. I deal with the addiction [and] Instagram promotes it. Not gonna let it happen to Northy and Chicago."
The "Donda" rapper also changed his Instagram profile photo to a photo of Kris, and defended the decision, writing on his Instagram Stories at the time, "I posted Kris with thoughts of peace and respect. Let's change the narrative." However, Kris wasn't feeling the love, as leaked texts from her to Kardashian appeared to show. "Tell [Kanye] to please stop mentioning my name," the texts read. "I'm almost 67 years old and I don't always feel great and this stresses me to no end."
It's not the first time Ye had publicly shaded Kris. The rapper previously referred to her as "Kris-Jung-Un" on Twitter in 2020, comparing her to North Korean leader Kim Jong-un. However, West went on to contradict his previous attacks by defending his love for Kris. On Instagram in 2022, he wrote, "This woman is a hero and she's done what she's had to do to protect her family and make sure they prosper ... Kris is one of the best to ever do it."
Corey Gamble is the devil himself according to Ye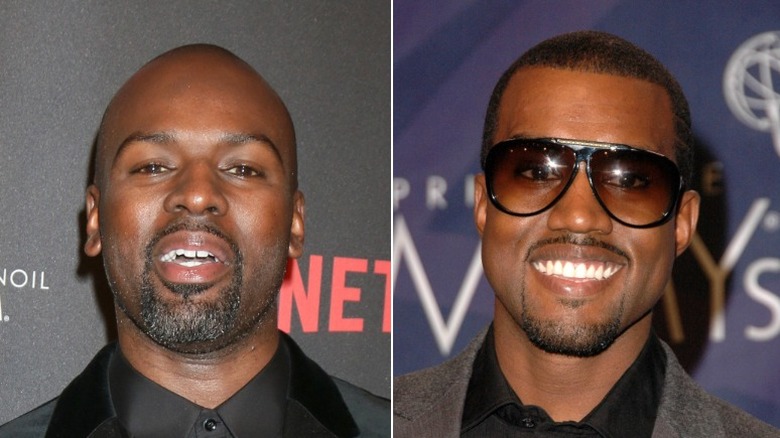 Kathy Hutchins, s_bukley/Shutterstock
As if his beef with Kris Jenner wasn't enough, Kanye West took shots at her long-time boyfriend Corey Gamble in 2022. The rapper spewed out a barrage of insults against the Georgia native in since-deleted Instagram posts, writing, "God has a plan to remove the godless. Corey needed to never be here anyway ... When [Kris Jenner] got divorced he slid in. He became the TV version of a father figure."
The "Bound 2" rapper went on to take shots at Gamble, claiming he told Kim Kardashian what music to listen to and that Ye had him kicked out of his daughter's birthday party. West also laid blame on him for influencing Kardashian's political views, writing, "He got my wife linked with the liberals in a deep way." West proceeded to upload a since-removed Hollywood Unlocked article that alleged Gamble had cheated on Kris Jenner. West has since removed all the shady social media posts but the beef between these two remains unsettled.
West's social media spat with his ex Amber Rose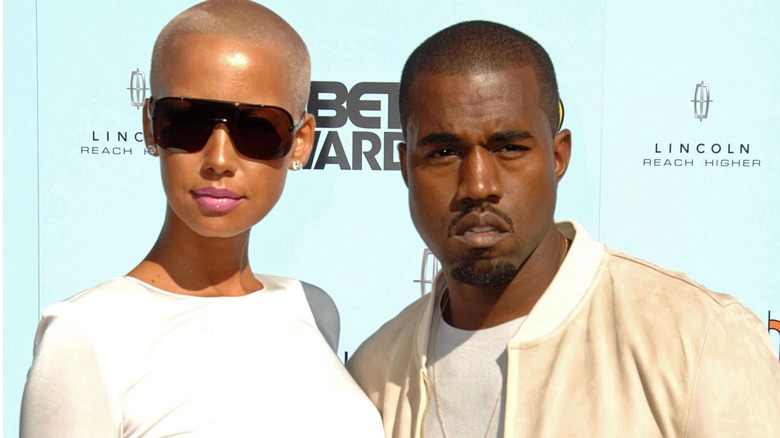 Everett Collection/Shutterstock
Before Kanye West and Kim Kardashian were a power couple, the "Jesus Walks" rapper was linked to Amber Rose. The pair dated from 2008 to 2010, but their breakup sparked a nasty feud between the pair. As for the model's account, she opened up about Ye during a 2018 appearance on the "No Jumper" podcast, where she accused West of being a narcissist who used her, "You share two years with someone, you take them around the world, you buy the jewelry, you shout-out to the world how much you love them and how much fun you have with this person and then the person decides that this is not what they want their life to be. I opted out."
Six years after their breakup, the two went at it via social media in a fight that started with Ye calling out Wiz Khalifa. In a series of since-deleted tweets, the rapper attacked Khalifa, who married Rose in 2013 and with whom he shares a child. "You let a stripper trap you," West wrote. "... I know you mad every time you look at your child that this girl got you for 18 years." The model clapped back in her own Twitter response to her former beau, tweeting, "Awww [Kanye West], are [you] mad I'm not around to play in [your] a***ole anymore?" In another tweet, she added, "Lol ... Now [you] wanna delete [your] tweets cuz Muva has arrived?" Game over.
50 Cent told Ye to cool off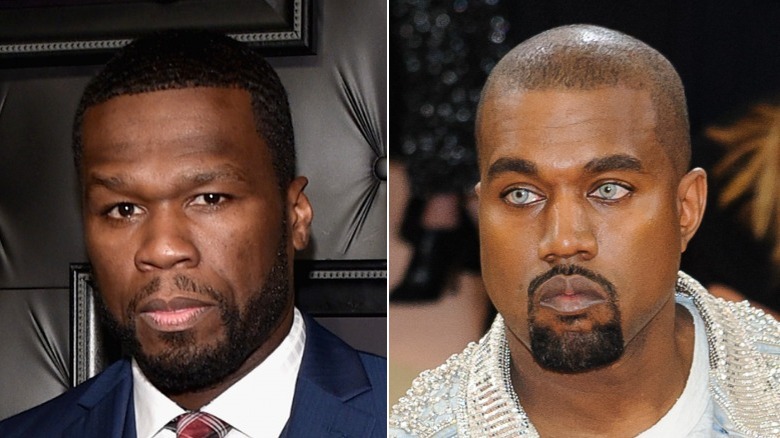 Sky Cinema/Shutterstock, Bryan Bedder/Getty
The drama between rappers 50 Cent and Kanye West dates back to 2007 when the artists were preparing to drop their respective albums on the same date — 50 Cent with "Curtis" and West with "Graduation." Both of them vying for the most album sales. In a resurfaced video of 50 Cent published by SOHH, the rapper promised to end his career if West beat him in sales. "If Kanye West sells more records than 50 Cent on Sept. 11, I'll no longer write music," 50 Cent said at the time. The rapper was left eating his words, as his album "Curtis" sold 691,000 copies to West's 957,000. 50 Cent didn't stick to his words, as the rapper continued to release solo music throughout his career.
Their beef continued in 2022 when 50 Cent criticized the "Heartless" artist for his anti-Semitic comments made on Twitter. In several social media posts, West attacked the Jewish community, writing in since-deleted tweets, "I'm a bit sleepy tonight but when I wake up I'm going death con 3 On Jewish people. The funny thing is I actually can't be anti-Semitic because black people are actually Jew."
50 Cent expressed his opinion on the ordeal when he shared a CNN Instagram post that alleged West looked up to Adolf Hitler. "I have never seen anything like this before. I think Kanye should buy the car he likes and just ride off into the sunset, it's really a wrap," he wrote in the since-deleted post. 
Kanye West called out President George Bush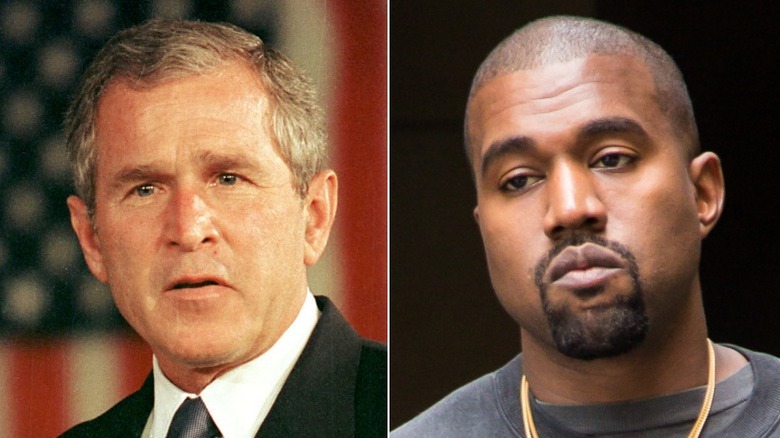 Liam Goodner/Shutterstock, Bill Pugliano/Getty
It takes some real courage to take shots at the leader of the free world. But if anyone would do it, it had to be Kanye West. The "Gold Digger" artist went off-script on a nationally televised telethon benefit program in the wake of Hurricane Katrina in 2005, per NBC News. "I hate the way they portray us in the media," West admitted. "If you see a black family, it says they're looting. If you see a white family, it says they're searching for food." The rapper went on to claim, "George Bush doesn't care about black people." 
During an appearance on "Today" (via NBC News), West later backtracked his statements, admitting he let his anger get the best of him. "In my moment of frustration, I didn't have the grounds to call him a racist. But I believe in a situation of high emotion like that, we as human beings don't always choose the right words."
Five years later, George W. Bush reflected on the controversy during an appearance on "Matt Lauer Reports" (via NBC News) where he stated that he forgave the rapper for his comments. Nonetheless, he shared that he was deeply hurt by West's criticism and the overall backlash regarding his response to the disaster. In his 2010 memoir "Decision Points," Bush wrote, "The suggestion that I was racist because of the response to Katrina represented an all-time low ... it was the worst moment of my presidency."