Kelly Ripa's Relationship With Ryan Seacrest Was Much Different Than Regis Philbin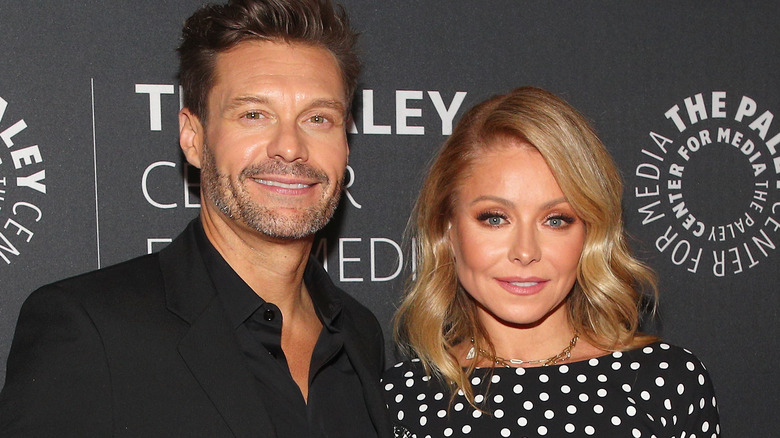 Astrid Stawiarz/Getty Images
Kelly Ripa and Ryan Seacrest may be known as one of the most dynamic duos on television, but their closeness apparently extends beyond the screen. They're not just mere colleagues — they're best friends.
In a guest appearance on the "Dear Gabby" podcast, the other half of "Live with Kelly and Ryan" noted that for her, Seacrest is family. "What is unique is that the two of us have, I don't wanna say a psychic ability, but we have a shorthand," she said of why they make such a great team. "We have an ability to read each other in a way where I know where his breaking points are, and he knows where mine are. And so when bad things happen, we are able to — behind the scenes — connect and say, 'It's gonna be OK, I'll take this one, I got it.'"
Before Seacrest joined "Live," Ripa shared the screen with Michael Strahan, with whom she had a falling out. And prior to that, she spent a decade working alongside Regis Philbin, one of the original hosts of the show. But while Ripa worked with Philbin twice as long as she did with Seacrest, their relationship was nowhere near the same. In fact, Ripa doesn't have fond memories of her time with Philbin.
Kelly Ripa had a complicated relationship with Regis Philbin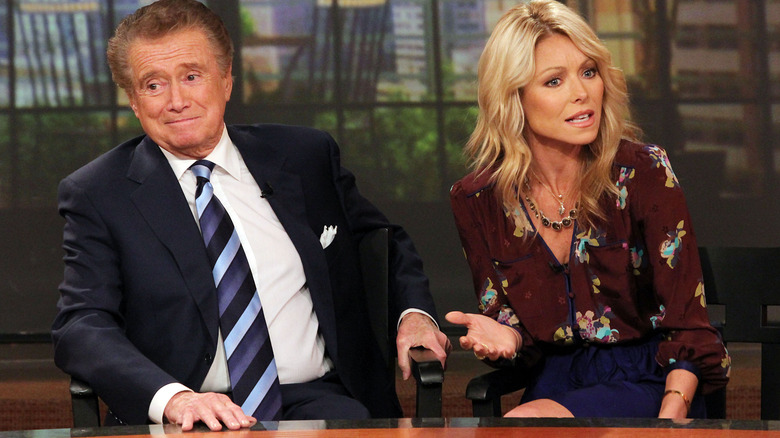 Rob Kim/Getty Images
Kelly Ripa wants to clarify that she worked hard to have a place on "Live," and the job wasn't simply handed to her because they needed someone to replace Kathie Lee Gifford. "The biggest misconception is that it all came easily," she shared with People, noting that her experience was the complete opposite. "People think I just showed up one day and was handed a job and I lived happily ever after and now everything's perfect. But it never is that way."
In a guesting on the "Not Skinny But Not Fat" podcast, she even said that she found it difficult to grasp why they would make "two strangers from two completely different generations" as co-hosts and thought that it was insulting for Philbin's part. "He should not have had to have a host assigned to him... He paid his dues and he established this show," Ripa noted. She also admitted that in the beginning, she "didn't feel like [she] added anything to him" and felt that "he certainly didn't need [her] there." They apparently didn't talk much behind the scenes, either. "Regis had a mandate: Absolutely no talking off-camera," she told The New York Times. "I'd be like, 'Good morning,' and he'd say, 'Save it for the air!'"
Still, it doesn't mean that they didn't have good times. Ripa noted that she would sometimes get the opportunity to bond with Philbin outside of work. The handful of times we spent together, I so enjoyed," she recalled. "We went to the same resort once on vacation and he came to a dinner I hosted—one of the favorite nights of my life."
Kelly Ripa sees Ryan Seacrest as her younger brother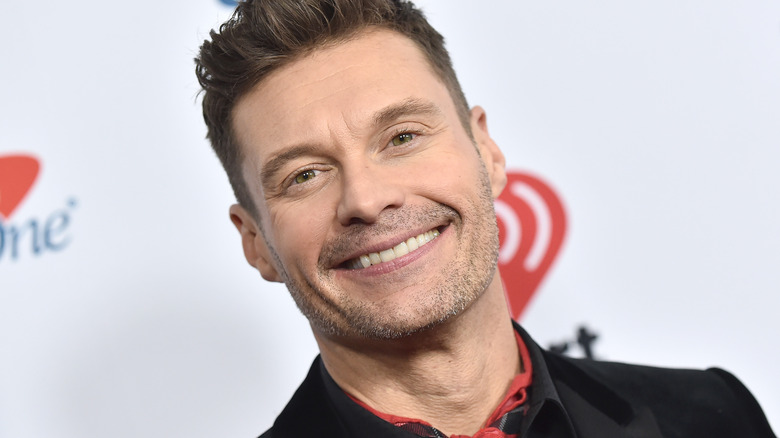 DFree/Shutterstock
Kelly Ripa and Ryan Seacrest couldn't help but feel emotional on the latter's last day on "Live." Seacrest decided to depart the show after six years to move back to Los Angeles and focus on his other projects, but that meant leaving his best friend behind.
On the "American Idol" host's last day, Ripa sang nothing but praises for him, telling him how much he was a joy to work with. "This has, without question, been the fastest six years of my life. And although you and I have been friends for decades and decades, I feel like I've gained through this process a younger brother/oldest son," she said. "I am so grateful that our success together on this show has led to us developing an even closer — yet codependent — relationship." Seacrest showed appreciation for his best pal, too. "I so appreciate your leadership, your love, your wisdom and I really do feel like a family member and we will have that forever," he told Ripa.
But it's not like their relationship will change. According to Seacrest, their friendship is for keeps. "I'll miss being next to Kelly every single day," he told E! News. "We're extremely close, we're very good friends, we'll remain good friends. But there's that hour of communicating with somebody. You become super excited about doing it. You laugh, and then, of course, you can't remember what you said to each other. So I'll miss that part."