Ryan Seacrest Has A Pattern Of Dating Much Younger Women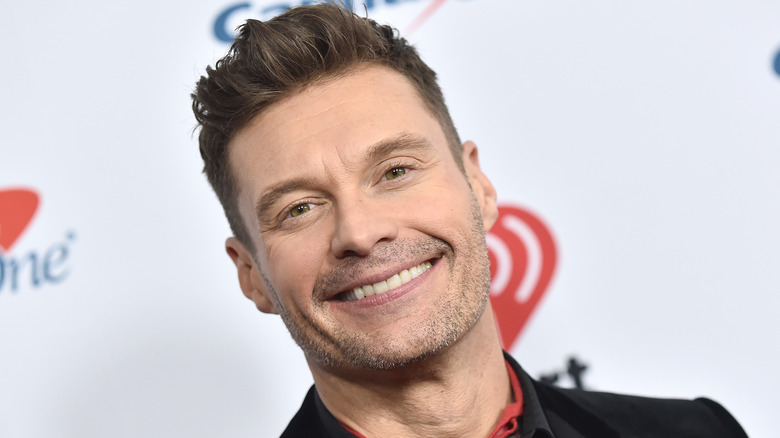 DFree/Shutterstock
Ryan Seacrest is one of the hardest-working men in Hollywood, so it's impressive that he finds any time to chill, let alone Netflix and chill. But, clearly, he does as Seacrest definitely manages to keep his love tank full. Us Weekly reports that his latest squeeze is 24-year-old influencer Aubrey Paige, which, given that Seacrest is 48, makes for quite a generation gap.
However, age is just a number for the TV host, who's reportedly already planning a future with Paige. "Ryan is increasingly confident he and Aubrey have what it takes for the long term," a source said. "At some point in the not-too-distant future, he wants to settle down and start a family," they continued. "He wouldn't be dating anyone who didn't have that long-term potential."
Of course, his now-former "Live!" cohost, Kelly Ripa, had something to say about Seacrest's much younger girlfriend, and she's not phased by the 23-year age gap. In fact, Ripa shared during a 2022 episode of "Live!" (via People) she's so crazy about Seacrest's new love that she'll "go into seclusion" if he ever breaks up with her. Meanwhile, Ripa's husband and new cohost, Mark Consuelos, is more fixated on the couple's height difference than their age disparity. Apparently, he "wants to know the aerodynamics" of their love life, as Seacrest is considerably shorter than Paige. But then, it's hardly surprising that nobody's batting an eyelid over his young new boo, given that Seacrest has a pattern of dating much younger women.
He's an inter-generational dating pro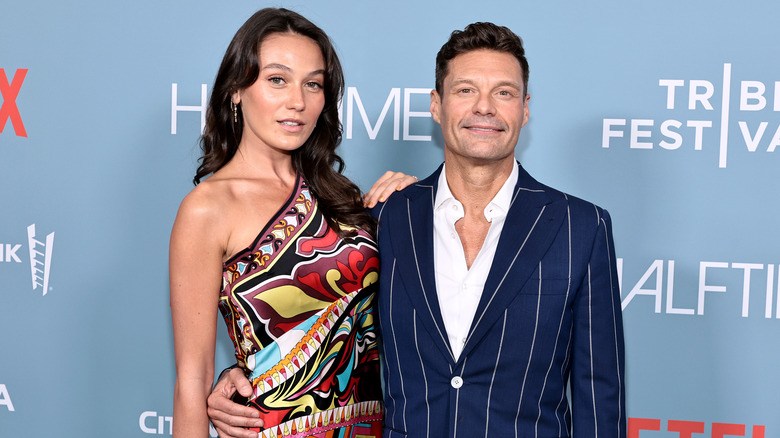 Jamie Mccarthy/Getty Images
Ryan Seacrest doesn't care that Aubrey Paige is 23 years younger, but then, he's used to inter-generational dating. Per Hello! Seacrest's past younger conquests include Shayna Taylor, who he dated for seven years on and off. Hilary Cruz, who he squeezed in during a break from Taylor. And Julianne Hough, who Seacrest was with for three years. However, he's not averse to being the younger half — for a limited time. Teri Hatcher said she and Seacrest went on a date, but he dumped her, claiming, "I don't think I can do this with you."
He obviously thinks he can do it with Paige, as Seacrest took a big step with his girlfriend in June 2022. According to E! News, they made their red carpet debut at the premiere of Jennifer Lopez's documentary, "Halftime." And Paige could motivate Seacrest to take another big step soon — a giant one, in fact. He told WSJ magazine it's time for him to start addressing his work-life balance and maybe even time to start a family too.
"I start thinking about blocking off certain times in my month or year or week to focus on my personal life," Seacrest said. "I do want to have kids. But I haven't even gone down that path, which is nuts at my age. I think in the last year; it's become clear to me that yes, I do want to do that ... I want to be available and present."
The future's looking present and relaxing
It's a time of exciting change and potential new adventures for Ryan Seacrest. After six years of playing on-camera hubby to Kelly Ripa, it was "Seacrest out!" on April 14. Ripa and Seacrest brought each other to tears during their final "Live!" show taping. "I feel like I've gained through this process a younger brother-slash-oldest son. That's how I feel about you; it's the weirdest feeling," Ripa admitted.
She said that after years of him showcasing other people's talents, she's happy Seacrest finally got to show off his own. "You are layers upon layers of goodness, of kind, of charm, of brilliance and authenticity and generosity," Ripa continued, confessing that she'll miss him dearly. Meanwhile, there's no sign of change on the horizon regarding Seacrest's love life.
"Ryan, never have I ever met a more inspiring man. You make it look so easy, but the truth is there is just nobody quite like you," Aubrey Paige captioned pics of them enjoying a golfing day. "I am so beyond proud of you. Not just for your work ethic but for your caring heart and the genuine love that you give to others." Paige shared that she can't wait to see where the future takes them, and wherever it does, she believes it'll be even better than their journey so far. Either way, she said she sees a life together "filled with total presence, joy, and relaxation in every single moment."