How Shakira's Sons Reportedly Feel About Gerad Piqué's Girlfriend Clara Chia Marti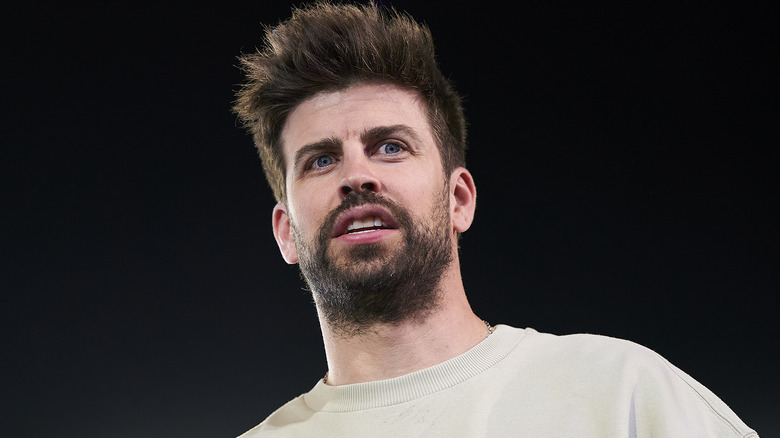 Quality Sport Images/Getty Images
Sasha and Milan, Shakira and Gerard Piqué's two sons, are apparently not big fans of their dad's new girlfriend.
It was in June 2022 when the Colombian superstar and the soccer player blindsided everyone with news of their split. "We regret to confirm that we are separating," they said in a joint statement at the time. "For the well-being of our children, who are our highest priority, we ask that you respect our privacy." Neither party confirmed the reason behind the breakup, but merely two months after the announcement, Piqué was seen getting cozy with a woman at a music festival, who was later identified as Clara Chia Marti. It also wasn't initially clear when their relationship started, but fans assumed that Piqué had cheated on the singer, especially after she insinuated through an Instagram post that she had been betrayed. What's more, Shakira also released an apparent diss track titled "BZRP Music Session #53," which addressed her split from her boyfriend of more than a decade. "I wish you good luck with my supposed replacement / I don't even know what happened to you / You are so strange that I can't even distinguish you," the lyrics read. "I'm worth two of 22 / You traded a Ferrari for a Twingo / You traded a Rolex for a Casio."
Since the shocking split, Shakira has uprooted her life and moved to Miami with her two children, while Piqué had gone Instagram official with Chia Marti. And while he's still trying to be a present father for the kids, they apparently don't want anything to do with his new lover.
Shakira's sons reportedly dislike their dad's new girlfriend
Now that Shakira and Gerard Piqué's sons Sasha and Milan are based in Miami, Florida, their father has to fly to them to see them. But journalist Jordi Martin dished on the show "Intrusos" that, while the kids love bonding with their dad, they don't have any interest in seeing his girlfriend, Clara Chia Marti.
"'We don't want to be with her,'" Sasha and Milan apparently said, according to Hola, noting that in Shakira and Piqué's custody agreement, the athlete has 10 days out of the month to look after his sons, but only if Chia Marti isn't present. "One condition that the children imposed on Gerard Piqué was that he visit them in Miami without his girlfriend. The kids don't want to see Clara. 'Please, we don't want to be with her in the 10 days that you spend in Miami.'" Martin added that in the event that Piqué decides to move to Miami, he'd have more time with the kids with the custody being split to an even 50-50. "I think the kids are supporting their mother and have seen how much she's suffered over the past year."
Shakira is also apparently making sure that her ex follows what their kids want. "Shakira's team will try to ensure that Chia Marti does not travel to the United States and cannot enjoy her time with Gerard, Milan and Sasha, as is the goal of the defenders," a report from OK Diario noted, per Univision.
Gerard Piqué says his kids remain his priority
Gerard Piqué admits that he finds the media frenzy surrounding his split from Shakira ridiculous, but he's trying to tune it out for the benefit of his children. "Everyone has their responsibility to do what's best for their kids," he shared with El Pais, as translated from Spanish by Entertainment Tonight. "It's about protecting them. That's the job of all parents with their kids. That's what I'm focused on and that's my role as a father."
And despite what fans and the press have been saying about him, he dished that he's "happy," and will continue to mind his own business. "I keep doing what I want. The day I die, I will look back and hope I have always done what I wanted. I want to be true to myself," he said. "I'm not going to spend money cleaning up my image. The people I care about and the ones I love are the ones who know me. The rest I don't care."
Shakira, too, is chasing her happiness, all while making sure that her sons find the stability they need. "I settled in Barcelona to give my sons stability, the same that we are now looking for in another corner of the world besides family, friends and the sea," she wrote on Instagram of their move to Miami. "Today we started a new chapter in the search for happiness."