Tom Cruise And Nicole Kidman's Daughter Isabella Lives A Pretty Normal Life Today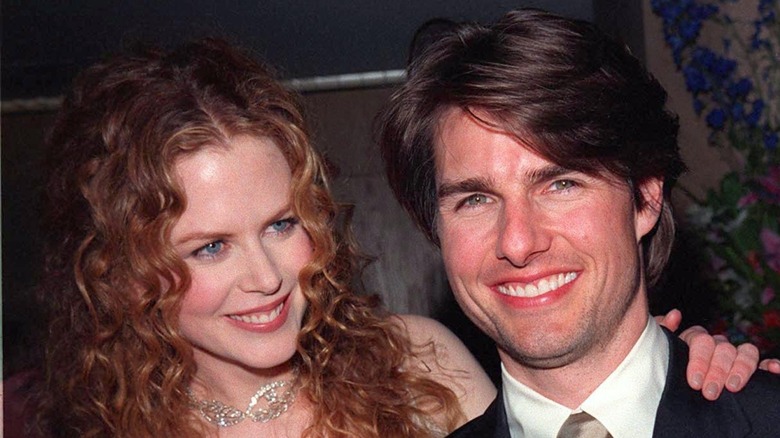 Featureflash Photo Agency/Shutterstock
The media's obsession with Tom Cruise's daughter with Katie Holmes, Suri, in the mid-to-late-2000s, may have made it seem she was the actor's first child, but Cruise has two children with Nicole Kidman. In the mid-'90s, the "Eyes Wide Shut" co-stars adopted Isabella — known as Bella — and Connor, born in December 1992 and January 1995, respectively. Bella and Connor, whose adoptions were conducted pretty quietly and in secret, went on to become a delicate subject throughout Cruise and Kidman's messy divorce.
The "Days of Thunder" actors' relationship played out in the early days of Cruise's involvement with the Church of Scientology. Cruise reportedly only became fervent about the religion at the end of their 10-year marriage, with many arguing that his newfound devotion was one of the biggest reasons leading to their split. Since Bella and Connor's adoption was facilitated by the church, they stayed with their father in Los Angeles and were raised within the institution while Kidman returned to Australia, according to Marie Claire Australia.
Bella and Connor were kept largely out of the spotlight. Neither Cruise nor Kidman addresses their relationship with their children often. "I'm very private about all that," she told Australia's Who magazine. "I have to protect all those relationships." As Bella and Connor grew up and were able to make their own decisions, they opted to continue to stay out of the public eye. Bella went on to embrace a pretty normal life far from the glitz and glam of Hollywood.
Isabella Kidman Cruise is an artist and fashion designer in London
Isabella "Bella" Kidman Cruise takes her privacy seriously. In September 2015, the then-22-year-old even opted to keep her wedding to Max Parker, a British I.T. consultant, a secret, Australia's Woman's Day reported. Tom Cruise, Nicole Kidman, and her brother Connor weren't at the private ceremony at the Dorchester Hotel in London, a decision taken to avoid public scrutiny, according to People. At just 19, Bella made the decision to swap Los Angeles for London, where she started out as a makeup artist.
All these years later, Bella continues to embrace a down-to-earth lifestyle in the British capital. As her Instagram page shows, Tom and Nicole's oldest child developed a career as an artist and fashion designer. In 2018, Bella launched a clothing line featuring mainly T-shirts with her art emblazoned on them. Nowhere on her Instagram page does she make mention of either of her famous parents. 
Bella doesn't seem to want to take advantage of her parents' fortune, either. In 2020, she reportedly declined her father's invitation to live with him in his London penthouse where he resided while filming "Mission: Impossible." Instead, Bella and Parker live in a three-bedroom home with a pet lizard, according to The Sun. That's pretty much all her neighbors are able to gather. "We can see the red light of the tank. That's all anybody seems to know. She's very mysterious," a source told the outlet. 
Bella Kidman Cruise is a Scientologist like her father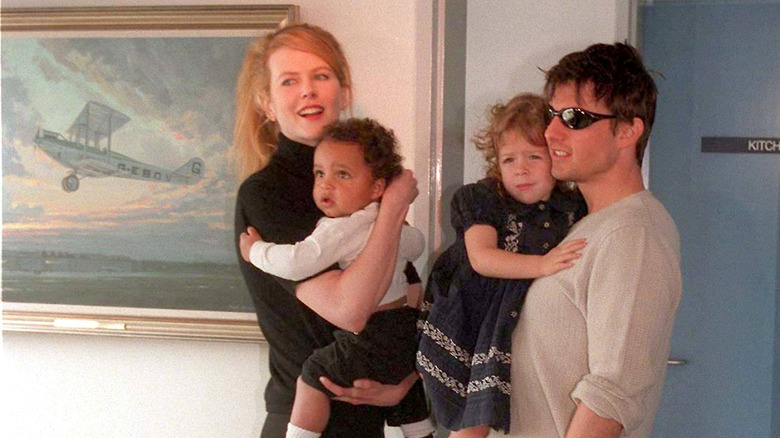 Patrick Riviere/Getty Images
Bella Kidman Cruise has chosen to live a lifestyle completely different from Tom Cruise. But that excludes his religion. Bella, like her brother Connor, continued to practice Scientology after moving out on their own. And she isn't shy about it. In 2019, Bella even sent out a promo email in which she disclosed being an auditor for the church's London organization. The Church of Scientology defines an auditor as a "minister or minister-in-training," per its website.
Bella also gushed about the positive effect the training to become an auditor had on her. "I would have drowned in my own problems if you hadn't been there to sup me or get me through the preliminaries," she wrote, using the space to thank her father and aunt, Tom's sister Cass Mapother. It was a rare public nod to her father, whom she never addresses publicly.
Given Nicole Kidman's complicated relationship with the church, it has been speculated that Bella's involvement with the religion has driven a wedge between mother and daughter. As noted by Us Weekly, in her 2015 memoir, "Troublemaker: Surviving Hollywood and Scientology," Leah Remini claimed Bella had no desire to have a relationship with her mother. Kidman, however, has said she respects their path. "They are adults. They are able to make their own decisions," she told Who. "They have made choices to be Scientologists and as a mother, it's my job to love them."