Body Language Expert: The Real Star On Live With Kelly And Mark Is Clear - Exclusive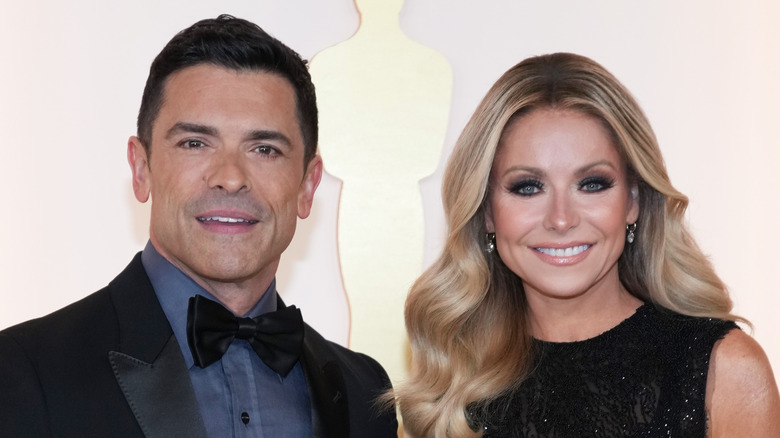 Kevin Mazur/Getty Images
Longtime "Live" host Kelly Ripa is embarking on a new chapter in the life of her show. Ripa celebrated her former co-host of six seasons, Ryan Seacrest, on April 14, saying, "Although you and I have been friends for decades and decades, I feel like I've gained, through this process, a younger brother slash oldest son." Now she is replacing her ersatz family member with someone from her real, off-air family. With the April 17 show, Ripa's new permanent co-host made his debut: her real-life husband Mark Consuelos.
Consuelos is no stranger to the gig, having served as guest host 92 times over Ripa's 20-plus years as host (since 2001). As Ripa said toward the end of Consuelos' debut show, "Thank you for joining us. It's as if you've always been here," to which Consuelos replied, "I kinda have!" Consuelos and Ripa have an easy rapport that comes from their almost 27 years of marriage: They met in 1995 when Consuelos auditioned for the role of Mateo Santos on "All My Children," becoming the love interest to Ripa's character Hayley Vaughan. The two began dating shortly after and married a year later, remaining one of Hollywood's most successful romances. 
After so many years, Consuelos seemed a natural choice for replacing Seacrest on "Live." Despite their chemistry, though, it's still clear who the star of the show is. Jess Ponce III, body language expert and author of "A.W.E.S.O.M.E.," shares how in this exclusive interview with Nicki Swift. 
Jess Ponce III feels Mark Consuelos deferred to his co-star Kelly Ripa
Body language expert Jess Ponce III gave Nicki Swift his exclusive comments about the "Live with Kelly and Mark" debut on April 17. Ponce observed the couple's clasped hands when walking out, which he said, "shows both commitment and a bit of nervousness." But Mark Consuelos may have been more anxious than Kelly Ripa. To Ponce, Consuelos' decision to pull out Ripa's chair for her showed he is "conscientious of being a gentleman" or at least appearing like one on air. The expert added that it also showed "he was ... slightly nervous and found refuge behind a chair. Either way, he gave his wife her props." Ponce saw that Consuelos knows Ripa has top billing as it's been her show for decades, and that "she is the leading force behind it." 
Ponce did question, though, whether the couple had agreed on how to start the show, citing Ripa's initial move to the side of the table as if she wanted them to greet the audience first. "The show is known for its spontaneous opening dialogue, so it is likely that they were not in alignment," Ponce said. However, he also noted, "Both approaches are sweet, him giving her attention and her wanting to pull him out into the limelight." 
As Consuelos later reached for her hand and thanked her, the producers, and the audience, Ripa placed her hand on his, which "definitely shows appreciation, sincerity, and mutual trust," Ponce shared. "Meanwhile, Kelly does what she does — drives the content and humor of this TV staple."