Who Is Jessie James Decker's Sister, Sydney Rae Bass?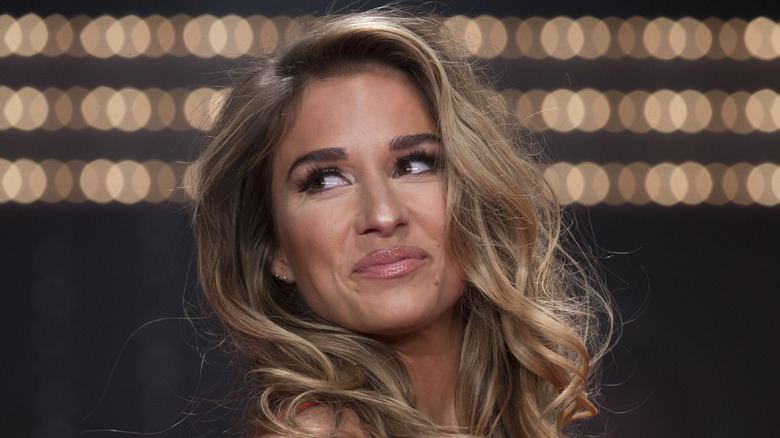 lev radin/Shutterstock
Jessie James Decker is a mom, wife, country-pop musician, reality star — and fiercely protective sister. The singer, who hit the big time after 2009's release of "Jessie James," isn't afraid to beef with haters, especially when it involves her family. In 2022, Jessie clapped back at critics of her children's bodies following condemnation of a pic she posted showing their defined abs. "From one mother to another. Please don't call my children's appearance strange just because they don't look the way you think they should? It's unkind," she schooled one detracter. Jessie waded into the fray again on Sunday. This time to slam United Airlines, which she accused of "humiliating" and reducing her sister to tears.
"[Sydney Rae Bass] just texted me from her flight on @united As you know, she is five months pregnant, high risk, and also traveling alone with her two small children," Jessie posted on her Instagram story. She claimed that after her daughter accidentally dropped some popcorn, Bass was ordered to "clean up every drop" by a steward. Jessie shared that her sister was sobbing and "completely humiliated and exhausted" after getting "on her hands and knees" in the aisle while passengers looked on.
Bass popped up regularly in the reality TV show that Jessie and her husband, retired NFL star Eric Decker, starred in for four years. However, she's not a household name like her older sibling. So, who is Jessie James Decker's sister, Sydney Rae Bass?
Sydney Rae Bass is a baseball wife and busy mom
Jessie James Decker's sister, Sydney Rae Bass, is the younger of the two. According to her Instagram bio, she's a "wife & mama" who runs Nicumoms, an Instagram page with nearly 12,000 followers, that's for "Moms giving advice, encouragement and sharing their stories." 
Sydney shared that she and her sister grew up as "military brats" moving from town to town. She became a "baseball wife" just five months after Major League Baseball star Anthony Bass first slid into her DMs in 2015. According to The U.S. Sun, the couple eloped to Japan to get hitched in 2016. They live with their two daughters in Nashville, Tennessee.
Moreover, Sydney seems to have a close relationship with her sister. "Happy birthday to my hilarious, loving, giving, salad-making queen, crazy big sister @jessiejamesdecker, my bestie since birth, but with age, we continue to get closer, and I love it," she captioned a few shots posted to Instagram last week. She writes about their relationship — and drops some embarrassing truths about Jessie — in her blog posts.
Her husband has her back
Sydney Rae Bass is married to Toronto Bluejays' pitcher Anthony Bass. He also posted about United Airlines' treatment of his pregnant wife on Sunday. But he was left drowning in a sea of mockery. "The flight attendant @united just made my 22-week pregnant wife traveling with a 5-year-old and 2-year-old get on her hands and knees to pick up the popcorn mess by my youngest daughter. Are you kidding me?!?!" Anthony tweeted. "'My wife had to be a parent!' That's you right now," one reply read. The other 16,000 mainly included a mix of parent-splaining, parent-shaming, parent-ridiculing, and support for the airline's actions.
"Well done, @united! I'm sick of entitled parents allowing their pampered brats to destroy cafes, restaurants, pubs & transport with their mess, which they think is the responsibility of others to tidy. Way to go!" one commenter wrote. Although, there were some sympathizers among the haters. According to the New York Post, Anthony thanked those who supported him and shared that United had been in contact and promised to investigate the incident. Anthony was clearly over it by Tuesday, posting a pic of his super cute daughter holding a giant bag of popcorn.
Sydney has to be especially careful during her current pregnancy as it's deemed high risk due to their first daughter being born prematurely at just 28 weeks — which explains why her sister and husband were so freaked out over the United incident, given she's currently 25 weeks pregnant. They adopted their second daughter in 2020. Sydney took to Instagram to share the news that a third was coming. "The best surprise and miracle we could ever ask for," she captioned a cute video of her and the kids. "I still cry thinking about our sweet baby in my belly. Thank you, God. Our little miracle baby is due this August."