Kourtney Kardashian Was Mistakenly Called Her Sister's Name During Her Wedding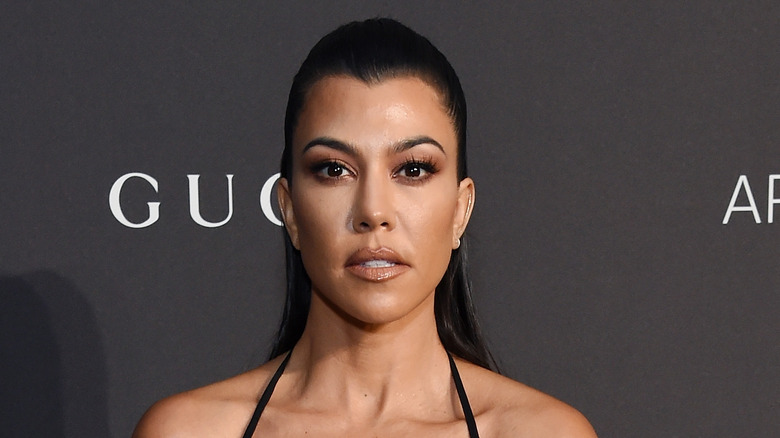 Michael Kovac/Getty Images
That Kourtney Kardashian was mistakenly called her sister's name during her Las Vegas wedding to Travis Barker was just one of many revelations to come to light in the couple's wedding special "'Til Death Do Us Part." ICYMI, the 74-minute episode offered fans an in-depth look at the couple's three weddings in Las Vegas, Santa Barbara, and Italy. People reported that the Vegas ceremony was unofficial because Kravis didn't obtain a marriage license. (Kourtney said as much on Instagram, joking at the time, "practice makes perfect.") Though their Santa Barbara wedding was legal, it was Kravis' lavish Italian nuptials that made headlines.
By this point, the Kardashian-Jenner clan's ability to throw an over-the-top party at the drop of a hat has been well-documented, and Kravis' Italian wedding pulled out all the stops. From the bride's lace Dolce & Gabbana ensemble to the historic venue — a medieval castle-turned-museum — the whole thing was *chef's kiss.* But because the fanfare was all over social media, it was nice to see Kourtney and Barker share their own take on things in "Til Death Do Us Part." As Kourtney gushed in a trailer for the special, "Our wedding felt like time didn't exist. It just felt perfect." 
We already know about the big, flawless moments, but the bumps along the way made "Til Death Do Us Part" feel fresh and interesting. Things like the fact that both Kourtney and Barker were a little tipsy at their Vegas wedding and that the bride was called the wrong name at the altar.
A Las Vegas wedding officiant thought Kourtney was Khloé Kardashian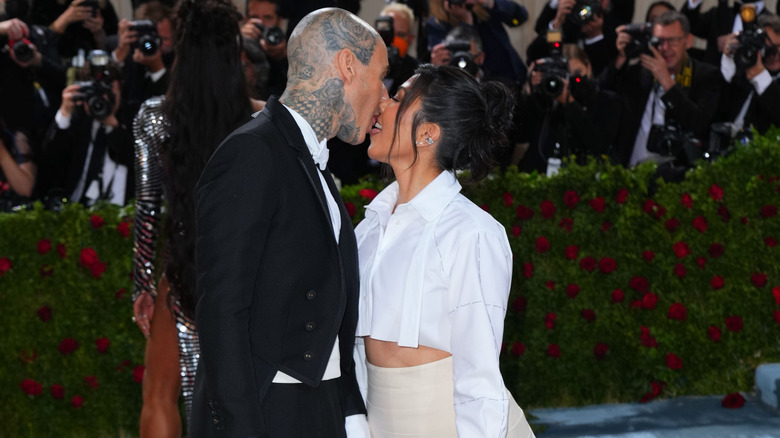 Gotham/Getty Images
Being called your sister's name at your wedding is the stuff of rom-com nightmares, yet Kourtney Kardashian took it in stride when the Elvis impersonator at her Las Vegas ceremony called her Khloé Kardashian. Maybe it was the tequila, but the Poosh founder actually found the whole thing quite hilarious. When the officiant asked Kourt's hubby-to-be Travis Barker to repeat, "I, Travis, take you Khloé to be my wife," Kourtney supposedly fell to the ground laughing. "I'm gonna cry. Wait, we need to FaceTime Khloé, we need to FaceTime her. She's gonna literally die," she said. OK, so now we know the full story behind why Kourt was on the ground in those Instagram posts.
Especially with this blooper, the Vegas ceremony reads very rock n' roll, which is on brand for Kravis. The couple's nonstop PDA and sexy (sometimes matching) apparel has been splashed all over Instagram since the early days of Kravis, beginning with Kourt's love note to her hubby. During a 2021 appearance on "The Drew Barrymore Show," Barker spoke about how he believes love to be a passionate, all-or-nothing affair, telling the host, "I would prefer to go in a blaze of glory, like a ball of flames." We'd say that a tequila-fueled night at the Vegas chapel with Kourtney fits the bill, and the officiant's gaffe is just icing on the (wedding) cake. Mission accomplished, you two.
Not everything was perfect at Kravis' wedding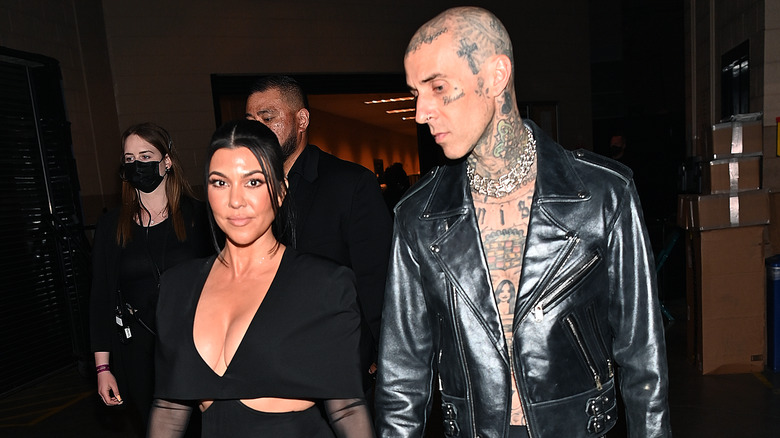 Denise Truscello/Getty Images
But no matter the fairytale, there's no such thing as a perfect wedding, and being called by her sister's name wasn't the only thing to go wrong at Travis Barker and Kourtney Kardashian's wedding extravaganza. According to "Til Death Do Us Part," Kourt's long, lace veil — which featured a hand-embroidered depiction of the Virgin Mary, NBD — got stuck when she was walking down the aisle. Then, there was the fact that Kourt was nervous in the lead-up to the big moment. "I remember the day of, being in the glam room, getting ready and Irinel [De León], who was doing my hair, was like, 'Are you OK?' And I was like, 'Wait no, I'm actually not," the bride recalled, per People. Her nerves only continued to escalate, and she can be heard saying in the trailer that she "[felt] shaky."
Her anxiety isn't surprising, given this was Kourt's first marriage, and she turned down her ex (and partner of a decade) Scott Disick when he proposed. The good news is that Barker seemed to be calm and "in the zone" for the big day. "I just felt like, 'I'm about to marry, like, the love of my life,'" he told Kourtney in the trailer.
Currently, Kravis seems just as blissfully happy as they did in Portofino, Italy. "First Valentine's Day with you as my wife. I love you," Barker wrote in a 2023 Instagram post. Here's to many more.