Where Sister Wives Star Kody Brown Stands With His Daughter Gwendlyn Today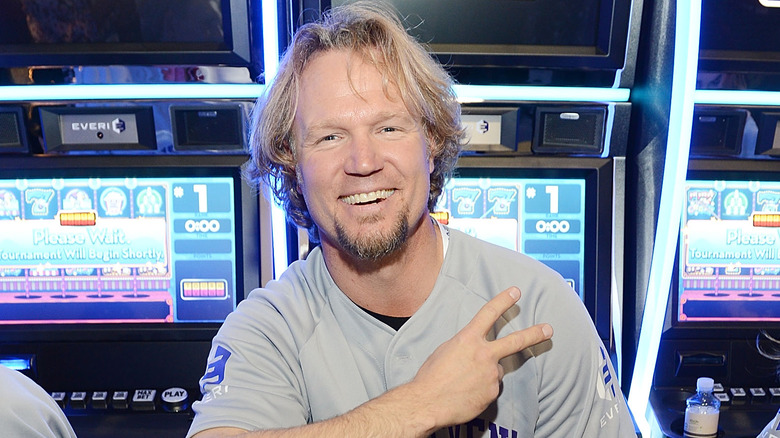 Denise Truscello/Getty Images
Kody Brown may pride himself on being the sole patriarch in a family consisting of four sister wives and over a dozen children, but he's reportedly not exactly the model father he makes himself out to be. His daughter, Gwendlyn Brown has blamed her dad's behavior for his estrangement from his kids. 
Gwendlyn is Kody's daughter with ex-wife Christine Brown, who left the polygamous relationship in 2021. After her parents' split, Gwendlyn has been speaking out against her father's decisions as they've played out on TLC's "Sister Wives." She even started her own YouTube channel, where she has reacted to some of the latest episodes. In one vlog about the show's 17th season, she revealed that Kody prefers her brothers over her and her sisters. "I keep seeing my brothers being like, 'Our dad's not this great person and we have this terrible relationship with him,'" she shared in the video. "It's really weird to see because, growing up, I think that the women genuinely did not have it as good as the boys had it, and now the boys are suddenly being treated like the women have been treated." 
While Gwendlyn has a great relationship with her mom, she continues to expose what Kody's actually like behind the scenes.
There's no love lost between Gwendlyn and Kody Brown
Gwendlyn Brown is remaining honest about her true feelings towards her dad, Kody Brown. In one of her vlogs, she revealed that their relationship had been strained from the get-go because Kody was never present. "I don't remember coming home from kindergarten or anything and seeing my dad and him being happy that I ate all my lunch or that I made a friend at school," she recalled. "It was always my mom, and that's great. I'm so happy I had her, but it was never my dad and it sucks that he was not there so much."
In "Sister Wives," Kody once claimed that it's "not always my fault" why he's estranged from some of his kids, but Gwendlyn rebuked his statement, saying that the blame should have and should always be placed on Kody's shoulders. "It's not fair for him to blame it on my mom when he's the one that's not showing up," she told her viewers. "I probably am the worst one in the situation because I complained all the time about how my dad hadn't shown up ... It's definitely not my mom."
What's more, Gwendlyn even revealed that she's not alone in harboring feelings of contempt toward Kody. Her siblings apparently share the same sentiments. "We probably dislike our father more than she [Christine] does," she said.
Gwendlyn Brown cheered her mom on when she left Kody
Gwendlyn Brown was one of the first people who felt relief when Christine and Kody Brown split. While she clarified that she was "on each of their sides" at certain points because "these are my parents," she couldn't help but reveal how happy she was that her mom found the courage to leave Kody. "I was like, 'You're leaving? Good for you!' She told me she was moving and divorcing my father all at the same time, so I was all hype for her," she said.
Per Gwendlyn, it was wrong for her father to let the relationship last as long as it had, considering that it was riddled with issues for years. "I think it's more cowardly to be in a relationship where you don't love somebody than it is to leave instead of experiencing heartbreak," she shared.
Mykelti and Ysabel Brown, Gwendlyn's sisters, were also glad that their mom was finally chasing her happiness. "I was honestly relieved when I heard my mom was leaving my dad. They're not happy, they're not in love," Mykelti said in a "Sister Wives" confessional, while Ysabel dished that she had anticipated that it would happen at some point. "If I'm honest, I did see it coming," Ysabel shared. "And I'm happy that my mom will be able to find somebody who she's really, really, really happy with."