Kate Bosworth And Orlando Bloom's Relationship Was More Serious Than We Knew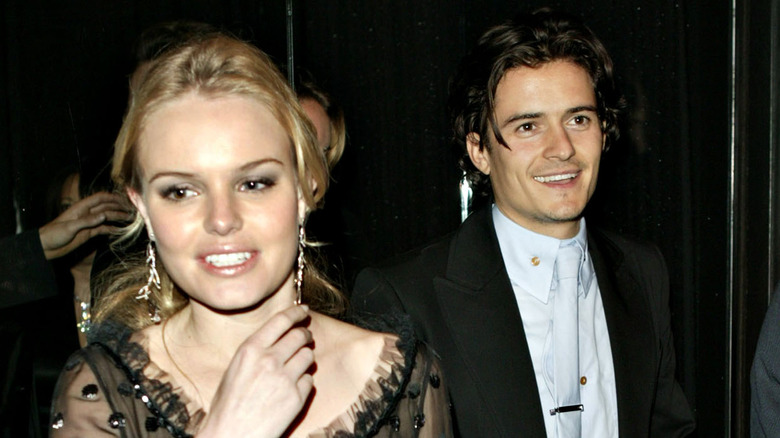 Gareth Davies/Getty Images
Back in the day, Kate Bosworth and Orlando Bloom were crazy about one another. As reported by Us Weekly, the stars were an item from 2002 to 2005. Bloom opened up about his relationship with Bosworth during a past interview on "Live with Regis and Kelly," per an archival YouTube post. At the time, their love story was going strong. "She's a beauty," Bloom said of Bosworth. When he was asked how he and Bosworth became acquainted, Bloom said, "We met outside a coffee shop." He added, "Bizarre. It was just one of those kind of chance encounters." Bloom also stated that he and Bosworth had a mutual friend who connected them, and the two later saw each other at a premiere, which additionally helped kick start the romance.
The two maintained their union for over two years before choosing to break up, People wrote in 2005. The actors' representative, Robin Baum, divulged the status of their relationship to the news outlet. "They did decide to take some time apart due to their upcoming work schedule, and they remain very close," Baum said. "It was a mutual decision." In the years since the split, it's been revealed just how devoted the performers once were to their relationship.
Kate Bosworth and Orlando Bloom found 'a real anchor' in each other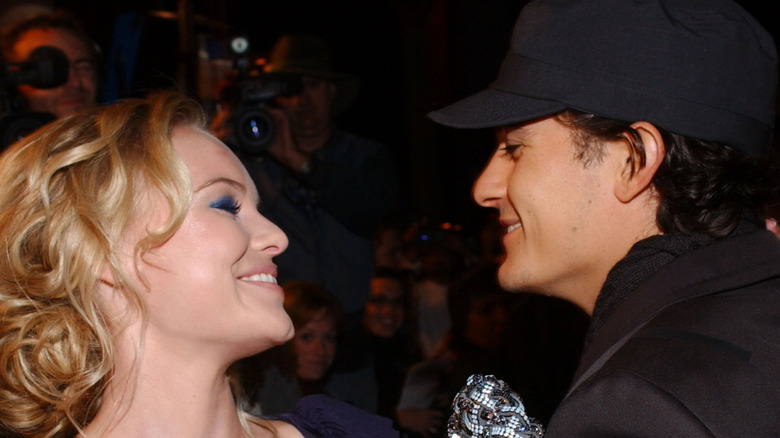 Stephen Shugerman/Getty Images
Kate Bosworth and Orlando Bloom were there for one other during a wild era in their lives. During a 2019 "Watch What Happens Live" interview, Bosworth was asked by a caller what her "biggest lesson" was "from dating Orlando Bloom." Bosworth first shared that she'd since tied the knot with a director, and actors seeing one another is "no bueno." She then said that Bloom is "so lovely, truly," and added that they are "still really, really good friends."
The "Blue Crush" star detailed how she and Bloom became well-known while dating, which led to their tight bond. "I knew Orlando before he was famous at all, so we started dating way, way back in the day," Bosworth said. "And then [fame] hit when we were together. So I think when you kind of go through something like that with someone ... you feel like that's a real anchor in many ways because it was just crazy." Bosworth also said that she and Bloom were each "a rock" in the other's lives. Previously, Bosworth had called Bloom her "first big heartbreak" in a 2008 chat with Vogue, per HuffPost. "First love: You feel like it's the be-all and end-all," Bosworth said of the past romance before adding, "I regret that it was too intense for both of us." Since the breakup, both Bosworth and Bloom have found long-term partners.
Kate Bosworth and Orlando Bloom have separate plans for marriage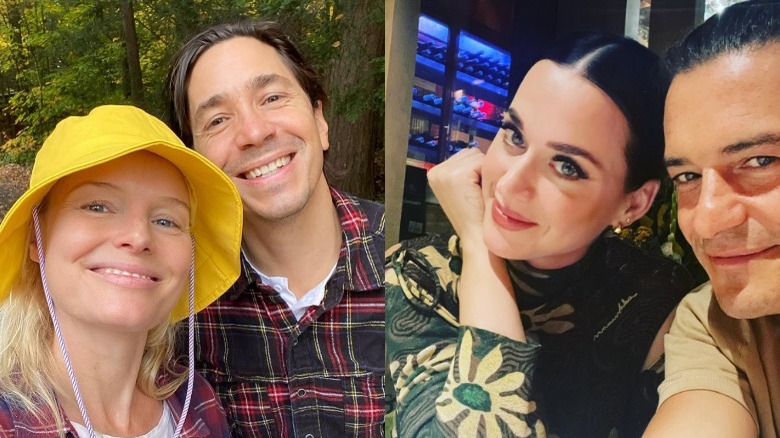 Instagram
Kate Bosworth and Orlando Bloom both moved on to find love again after ending their relationship. As PopSugar wrote, Bloom has dated a few people following the breakup, including Miranda Kerr, Luisa Moraes, and, most recently, Katy Perry. Bloom and Perry became engaged back in February 2019, and Perry celebrated the occasion by posting a selfie of herself and Bloom on Instagram. Perry captioned the photo, which showed off her engagement ring and Valentine's Day balloons surrounding the couple, "full bloom."
Per Us Weekly, Bosworth dated Alexander Skarsgård for a time before later getting hitched to Michael Polish. In August 2021, Bosworth shared via Instagram that she and Polish had chosen to go their separate ways. "Our hearts are full, as we have never been so enamored and deeply grateful for one another as we do in this decision to separate," she wrote alongside a photo of her and Polish sharing a sweet kiss. Bosworth's most recent partner is fellow actor Justin Long. Long announced on Instagram in April 2023 that he and Bosworth had become engaged, writing to Bosworth, "I cherish the days we've had and the ones to come." Meanwhile, Bosworth posted a series of photos of herself and Long on social media to honor the occasion. "If life is short, find the one who brings you endless peace and radical wonder ... @justinlong I am so grateful it's you," Bosworth wrote.