Jenna Bush Hager Gave Her Husband An Engagement Ultimatum (& It Didn't Go As Planned)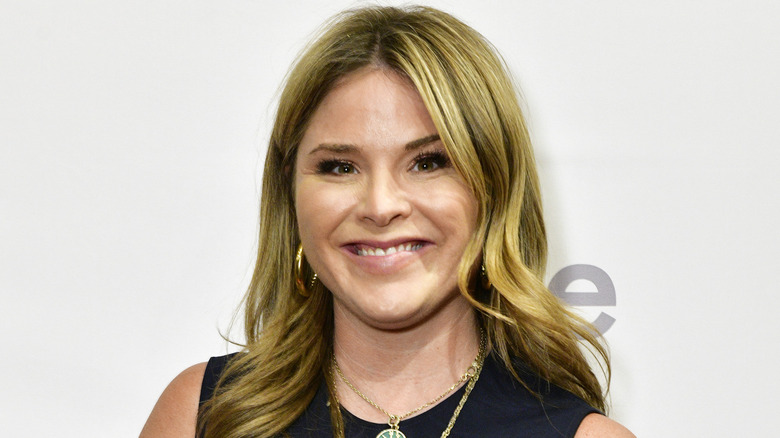 Eugene Gologursky/Getty Images
Jenna Bush Hager is happily married to Henry Hager, but it's kind of a funny story how they almost got engaged. The couple first met in 2004, when Henry worked for Jenna's father, former President George W. Bush. On an episode of "Today," Jenna explained that while Henry worked for her father, a mutual friend who interned with Henry invited him to watch the Texas game with the group. At the time, Henry had a girlfriend, but he and Jenna hit it off.
The couple tied the knot in 2008, and it comes as no surprise that they married at her family's ranch in Texas. At the time, Jenna revealed that since her father was serving his second term in office, he tried to toss out the idea of a traditional wedding. "My dad wanted us to elope because it was a pain," the talk show host explained. "He was like, 'What are y'all doing? Y'all should just elope.'" She added that she wasn't sure if her father meant he wanted them to jet off to Las Vegas to get married or what. But at the end of the day, she got her dream wedding to Henry, and her father came around. "I think my dad picked me up in a pickup truck, in his pickup truck, and he said, 'You look beautiful, baby,' and then we both just wept," she told Hoda Kotb.
Such a sweet memory, so it's hard to believe the initial proposal is so lol-worthy!
Jenna Bush Hager's botched proposal involved fortune cookies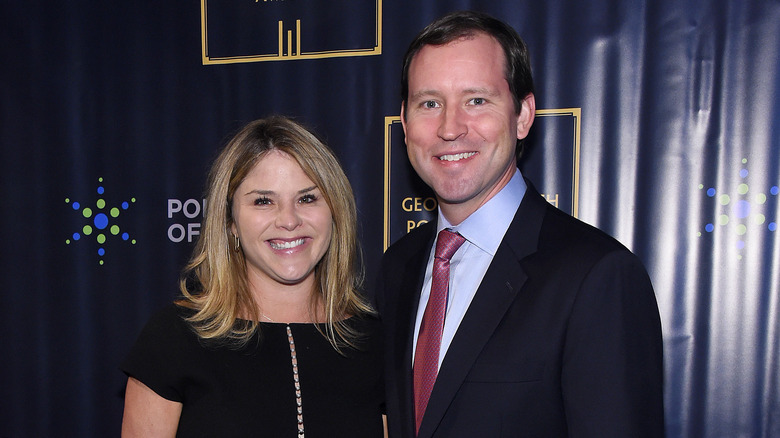 Jamie Mccarthy/Getty Images
Jenna Bush Hager came clean about her almost-proposal with Henry Hager. The "Today" host has been an open book about most aspects of her life on the show, and the same is true with her marriage and proposal. During a chat with Hoda Kotb on the fourth hour of the series, the mother of three admitted that she gave her now-husband what she called "a manipulative ultimatum" to make things official as she threatened to leave Washington, D.C. "Now, listen, if you don't want me to move to Latin America, we need to get engaged," she recalled.
Jenna's plan ended up working (or at least she thought) because, around Valentine's Day, Henry took her to a fancy restaurant where she thought it would happen. The eatery was supposed to have fortune cookies with special messages, but Henry missed filling the actual cookie. So instead, the restaurant brought out two glasses of champagne with a fortune insert that read, "Don't go." However, they wrote the message wrong, and it was supposed to say, "Go, and when you come back, I'll be here." 
Jenna agreed to marry Henry during the classic mixup, but there was one problem — he wasn't popping the question. "I mean, he could have cried. Well, anyway, he was not proposing." To make matters even worse, fellow diners overheard the conversation and called The Washington Post with the story. Luckily, Henry popped the question a few years later on a hiking trip.
Jenna Bush Hager has heart eyes for Henry Hager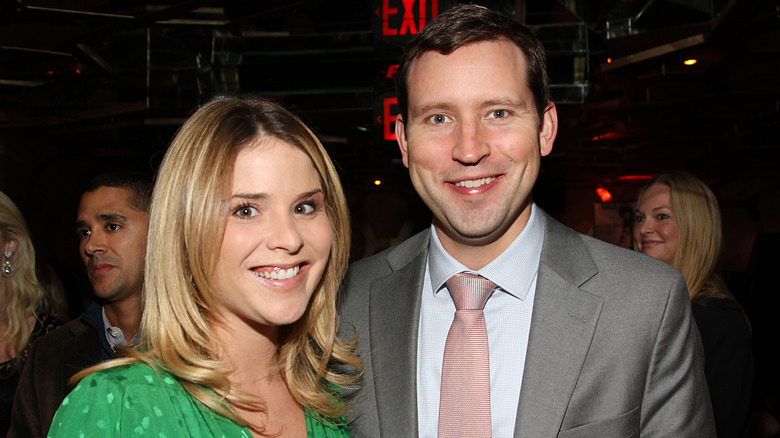 Rob Kim/Getty Images
Jenna Bush Hager and her husband, Henry Hager, have been going strong since 2004. The couple shares three children — Mila, Poppy, and Hal — and they've built a beautiful life together. Even after the proposal snafu, Jenna still regularly posts about her husband, and it's clear that she doesn't harbor any hard feelings toward him over how things transpired. "Happiest to one of the best! HH, you light up our lives—(even though you will never see because of anti-social media) we (love) you!" she wrote in 2022 to celebrate her hubby's birthday.
In 2018, she also shared a sweet upload to celebrate their milestone 10th anniversary together. "TEN years with this one by my side—could never imagine on that day in May how beautiful life would be. Love you H," she wrote in the adorable post that included a carousel of images.
As we've seen from their proposal story, it's also clear that Jenna regularly chats about her husband on "Today," much to the delight of fans. Of course, she has funny stories like the proposal one, but she also shares heartwarming stories about Henry, as well, including how he once saved a woman from choking. "I texted (Henry) this morning, and I was like, 'You are my hero,'" Jenna told Hoda Kotb. "He is. What a good guy. He's not just going to sit back and watch something bad happen. He's going to help." What a sweet couple!