Who Has Jamie Foxx Dated Since His Split From Katie Holmes?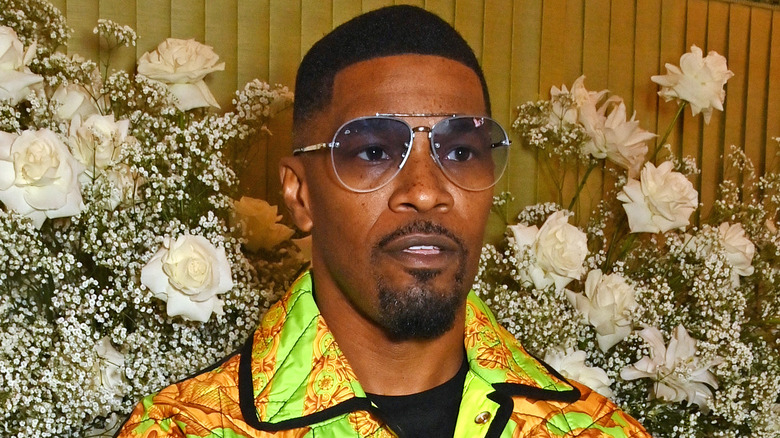 David M. Benett/Getty Images
Jamie Foxx is dipping his toe back in the dating pool after his split from Katie Holmes. But, in case you (like many others) weren't aware of Holmes and Foxx's relationship, let's debrief. Turns out, the two kept things quiet for a good reason. "Katie signed a clause in her quickie divorce settlement that prevents her from embarrassing Tom in various ways, like talking about him or Scientology, or publicly dating another man for five years after the divorce," a source told Radar. Therefore, that explains why Foxx and Holmes didn't make their first public appearance until 2019, according to Good Morning America, despite being linked since 2013. (For context, Holmes and Cruise divorced in 2012.)
Even so, Holmes' divorce settlement didn't prevent her from having some fun with her boyfriend — she just had to keep it under wraps. An insider dished to People that she and Foxx "spent hours together," and over the course of their six years together, they took their romance to Paris, Miami, and Mexico. But despite rumors that they might marry, it wasn't meant to be. "This industry is very tough on relationships," a source told People, explaining things between the two simply "ran its course." They added, "[Jamie and Katie] had a very, very deep connection. They brought each other a lot of joy and laughter."
After the split, Foxx hasn't seemed ready for another long-term relationship. (And who could blame him?) Instead, the actor has been linked to several different women.
Jamie Foxx was spotted with Instagram models
In 2019, the rumor mill went into overdrive when pics surfaced of Jamie Foxx grabbing a bite with model Dana Caprio. "They are hanging out. Mutual friends introduced them because he thought she was attractive," a source told E! News. This same source implied that things between the two were casual, adding, "[Jamie's] spending time with different people and not focusing on any one woman." Apparently, the flirtation blossomed on Instagram when Foxx began liking Caprio's posts, so we can only assume he slid into those DMs. But despite cropping up in the actor's Instagram Stories as he partied over Halloween (via the Daily Mail), "Jana" was never much of a thing.
What could still be a thing is Foxx and the World Cup's sexiest fan, Ivana Knoll. Knoll — who became an Internet sensation thanks to her sexy getups in Qatar — hit the town with Foxx while they were in Miami in early 2023. "There's no better way than [to] start [the] new 2023 year with good friends @iamjamiefoxx," she captioned a picture of them at a nightclub. The internet promptly had a field day with that "good friends" line, especially because Knoll and Foxx also attended a dinner together, according to The U.S. Sun. We haven't heard much about Knoll and Foxx since, but take that with a grain of salt. If Foxx's six-year 'ship with Katie Holmes taught us anything, it's that he knows how to keep a romance on the DL.
What was going on with Sela Vave?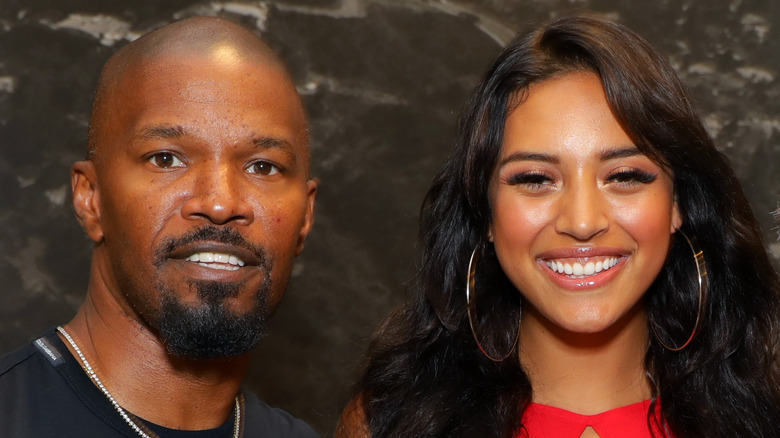 Tiffany Rose/Getty Images
Judging by his dating history, Jamie Foxx *might* have a thing for brunettes. That could've been why fans were convinced Foxx was dating singer Sela Vave right around the time he split from Katie Holmes. Well, that — and the fact he and Vave were snapped leaving Bootsy Bellows hand-in-hand. Cue everyone immediately taking offense on behalf of Holmes!
In response, Foxx issued a statement on Instagram Live, stating that he and Vave were strictly platonic. Explaining that he made it a point to mentor and spend time with his new artists, like Vave, Foxx said (via People), "I'm escorting [Sela] to my car, to put her in the car — my artist, who hangs out with my kids and is as young as my daughter. People try to make mountains out of molehills. We want to treat her the same way and give her the same opportunities." Vave backed up Foxx's words by uploading his video to her own Instagram, writing, "For the people who care ... here is the TRUE story (swipe)."
OK, so maybe the "Django Unchained" actor hasn't had much luck in the long-term love department, but what about Holmes? Like Foxx, there's been more than one man to catch her eye. The first was chef Emilio Vitolo Jr., and though they canoodled their way through NYC, PDA wasn't enough to save their relationship. In 2022, she dated Bobby Wooten III, but that didn't last either. Who knows? Maybe Holmes and Foxx really were meant to be.